U.S. has nearly doubled air attacks on Libya in past 12 days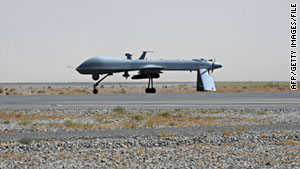 The Pentagon says attacks by armed Predator unmanned planes have risen to 1.4 a day.
STORY HIGHLIGHTS
Cost to taxpayers for U.S. share of Libyan mission approaching $1 billion
Number of U.S. air attacks on Gadhafi defenses nearly doubled over past 12 days
Average sortie strikes from April 1 to August 10 were 1.7 a day; since then, it's 3.1 a day
Pentagon has sent about $12.5 million in nonlethal aid to rebels, civilians
Tune in to "AC360º" at 8 ET for live reports from CNN reporters on the ground in Libya, as rebels battle Moammar Gadhafi loyalists for control of Tripoli.
Washington (CNN) -- As the rebels in Libya push closer to ending the regime of embattled Col. Moammar Gadhafi, U.S. warplanes have been increasing their attacks on government positions as part of the NATO campaign.
New numbers released by the Pentagon on Monday show that the number of U.S. air attacks on Libyan air defenses, ground forces and other targets has nearly doubled over the past 12 days, compared with air attacks in the first 132 days of the NATO mission.
There was an average of 1.7 strike sorties a day from April 1 to August 10, compared with 3.1 strike sorties in the past 12 days.
The Pentagon release indicates that attacks by armed Predator unmanned planes have more than doubled to 1.4 attacks a day, compared with .6 attacks a day between April 1 and August 10.
The cost to the U.S. taxpayers for America's share of the Libyan mission, known as Operation Unified Protector, is approaching $1 billion.

Top Democrat: Security concerns in Libya
As of July 31, the Pentagon had spent about $896 million. The U.S. had also sold its allies and partners in Operation Unified Protectors more than $220 million worth of ammunition, spare parts and fuel.
The Pentagon was also authorized to deliver up to $25 million worth of nonlethal aid to Libyan civilians. So far, it has used about $12.5 million of that authority by shipping Meals-Ready-To-Eat, boots, tents, uniforms and protective gear. The Defense Department was able to tap its own stockpiles for this aid.
Since June, the Pentagon has not received any more requests for additional nonlethal aid to be sent to Libyan rebels or civilians.
FOLLOW THIS TOPIC


Part of complete coverage on

CNN's Ben Wedeman offers a rare view of fighters, proud to be Libyan, new to warfare yet willing to fight
Moammar Gadhafi no longer has his Tripoli compound or his power apparatus. He is a fallen leader and a fugitive

The Gadhafi family -- a large, at times quarrelsome clan that helped the embattled strongman hold onto power

Seized documents revealed a close relationship between the CIA and counterparts in the Gadhafi regime

Oksana Balinskaya served as one of Gadhafi's five Ukrainian nurses for nearly two years

Archaeological treasures can be found all over the country, and UNESCO is worried

Abdul Hakeem Belhaj, who once fought with al Qaeda, is now commander of anti-Gadhafi forces in Tripoli

Former CIA director Michael Hayden says building a stable new regime could be as difficult as ousting Gadhafi


Most popular stories right now