The debt ceiling battle at a glance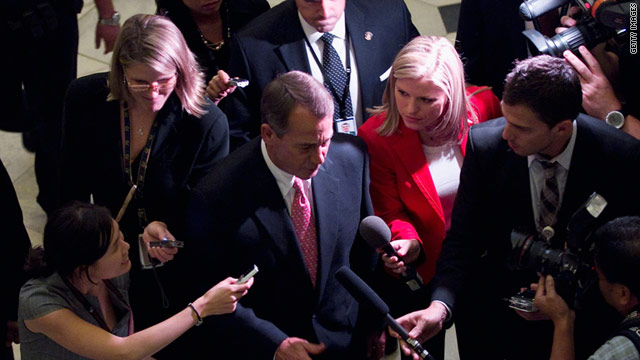 STORY HIGHLIGHTS
The House passes the compromise agreement
The Senate will vote on the measure Tuesday
Rep. Gabrielle Giffords makes an emotional return to vote on the measure
Washington (CNN) -- President Obama and congressional leaders have agreed to a plan that would lift the nation's credit limit and avoid an unprecedented default on its debt, which could have widespread economic ramifications ranging from higher interest rates to a predicted stock market crash. Congress still must approve the deal by Tuesday.
Here's the situation at a glance:
THE DEAL
The two-stage plan calls for $2.4 trillion in savings over the next decade, although the the Congressional Budget Office pegs the savings at $2.1 trillion. It also authorizes an increase in the nation's borrowing limit through the end of 2012. A special congressional committee to recommend long-term fiscal reforms is also part of the package.
In the first stage, $917 billion in spending cuts will be accompanied by a $900 billion increase in the debt ceiling.
A special joint congressional committee would recommend a further $1.5 trillion in deficit reductions. If approved by the full Congress by year's end, Obama could raise the debt ceiling by $1.5 trillion. If not, the ceiling could rise by $1.2 trillion. But doing so would trigger matching mandatory across-the-board spending cuts likely to be unpopular with both parties.
HOUSE
The House voted 269-161 on Monday to pass the agreement and send it to the Senate.
Republican leaders said the measure upholds their principles and begins to change the way that Washington spends taxpayer dollars.
House Minority Leader Nancy Pelosi, while complaining that the compromise fails to increase revenue from the nation's wealthy to help reduce deficits, voted for the plan.
Rep. Gabrielle Giffords, D-Arizona, made an emotional return to the House to cast her first vote -- in favor of the plan -- since being shot in the head in an assassination attempt in January. She received a prolonged standing ovation.
SENATE
Senate Majority Leader Harry Reid, D-Nevada, announced the Senate would take up the agreement at noon on Tuesday. Reid said no amendments would be allowed, and approval would require a 60-vote super-majority in the 100-member chamber to pass.
Some conservative Republicans expressed concerns over military cuts in the agreement.
PRESIDENT OBAMA
The agreement isn't "the deal I would have preferred," Obama said in announcing it Sunday night. But he added that it makes "a serious down payment on the deficit reduction we need and gives each party a strong incentive to get a balanced plan done before the end of the year."
Obama has called for a balanced approach with both spending cuts and revenue increases, and said that "everything will be on the table" when the joint congressional committee created under the agreement begins its work.