Senate gives Mueller 2 more years at FBI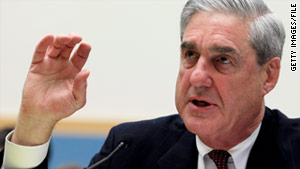 FBI Director Robert Mueller has been in office since 2001. He started the job a week before the September 11 attacks.
STORY HIGHLIGHTS
Wednesday's confirmation vote was 100-0
Mueller is the longest-serving FBI chief since J. Edgar Hoover
Mueller has led "a top-to-bottom transformation" of the bureau, Sen. Grassley says
Washington (CNN) -- The Senate voted swiftly and unanimously Wednesday to keep FBI Director Robert Mueller in office for another two years, extending a term that had been set to expire August 2.
In keeping with Mueller's low-key preferences, FBI officials planned no statement. It was not clear if he would be sworn in for the extended term.
"It has not been determined whether under the circumstances a swearing-in is necessary," a senior FBI official said. "The Justice Department is reviewing the question."
The Senate action completes a process required by legislation signed by President Barack Obama on Tuesday, following his recent decision to keep Mueller in place.
While most Democrats and Republicans fully supported Mueller remaining at the helm of the FBI, the decision prompted some wrangling over concerns that it would set a precedent for extending future FBI directors' terms.
Mueller is the first FBI chief to complete a full 10-year term since Congress set that limit 35 years ago. The move came after the controversial reign of J. Edgar Hoover, who led the FBI and its predecessor agency from 1924 until his death in 1973.
Mueller was named to the post by President George W. Bush in August 2001 but didn't take office for another month. He started the job a week before the September 11, 2001, attacks on New York and Washington, an event that forced the bureau to shift priorities drastically toward counterterrorism.
Iowa Republican Sen. Charles Grassley, a frequent FBI critic, said Mueller led "a top-to-bottom transformation" of the bureau and displayed praiseworthy candor in dealing with its "black marks and skeletons in the closet."
"The director has been forthright in coming before Congress and explaining these mistakes and not simply passing the buck," said Grassley, the top Republican on the Senate Judiciary Committee.
Before the 100-0 vote Wednesday, Sen. Patrick Leahy, D-Vermont, said, "I would hope that all senators would step forward and vote for this nomination, and I can think of no reason why they shouldn't."
Leahy, chairman of the Judiciary Committee, praised Mueller as "typical of many in our government who serve the people of America tirelessly, without any gain for themselves."
FOLLOW THIS TOPIC