Beck: Norway camp smacks of 'Hitler Youth'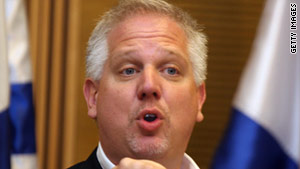 "Who does a camp for kids that's all about politics?" Glenn Beck asked Monday on his radio show.
STORY HIGHLIGHTS
"Who does a camp for kids that's all about politics? Disturbing," Beck says
There was no comment from Beck's representatives Monday night
An organization that Beck founded held political camps for youth this summer
(CNN) -- In the wake of last week's massacre in Norway, U.S. conservative commentator Glenn Beck on Monday compared the summer camp where most of the 76 victims died to the Hitler Youth organization of Nazi Germany.
Beck, on his radio show, declared the killings "the work of a madman" and called the suspect "as bad as Osama bin Laden." But before launching into that condemnation, he questioned what the victims were doing at a summer camp run by Norway's ruling Labour Party.
Beck said the camp "sounds a little like, you know, the Hitler Youth or whatever. Who does a camp for kids that's all about politics? Disturbing."
However, politically-oriented camps are being organized in several U.S. states by chapters of the "9/12 Project" -- an organization founded by Beck himself in 2009.
The Colorado 9/12 Project hosted a "Patriot Camp" for kids in grades 1-5 earlier this month, featuring programs on "our Constitution, the Founding Fathers, and the values and principles that are the cornerstones of our nation."
And in August, the Danville, Kentucky, chapter is holding a "Vacation Liberty School" that organizers pledge "will help your children understand where we came from. Understand where we went wrong. Understand where the fork in the road was, and which path we should have taken."
The suspect in Friday's Norwegian massacre is a right-wing Norwegian who police say wanted to halt what he believed as the Islamic "colonization" of the country. But while condemning the attacks, Beck said he predicted last fall that Europe "is going to go into problems with radical Islam" and cited Dutch far-right politician Geert Wilders as saying "Political correctness and multiculturalism is killing Europe, and he's right."
Attempts to contact Beck's representatives were unsuccessful Monday night. Beck recently left his hour-long show on Fox News Channel, but his radio program is still heard on 400-plus stations and he recently launched a web television venture, GBTV.
Before joining Fox, Beck hosted a show on CNN's sister network HLN.
FOLLOW THIS TOPIC


Part of complete coverage on

Colleen McEdwards talks to security expert Anthony Roman about security issues surrounding the Norway terror attack.

A Norwegian mom explains how she helped keep her daughter calm throughout the hour-long gun rampage at Utoya island.

The father of Norwegian terror suspect Andres Breivik says his son is mentally ill and should have killed himself.
Britain's prime minister calls for urgent review of far-right groups following deadly attacks in Norway.

CNN's Anderson Cooper reports on the possible motivations of the suspect in the Norwegian terror attacks.

Thousands of grieving Norwegians took part in a march and a minute of silence to honor the victims of the Oslo and Utoya attacks.

Norwegian Prime Minister Jens Stoltenberg talks to Nic Robertson days after a bombing and shooting rampage in Norway.

For Norwegians still in shock from Friday's horrific attacks, there is a sense they have woken up in a country that has "lost its innocence."


Most popular stories right now