STORY HIGHLIGHTS
NEW: Distributor announces film will expand to additional markets after weekend run
"The Undefeated," distributed by ARC Entertainment, is directed by Stephen K. Bannon
Sarah Palin biopic unfolds through an opening montage, three acts and a coda
"I think she'll be the modern-day Ronald Reagan, that's what I got from it," one moviegoer says
Kennesaw, Georgia (CNN) -- The distributor of the Sarah Palin biopic "The Undefeated" announced Tuesday that it would expand the film's run to more markets after a 10-city opening last weekend.
The film's distributor, ARC Entertainment, said the film averaged $5,000 per screen Friday and Saturday night, with sold-out screenings at several locations. ARC Entertainment said in a statement "... with the strong initial showing, the film is going to a wider release footprint later this month."
The film's run will expand to theaters in Tucscon, Arizona; West Palm Beach, Florida; Milwaukee, Wisconsin; Charlotte, North Carolina; and Ontario, California, ARC announced in a news release.
It will also expand into additional theaters in Atlanta and Phoenix, and it will continue in Dallas, Houston, Denver, Orlando, and in Orange, Colorado.
"Incredible. ... Inspiring" was how viewer Casey Cunningham described the film after the sold-out 7 p.m. showing at the AMC Barrett Commons in Kennesaw, Georgia, last weekend. Groups were organized via social media to support the opening, with some attendees driving from neighboring states.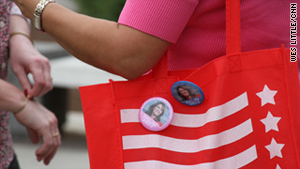 Many who went to the screening of "The Undefeated" in Kennesaw, Georgia, sported buttons supporting Sarah Palin.
The auditorium was packed with Palin enthusiasts who frequently applauded lines the former Alaska governor delivered on screen, giving the screening the feel of a political rally. Further contributing to that atmosphere was that many attendees wore buttons supporting Palin as well as an entrepreneurial moviegoer hawking anti-President Obama T-shirts.
The director, Stephen K. Bannon, a conservative auteur in the mold of Michael Moore right down to the New Balance sneakers, attended the screening and told CNN that he hopes to expand to more screens, but that decision would have to be made by theaters and the distributor after returns from the current release are counted.
The film is a biopic that unfolds through an opening montage, three acts and a coda.
The first act focuses on Palin's time as mayor of Wasilla, Alaska; the second on her governorship; and the third on her vice presidential run, resignation as governor and her presence on the national political scene.
It is part telling of Palin's career (Acts 1 and 2), and part conservative motivational cinema (Act 3) with "Clockwork Orange"-esque evocative images sprinkled throughout (shark attacks, bodies being buried, warfare both modern and ancient). Sometimes the symbolism is clear, other times it's almost dadaist. There is also an introduction and a portion toward the end composed of clips of crude and hateful jokes by comedians and pundits as well as anti-Palin art, much of it violent or sexist.
"I did not make this film for Palinistas," Bannon insisted to CNN. He said that he believes it can appeal to moderates and liberals, and recast Palin's image for them.
In the first two acts, this could plausibly be the case. But the third act and the coda seem much more heavily weighted with crowd pleasers for a conservative audience. The film has no interviews with Palin or her family, though Palin's voice from her memoir "Going Rogue" is used sparingly.
I did not make this film for Palinistas.
--Stephen K. Bannon, director
In the first two acts, the movie features people who worked with Palin in Alaska, but are relatively unknown figures for a national audience, who credibly tell the story of Palin's time in Alaska government.
The featured voices in the last portion of the movie are conservative media superstars, such as Andrew Breitbart and Mark Levin, whose connection to Palin is more tenuous than the first-hand accounts of the voices heard earlier in the film. They are a hit with the audience of the convinced: One viewer told CNN that Breitbart's repeatedly calling the GOP establishment "eunuchs" was the highlight of the film.
The film makes liberal use of symbolic video that is meant to be evocative, such as nature films of lions attacking a zebra meant to illustrate Palin being attacked by enemies in the media. These elements, though often straightforward enough, occasionally drift toward distraction or obfuscation. There is file video of an atomic explosion, which was later explained by the director to symbolize the election of Barack Obama as president.
As an entertaining and motivational piece for a right-of-center audience, the film seemed effective.
Audience members said they were pleased with the film. And while they were already positively disposed toward Palin, many said it had deepened their appreciation of her.
Carolyn Garcia of Kennesaw said, "I think that it was motivational, and I think that it was portraying Sarah in the light that most people don't know." She said that it showed "who Sarah really is, and I wanted to stand up and cheer because she's the type of woman that a lot of us strive to be and what a lot of us want our daughters to be."
Sahar Hekmati picked up on the long portions of the movie comparing Palin to one of her heroes.
"I think she'll be the modern-day Ronald Reagan, that's what I got from it."
Some parents brought their children, like 16-year-old Madeleine Mcaulay, who drove with her mother from North Carolina to see the film. She was already familiar with Palin's life, having read both of her books, but she says the movie still helped her "comprehend the existence of her career in Alaska as mayor and governor and all the attacks she experienced, even at that local level."
Bannon summed up his aim for the film: "The audience is really a middle American audience that knows her only as 'Caribou Barbie.' I think I've driven a stake through the heart of 'Caribou Barbie.' I think if enough people see this, they'll agree with me."
And to critics who say the title of the film is not appropriate for someone who's most famous as a losing political candidate, Bannon says "The Undefeated" is "really about the values she manifests -- frontier values of tenacity, grit and can-do attitude. That's what's undefeated in her."
At the opening, Bannon said "there's never really been a conservative documentary released in the multiplex against competition like 'Harry Potter.' I think AMC, the theater owners, just want to see if this film can find its audience."
Regardless of the its performance in theaters, Bannon vows that all Americans will have the chance to see the movie and that it will be available by pay-per-view and streaming video, as well as a DVD deal with Walmart.
FOLLOW THIS TOPIC