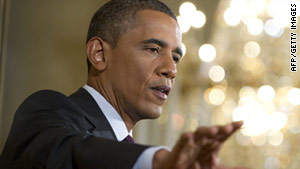 President Obama on Wednesday warns that failure to raise the debt ceiling could seriously harm the economy.
STORY HIGHLIGHTS
Congress is returning early from its July 4 break this week to resume debt ceiling negotiations
Treasury officials warn the $14.3 trillion debt ceiling must be increased by August 2 to avoid the risk of default
Negotiations led by Vice President Biden recently collapsed over GOP opposition to any revenue increases
The public strongly disapproves of the way both parties are handling the deficit issue
Washington (CNN) -- Senators and representatives crammed in their July 4 parades and other festivities Monday as Congress prepared to cut short its Independence Day break and resume talks over the need to raise the federal government's debt ceiling.
The Senate is set to return to work on Tuesday; House members follow suit on Wednesday.
Congressional leaders remain at sharp odds over what sort of conditions should be attached to a hike in the current $14.3 trillion ceiling. Republicans are refusing to go along with any increase unless it includes deep spending cuts and avoids any tax increases. Democrats are trying to minimize the impact of cuts to social services and are calling for the elimination to certain tax breaks and loopholes benefiting wealthier Americans.
Treasury Department officials and leading economists have warned of potentially catastrophic consequences if the ceiling is not raised by August 2, at which point the country could default on its debt obligations. Among other things, the country could face skyrocketing interest rates and a plummeting dollar.
Increasing the debt ceiling will allow the government to borrow more money in order to pay for spending already accrued.
Given the short time frame, Congress and the White House may be forced to agree to a relatively small increase in the debt ceiling covering only a few months. Such a compromise -- including cuts already agreed to on both sides of the aisle -- would give leaders more time to negotiate serious budget reforms, including possible changes to popular entitlement programs such as Medicare and Medicaid.

Coats: Dems game plan 'not working'

Obama: We must live within means

McCain on Afghanistan, debt ceiling
Over the weekend, however, top Democrats and Republicans gave no public indications that a potential compromise is in the offing. Talks spearheaded by Vice President Joe Biden recently collapsed over the tax dispute.
"The principle of not raising taxes is something that we campaigned on last November and the results of the election was the American people don't want their taxes raised and they wanted us to cut spending," Sen. John McCain, R-Arizona, said on CNN's "State of the Union." "They don't want compromise."
McCain: Americans 'don't want compromise' on tax revenue hikes
Sen. John Cornyn, R-Texas, said during an appearance on "Fox News Sunday" that Republicans want to look at tax reform, but only in a comprehensive way that lowers rates while eliminating loopholes and subsidies in such a way that the end result brings no increase or decrease in revenue.
Sen. Rand Paul, R-Kentucky, a Tea Party favorite, said on C-SPAN that he'd be willing to support an increase in the debt ceiling in exchange for congressional approval of a constitutional amendment requiring a balanced federal budget.
Both the House and Senate are planning votes on a balanced budget amendment in coming weeks. However, with such an amendment requiring approval from a two-thirds majority in both chambers, and then ratification by at least 38 states, eventual approval is unclear in a process that can take years.
For his part, President Barack Obama has chided congressional Republicans for refusing to make "tough decisions" at odds with their conservative base.
The president has called for what he characterizes as a balanced approach to deficit reduction that includes more revenue for education, infrastructure, and clean energy -- areas he considers critical to long-term economic growth.
Former President Bill Clinton -- widely considered to have won a budget showdown with Republicans in 1995 -- told an audience in Aspen, Colorado, Saturday that he hopes the Democrats don't back down in the face of the GOP opposition to increased tax revenue.
Clinton advised his fellow Democrats to accept previously agreed-upon spending cuts as part of a deal allowing the government to stave off default for another six to eight months. He then pushed for more sweeping budget reform talks over the remainder of the year.
Clinton to Obama: Stay strong over debt ceiling
At the heart of the GOP resistance on the revenue issue is a bedrock principle pushed by anti-tax crusader Grover Norquist against any kind of tax increase at all. A pledge pushed by Norquist's group, Americans for Tax Reform, has been signed by more than 230 House members and 40 senators, almost all Republicans.
Norquist and his supporters want to shrink the federal government and believe any new revenue would enable continued government growth.
However, some Republicans, including conservative Sens. Tom Coburn of Oklahoma and Lindsey Graham of South Carolina, have expressed support for increased tax revenue as part of a deficit reduction deal, and the Senate recently supported ending ethanol subsidies -- which would increase revenue.
Tax loopholes targeted by Democrats include oil and gas subsidies, as well as some write-offs for people earning more than $500,000 a year.
CNNMoney: Brace for spending cuts
As Democratic and Republican leaders continue to debate, the public appears to have soured on both parties' approach to the deficit.
Only 30% of adults nationwide approve of congressional Democrats' handling of the issue, according to a June 16-20 AP/GfK poll. But only 28% approve of the way congressional Republicans are dealing with it.
A majority of Americans -- 53% -- say it is extremely or very likely that the country will face a major economic crisis if the debt ceiling is not raised.
Los Angeles Mayor Antonio Villaraigosa, a Democrat, told the CBS program "Face the Nation" on Sunday that he thinks "Washington has its head in the sand."
"Democrats won't address entitlements, Medicare and Social Security, and Republicans don't want to talk about revenues or defense spending. And the fact is we've got to do all of that," he said.
"You can't avoid your responsibility of balancing the budget. And in this case, they ought to submit their resignations, frankly, if they put us in a situation where we're in default."
CNN's Tom Cohen contributed to this report