STORY HIGHLIGHTS
Latinos' political power is growing across the U.S., especially in Nevada and Texas

New survey says 12 million Hispanics are expected to vote in next year's elections

Nevada politicians unable to resolve redistricting issue as battle now heads to the courts

Democratic consultant warns President Barack Obama can't take Latino vote for granted

Las Vegas (CNN) -- Armed with fresh census data, Latinos around the country are flexing their political muscle. From state legislatures to Congress, the Hispanic vote is getting a voice.
Twelve million Hispanics are expected to vote in next year's elections, according to a survey the National Association of Latino Elected Officials released last week.
Latino officials see big Hispanic vote in 2012

These findings come after census numbers show that Hispanics make up 16.3% of the U.S. population and are now the country's largest minority group.
Nevada is one state where their political power is growing, and it's getting an additional seat in Congress.
"You can drive down Eastern Avenue in either direction, and the overwhelming majority of stores you see are owned by Latinos," says political consultant Andres Ramirez, who was interviewed in front of a Cardenas grocery store in Las Vegas. The store caters to the growing Hispanic population here and is in the center of what could become Nevada's new congressional district. The state is increasing its U.S. representatives to four from three next year.
8 political takeaways from the census
Ramirez has been busy mobilizing Latinos. Nevada's population grew the most in the U.S. -- about 35% over the past decade. Of the 2.7 million people living here, more than a quarter are Latinos.
Before the Vegas real estate bust, they were drawn to the Silver State by a booming construction and service industry, along with plenty of business opportunities.

Texas prepares for redistricting battle

March: U.S. Hispanics top 50 million

December: Census affects political clout
Looking to expand Latinos' political influence is the Si Se Puede Caucus of the Clark County Democrats. Caucus chairwoman Vicenta Montoya has it all mapped out, at least as Democrats see it -- her caucus does not want a Hispanic-majority-type district.
"We recognize that we could have influence in probably -- definitely two, possibly three districts. So we don't want to minimize that power," Montoya says. Asked if that stance might lessen the chance of a Latino winning a House seat, she doesn't budge.
Democrats control Nevada's Legislature, but its Hispanic governor, Brian Sandoval, is a Republican. The state could not agree on how to redraw congressional lines to add the new district, as the census requires. Now it's up to the Nevada courts to determine who gets put into what district.
State Sen. Barbara Cegavske, a Republican from the Las Vegas area, was instrumental in drawing up the Republican maps, which never got legislative approval.
"Knowing what the (Latino) population (is) -- the 26% -- and going with the Voting Rights Act, that you have to provide an opportunity for that minority population ... that's exactly what we did," she says.
Section 2 of the Voting Rights Act of 1965 calls for opportunity districts, whenever possible, so that a minority group gains political representation.
But Nevada Democrats reject the idea of concentrating Hispanics into one district. Such a move would limit their chances for ousting Joe Heck, a first-term Republican from Nevada's 3rd Congressional District, which includes parts of Las Vegas and North Las Vegas.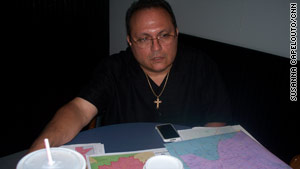 Jose Solorio of the Si Se Puede Caucus of the Clark County Democrats pores over Nevada redistricting maps.
"What it does is that you grab every Jose, Maria, Juan into a district," says Montoya of the Si Se Puede Caucus, "and Joe Heck's district, which is a district in play, becomes a very white district, a very Republican district."
Both parties claim to have Latino candidates waiting in the wings, no matter how the additional House district is drawn.
The battle over Latinos and new political maps also is playing out in Texas, which is gaining four new congressional seats. More than 37% of Texans are Latino.
And though they tend to lean Democratic, their preference is far from one-sided.
Mark Braden, a Republican attorney in Washington who advises the party on redistricting issues, says he's optimistic. He says he believes the GOP can make inroads with some Hispanic immigrant groups.
"Central Americans, I think, tend to be more socially conservative -- traditional Catholics, large families, some people would say more entrepreneurial, and I think have been and likely to continue to be more Republican," Braden says.

Is Obama ready to mess with Texas? 'Not a chance'
President George W. Bush got 40% of the Hispanic vote in his 2004 re-election bid. But in 2008, 67% of the Latino vote went to Barack Obama. However, Democratic consultant and CNN contributor Maria Cardona warns the president can't take that vote for granted next year.
"For example, a lot of Latinos express frustration that this president has not been able to deliver on his promise of comprehensive immigration reform," Cardona says. "But I think what you'll see is that instead of Latinos actually going to vote for Republicans, the danger for Democrats is they'll stay home."
Hispanic population exceeds 50 million
There are more than 50 million Hispanics in the United States, and the census shows that their continued influx and domestic birth rate accounts for more than half the nation's overall growth this past decade. It's a new reality all politicians will need to deal with come election time.
FOLLOW THIS TOPIC