President to meet Reid, McConnell for deficit reduction talks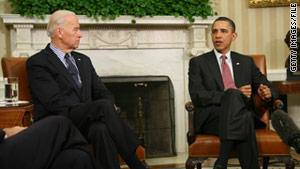 Vice President Joe Biden and President Barack Obama are set to talk about the debt ceiling next week with Senate leaders.
STORY HIGHLIGHTS
Obama will meet with Senate majority leader and Senate minority leader Monday
The meeting will focus on the current stalemate in the debt ceiling talks
Republicans say taxes are off the table in the negotiations
The federal government is set to hit its current debt limit on August 2
Washington (CNN) -- President Barack Obama and Vice President Joe Biden will meet Monday with Senate Majority Leader Harry Reid, D-Nevada, and Senate Minority Leader Mitch McConnell, R-Kentucky, to discuss "the status of the negotiations to find common ground on a balanced approach to deficit reduction," according to a White House statement released Friday.
Obama and Biden will meet with Reid in the morning and McConnell in the afternoon, the statement said.
House Majority Leader Eric Cantor, R-Virginia, withdrew from negotiations to raise the debt ceiling Thursday, saying Republicans had reached an impasse with Democrats over taxes. Cantor said it was critical for Obama to become directly involved in the talks, which until now have been spearheaded by Biden.
McConnell released a statement Friday asserting that Obama "needs to decide between his goal of massive tax hikes, and a bipartisan plan to address our deficit. But he can't have both."
"It is my hope that the president will take (more stimulus spending and tax hikes) off the table on Monday so that we can have a serious discussion about our country's economic future," McConnell said.

Debt ceiling talks stalled?
House Speaker John Boehner, R-Ohio, met privately with Obama on Wednesday afternoon, according to the speaker's office. Boehner is scheduled to be away from Washington next week, but will "be carrying his cell phone," an aide to the speaker said.
Treasury Department officials have said the federal government is set to hit its current debt limit on August 2. Analysts warn that not raising the current $14.3 trillion ceiling could have catastrophic economic consequences, including skyrocketing interest rates and a plummeting dollar.
CNN's Alan Silverleib, Dana Bash, and Deirdre Walsh contributed to this report
FOLLOW THIS TOPIC