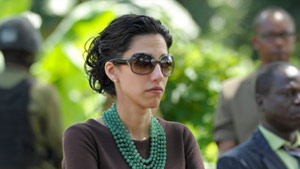 Huma Abedin, an aide to Secretary of State Hillary Clinton, attends an event in Mlandizi, Tanzania, last week.
STORY HIGHLIGHTS
NEW: Woman says Weiner asked her to lie about their communication
NEW: "All right, my package and I are not going to beg," reads one e-mail from Weiner, according to Lee's lawyer
Rep. Weiner has admitted "sexting" with several women and lying about it
Weiner's wife has been traveling with her boss, Secretary of State Clinton
Washington (CNN) -- The wife of Rep. Anthony Weiner returned home from a work trip Wednesday as her husband faced mounting pressure to resign over a "sexting" scandal that he lied about before admitting his involvement.
Weiner's wife, Huma Abedin, is a top aide to Secretary of State Hillary Clinton with whom she had been traveling in the Middle East and Africa since June 8. Abedin, who is pregnant with the couple's first child, returned home Wednesday morning, according to an administration official who spoke on condition of not being identified.
Colleagues of Weiner have said he wanted to wait until he could talk to his wife in person before making a decision on his career.
A former adult film actress currently working as a stripper said she exchanged e-mails and Twitter messages with Weiner for more than two months. The woman, whose lawyer identified her as Ginger Lee, told reporters in New York on Wednesday that Weiner asked her to lie about it after the scandal broke.

Democrats frustrated with Weiner

Obama: If I was Weiner, 'I would resign'

John Boehner: Weiner should step down

Rep. Weiner and the porn star
"He asked me to lie about our communication," said the woman. She said she issued a three-sentence communication that said, "I haven't met Representative Weiner. I follow him on Twitter because I support him and what he stands for. I have been hounded by his political opponents, but that has not changed my view of him and what he fights for."
Afterward, she said, "I did not want to say anything further. I refused to lie, so I went silent and went into hiding."
On June 2, she said, Weiner called her and told her that, if she said nothing to the news media over the following weekend, the story would die. "I did what he told me to do," she said. "But it did not."
By then, Lee said, her lupus was flaring, she needed the money she would have been making had she continued working and she had received "threats" from someone about releasing a statement that she had not authorized. Lee did not elaborate, but said she then arranged for lawyer Gloria Allred to represent her.
Asked who had threatened her client, Allred said, "I would rather not name the individual. He knows who he is."
Though Lee said she initially admired Weiner for his views on Planned Parenthood and health care, her view of the congressman has changed. "I think that Anthony Weiner should resign because he lied to the public and the press for more than a week," said Lee, who was working Wednesday night at a nightclub in Atlanta, Georgia. "If he lied about this, I can't have much faith in him about anything else."
Allred said her client had received about 100 e-mails from Weiner between March and two weeks ago, when they stopped.
"I have wardrobe demands too," the lawyer read from one. "I need to highlight my package."
"All right, my package and I are not going to beg," read another. "We both see the hazard of going down the path of comparative sexiness. At least with you, the intrusion ends after a few gawks. I get dragged into long commentary sessions at the corner bodega."
"You aren't giving my package due credit," read yet another.
Lee said she never reciprocated when he made suggestive comments.
Allred said Lee, who is single, never met Weiner, never received any photographs from him and never sent him any. "Overall, the e-mails were really not about sex," the lawyer said. In addition, the two talked only once, on the phone, she added.
Weiner, who admitted sending lewd online messages and photos to women over the past three years, announced Saturday he is seeking treatment and requested a "short leave of absence" from Congress.
Top leaders from both parties, including President Barack Obama and House Speaker John Boehner, have said or suggested that Weiner should step down over the controversy, which has been a major story since the news emerged in late May.
A Democratic leadership aide insisted Wednesday night there was no specific move to start the ball rolling removing Weiner from the Energy and Commerce Committee.
The aide did say, "There is a leadership meeting tomorrow to talk about a variety of subjects. And I am sure Weiner will come up."
On Tuesday, a Democratic colleague of the New York congressman said that Weiner might resign "in a couple of days." However, Rep. Carolyn McCarthy of New York did not say where she got her information.
In response to a question about whether Congress can get on with business if Weiner stays in office, McCarthy responded, "We're going to find out. Hopefully. We're hearing that he might resign in a couple of days."
Rep. Diana DeGette, D-Colorado, said, "If it were me, I would resign," but that the decision was up to Weiner and his constituents. Obama told NBC that he, too, would step down if he was in Weiner's position, while Boehner, R-Ohio, said Tuesday that Weiner should resign.
Rep. Barney Frank, D-Massachusetts, declined to echo that call, citing his own scandal from the 1980s involving his relationship with a male prostitute who then used Frank's apartment to carry out his business.
"It's time for me to show a bit of a humility" and not "set myself up as the judge of others," Frank said.
FOLLOW THIS TOPIC