Petraeus in Washington with Afghanistan troop drawdown recommendation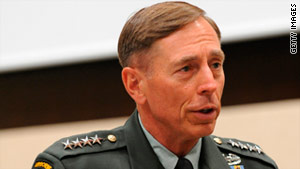 Gen. David Petraeus has not shared his recommendation with any of his senior staff, aides say.
STORY HIGHLIGHTS
Petraeus will give his proposal on the withdrawal of troops from Afghanistan
He is also making final preparations for his confirmation hearing as CIA director
Troops who were part of 2009 surge are scheduled to begin coming home in July
Washington (CNN) -- Gen. David Petraeus, commander of the war in Afghanistan, has arrived in Washington for a one-two national security punch that is certain to leave ripples over the next several days.
Petraeus is making final preparations in advance of his June 23 hearing before the Senate Intelligence Committee to be confirmed as the next director of the Central Intelligence Agency. But before he takes on that role, Petraeus has a piece of important business to finish: handing his personal recommendations to the Pentagon and White House about beginning next month a withdrawal of U.S. troops from Afghanistan.
Petraeus is set to recommend a timetable for the drawdown of the 30,000 "surge" troops sent into Afghanistan in 2009 to attempt to control the rising violence. President Obama has said those troops would begin coming home in July and recently promised that the number would be "significant."
Thus far, Petraeus has not revealed his hand. Several aides say he has not shared his recommendation with any of his senior staff in Kabul and is virtually "hand carrying" his proposal to Washington, according to one official. He is expected to begin meeting with outgoing Defense Secretary Robert Gates and other key leaders this week, and several defense officials say it's likely he will discuss the issue with the president, although no meeting has been announced.
Though Gates is scheduled to retire at the end of the month, he is expected to be a strong voice for taking a prudent approach to any drawdown, which he has said should be "modest." No one in the Obama administration is yet willing to say what the president defines as "significant." Democratic Sen. Carl Levin, the powerful chairman of the Senate Armed Services Committee, has suggested that at least 15,000 troops should come out.
"We have three weeks. This is when everybody gets down to considering the options," one senior Pentagon official told CNN. "All of this is going to heat up."
The official noted that one of the unknowns the president will have to decide is whether he also wants any change in the overall strategy in Afghanistan now that Osama bin Laden has been killed.
FOLLOW THIS TOPIC