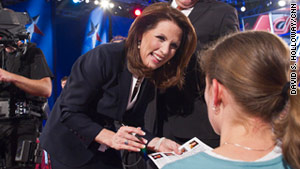 Rep. Michele Bachmann signs an autograph Monday at a GOP presidential debate in New Hampshire.
STORY HIGHLIGHTS
Rep. Michele Bachmann says she filed paperwork for candidacy on Monday
Bachmann, R-Minnesota, made announcement during GOP presidential debate
Bachmann is favorite of the conservative Tea Party movement
Monday poll: Bachmann was seventh in theoretical 10-candidate GOP field
(CNN) -- U.S. Rep. Michele Bachmann ended any doubt that she is running for president, saying during Monday night's CNN GOP presidential debate that she has filed for the 2012 race.
"I filed ... my paperwork to seek the office of the presidency of the United States today, and I'll very soon be making my formal announcement," Bachmann said shortly after the start of the debate in Manchester, New Hampshire.
Bachmann, of Minnesota, became the seventh Republican -- and the only woman -- to confirm her candidacy. She was the only one of the debate's seven participants who hadn't formally declared before the start of Monday's event at Saint Anselm College's Sullivan Arena.
Her campaign also posted a YouTube video in which she announced she was running. "This is the first day of taking our country back," Bachmann said in the video.
A third-term congresswoman, Bachmann is a favorite of the conservative Tea Party movement, founder of the 50-member House Tea Party Caucus and fiery critic of the Obama administration.
Bachmann and her husband, Marcus, are born-again Christians, and it was God, she says, who encouraged her to run for higher office. She has since become a champion of conservative values, including the vision that government should be limited to only what is in the Constitution.
The Waterloo, Iowa, native grew up as a Democrat, but she switched parties and supported Ronald Reagan in 1980, in part because of her disagreement with Democrats' positions on abortion rights.
Before her political career, she was a tax litigation attorney for the U.S. Treasury Department in Minnesota after earning a law degree at Oral Roberts University and studying tax law at the College of William and Mary. She was elected to the Minnesota Senate in 2000 and won her seat in Congress six years later.
She had all but declared her presidential candidacy before Monday, signing GOP strategist Ed Rollins to run her then-unofficial campaign and saying that she would make a presidential announcement this month in Waterloo.
Bachmann has drawn comparisons to former Alaska Gov. Sarah Palin, in no small part because both are female Republicans who have endeared themselves to social conservatives and Tea Party activists. Rollins may have tried to separate Bachmann from the 2008 GOP vice presidential nominee when he criticized Palin earlier this month, telling Fox News that Palin "has not been serious over the last couple of years" and telling Politico that a Bachmann campaign would be "so much more substantive."
Bachmann said last month that being a native Iowan will give her a natural advantage against her rivals in Iowa, which will hold the first contest in the Republican presidential nominating contest.
A CNN/Opinion Research Corp. survey released Monday showed Bachmann had support of 4% of Republicans and independents who lean toward the GOP.
Romney was first at 24%. Palin came in second at 20%, followed by former New York Mayor Rudy Giuliani at 12%. Neither Palin nor Giuliani have committed to a campaign but neither have ruled it out, either.
Former Godfather's Pizza CEO and radio talk show host Herman Cain and former House Speaker Newt Gingrich were tied at 10%, with Rep. Ron Paul of Texas, who is making his third run for the White House, at 7%.
Minnesota Gov. Tim Pawlenty was at 3%, and former Sen. Rick Santorum of Pennsylvania at 1%. Also at 1% was former Utah Gov. Jon Huntsman.
All but Palin, Giuliani and Huntsman participated in Monday night's debate. Huntsman told CNN Chief Political Correspondent Candy Crowley that he'll announce his candidacy later this month.
CNN's Chris Welch and the CNN Political Unit contributed to this report.
FOLLOW THIS TOPIC