CNN hosts the first New Hampshire Republican presidential debate Monday night from Manchester at 8 p.m. ET. Follow all the issues and campaign news about the debate on CNNPolitics.com and @cnnpolitics on Twitter. Watch the debate on CNN TV, CNN.com and mobile devices. And participate with your questions on the live blog on the CNN Political Ticker.

(CNN) -- CNN will hold the first Republican presidential debate in the critical early voting state of New Hampshire at 8 p.m. ET on Monday.
With the 2012 election a little less than a year and a half away, there are still prominent Republicans who have yet to make a decision on whether they'll make a run for the White House but other contenders have been running for months.
Here's a look at the seven people who will share the stage at Saint Anselm College in Manchester:
Michele Bachmann: All the pieces in place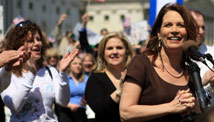 She's been in the national spotlight only a few years, but in that fairly short amount of time, Michele Bachmann has gained real notoriety -- even if, at times, the attention has come for reasons that she may wish to put behind her.
Bachmann has been called the next Sarah Palin. Perhaps it's because of their shared passion for the ideas behind the Tea Party. Perhaps it's the fact that the two are strong-willed female politicians. Or, perhaps it's because, like Palin, Bachmann has been known as someone who may not be as concerned with facts as much as she is with making headlines.
But one political expert cautions against underestimating her because of those headlines.
Herman Cain: Well-known in corporate, conservative circles
He does not have the megawatt celebrity status of Sarah Palin, but Herman Cain doesn't have the political baggage, either.
The conservative African-American radio talk show host has an impressive resume: CEO and president of Godfather's Pizza, chairman of the board of the National Restaurant Association, and he sits on the boards of companies like Hallmark Cards, Whirlpool and AGCO.
Cain is a favorite in many Tea Party circles, and he staunchly defends that movement against claims of racism. Though he may be well-known in conservative corridors and corporate America, some suggest Cain has slim to no chance of winning a presidential race.
Newt Gingrich: Controversies key in rise and fall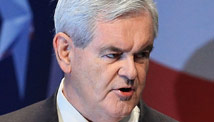 Newt Gingrich first arrived on the national political scene when, a few years after being elected to the House, he pushed ethics violations charges against then-Speaker Jim Wright, who later resigned.
Ethics complaints and a budget battle that forced a government shutdown, led to Gingrich's downfall after he had risen to the House speaker's chair.
Republican consultants say they believe Gingrich as a presidential candidate offers positives as well as negatives.
"He is an idea factory. Republican voters love him," GOP consultant Ron Bonjean said. "The cons are that he has a political record. He has been a career politician in Washington and a House speaker who left under controversial circumstances and that could weigh on voters' minds."
Ron Paul: Long-held policies converge with Tea Party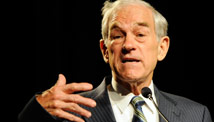 Texas Rep. Ron Paul is making his third bid for the White House armed with the same libertarian-leaning stances that cultivated a dedicated following during his 11 terms in the House of Representatives.
Those positions -- calls for limited government, reduced federal spending and less U.S. involvement overseas -- are now in the fore of national politics with the rise of the Tea Party and the country's financial situation.
Paul is perhaps most famous for his calls to abolish the Internal Revenue Service and Federal Reserve and return to a gold standard, his votes against authorizing military action overseas and his opposition to U.S. support for the International Monetary Fund and the World Trade Organization.
He has also called for constitutional amendments to abolish personal income, estate and gift taxes.
But those are some of the same issues that made him and his son, Kentucky Sen. Rand Paul, darlings of the Tea Party movement and especially popular among young conservatives whom he visits on college campuses across the country.
Tim Pawlenty: How his life story prepared him for White House run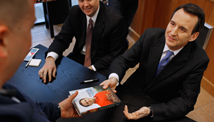 Tim Pawlenty has a compelling life story, an indirect path to the political spotlight: His mom died of ovarian cancer when he was 16. His dad, acting as a single parent, lost his job as a truck driver for a while. To help put himself through college and law school, the young Pawlenty worked for several years in the produce section at a grocery store.
"I'm the only one in my family who was able to go to college, not because my brothers and sisters didn't have the capacity or the ability. They really didn't have the opportunity," Pawlenty said.
He was elected in 1992 to the Minnesota State House and eventually became majority leader. In 2002, he won the first of his two terms as governor.
An evangelical Christian, he is a staunch opponent of abortion rights and same-sex marriage -- messages that should help build support among social conservatives in the key states of Iowa and South Carolina.
Mitt Romney: New mission is to change perceptions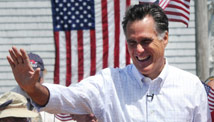 On paper, Mitt Romney seems to be the candidate's candidate. A governor and the son of a former governor, Romney has demonstrated that he can raise swells of campaign cash -- and has the name recognition that helps place him high in presidential preference polls.
Romney also has the credentials of being a successful businessman and organizer, key aspects to any successful candidate. He founded Bain Capital, a private equity firm, and oversaw the 2002 Winter Olympics in Salt Lake City, Utah.
His experience with economic issues almost certainly will be a boon in a race that will turn largely on jobs and the economy.
Generally, a candidate's experience as a governor is seen as a plus, but Romney's history in Massachusetts may potentially harm him. Running the state from 2003 to 2007, Romney was known for making bipartisan compromises -- a necessary tool in a state dominated by Democrats and independents.
Rick Santorum: 'Takes the bullets' for conservative causes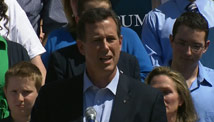 Rick Santorum is arguably the most frequent flyer in the battle for the Republican presidential nomination. Since 2009, he has made 15 trips to Iowa, where the caucus is the first contest in the election cycle, 18 to New Hampshire, which holds the first primary, and 15 to South Carolina, the state that holds the first primary in the South.
For all his travel and appearances, Santorum still has very low name recognition among most Americans, and according to just about every poll, he registers in the low single digits nationally among Republican voters. Because of his poll numbers and because he faces much better-funded rivals, Santorum faces long odds in his bid for the nomination.
But because of his strong opposition to abortion rights and gay rights, Santorum remains popular with many social conservative who have long had an influential role in the GOP primary process.