Santorum to announce candidacy for president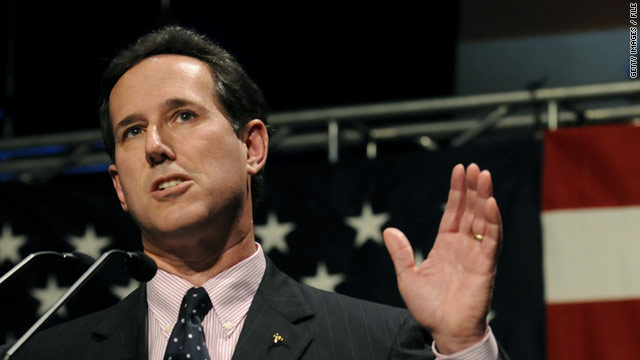 STORY HIGHLIGHTS
He has already made numerous trips to Iowa, New Hampshire and South Carolina
The two-term senator lost his 2006 re-election bid
Polls indicate that Santorum registers in the low single digits nationally
He remains popular with many socially conservative voters
(CNN) -- Rick Santorum will make it official Monday.
The former senator from Pennsylvania will formally announce his candidacy for president in Somerset County, near where his grandfather worked in a coal mine after coming to America from Italy.
"This location is significant because when Sen. Santorum's grandfather left fascist Italy, he came to this country for America's freedom and the opportunity our nation afforded him," a source close to the Santorum campaign told CNN last month.
Santorum is arguably the most frequent flyer in the battle for the 2012 Republican presidential nomination. He has made more than a dozen trips to Iowa since 2009. Iowa kicks off the presidential primary and caucus calendar.

Santorum slams Obama on Egypt stance

2010: Santorum: 'We did not lead'

2010: Santorum: Freedom through virtue
In the same period of time, he also made numerous trips to New Hampshire, which holds the first primary, and to South Carolina, the first southern primary state on the road to the White House.
Late last year, Santorum started building up staff in these crucial early voting states.
On May 3, he announced the formation of a presidential exploratory committee, filing papers with the Federal Election Commission. Two days later, he participated in the first GOP presidential debate, in Greenville, South Carolina.
The former two-term senator lost his 2006 re-election bid by 18 points to Democrat Bob Casey Jr. and until last year was largely out of public view except for appearances on Fox News.
Polls over the past year indicate that Santorum registers in the low single digits nationally among Republican voters when it comes to the choice for their party's next presidential nominee.
But, due in part to his strong opposition to abortion rights, Santorum remains popular with many socially conservative voters who have long had an influential role in the GOP primary process.
iReport: Who is your GOP presidential pick?
Earlier this spring, Santorum made headlines by winning a much-watched straw poll at the Greenville County, South Carolina, Republican convention.
FOLLOW THIS TOPIC