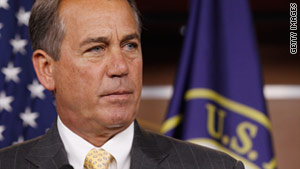 House Speaker John Boehner, R-Ohio, introduced the resolution rebuking President Obama's Libya policy.
STORY HIGHLIGHTS
House passes measure criticizing Obama's Libya policy
Kucinich's measure calling for withdrawal of U.S. forces from NATO's Libya mission rejected
Some House members believe administration has violated 1973 War Powers Act
Act calls for congressional approval of any military operation exceeding 60 days
Washington (CNN) -- The Republican-controlled House of Representatives issued a rebuke of President Barack Obama's Libya policy Friday, passing a measure declaring that the president has failed to provide a "compelling rationale" for military involvement in the North African country.
The non-binding resolution criticizes the president for insufficiently consulting Congress before launching air strikes in Libya and urges the administration not to put any ground troops in the country, something Obama has already promised not to do.
The measure, reflecting what GOP leaders consider a lack of presidential deference to the legislative branch, passed in a 268-145 vote. Most Republicans supported it, while most Democrats were opposed.
House members rejected a separate resolution offered by Rep. Dennis Kucinich, D-Ohio, calling for the withdrawal of U.S. forces from the NATO-led military operation. Kucinich's measure was defeated in a 148-265 vote.

Qatari expulsion of alleged Libyan rape victim upsets U.S.
The Republican resolution, introduced by House Speaker John Boehner of Ohio, calls on the White House to furnish information on a wide range of topics within 14 days, including documents and justifications on the U.S. interests in the conflict, estimated costs and duration of U.S. involvement, and the effect on U.S. activities in Afghanistan and Iraq.
"This resolution puts the president on notice," Boehner said before the vote. "He has a chance to get this right, and if he doesn't, Congress will exercise its constitutional authority and we will make it right."
House Armed Services Committee Chairman Buck McKeon, R-California, said that eventually cutting off funding for the Libyan intervention is "probably a good option."
"Funding is all we can really do," he said, referring to Congress' ability to influence overseas military action.
McKeon blasted the "arrogance" of the administration.
Democrats dismissed Friday's GOP effort, characterizing it as pointless political posturing.
"Pursuing a non-binding House resolution that takes potshots at the president and amounts to nothing more than a sense of the Congress is just an exercise in political gamesmanship," said Rep. Howard Berman, D-California. "It is a pedantic effort to embarrass the president without taking any ownership for the policy."
"We are (over) 60 days into this operation," Berman noted. "Either we should authorize this action or terminate -- not play around with reporting requirements."
The 1973 War Powers Act says Congress must authorize any military actions that last more than 60 days. U.S. engagement in Libya reached the 60-day mark May 20.
Administration officials insist they've complied with provisions in the law requiring information to be provided to Congress. Obama, however, also sent a letter to Boehner on May 20 indicating that the White House would welcome passage of a measure providing clear congressional support.
It has "always been my view that it is better to take military action, even in limited actions such as this, with congressional engagement, consultation and support," Obama said.
Specifically, the administration has indicated its support for a Senate resolution being pushed by Sens. John Kerry, D-Massachusetts, and John McCain, R-Arizona, that backs the "limited use of military force by the United States in Libya as part of the NATO mission" authorized by the United Nations.
The Senate resolution also expresses support for the administration goal of removing Libyan strongman Moammar Gadhafi -- something not explicitly called for by the U.N.
CNN's Dana Bash, Kate Bolduan, Rachel Streitfeld and Deirdre Walsh contributed to this report.
FOLLOW THIS TOPIC