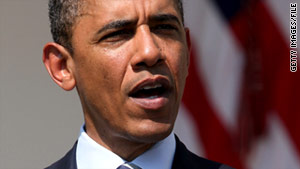 President Obama met with House Democrats to talk about the U.S. debt a day after holding similar talks with the House GOP.
STORY HIGHLIGHTS
NEW: Rep. Clyburn says he hopes for deficit reduction deal by July 4
President will discuss debt ceiling talks with congressional Democrats
Obama told GOP legislators Wednesday that entitlements are on the table
House Speaker John Boehner calls for spending cuts to exceed any debt-limit hike
Washington (CNN) -- Any deficit reduction deal with Republicans must bolster job growth and spread the burden equally among the wealthy and other segments of society, congressional Democratic leaders said Thursday after talks with President Barack Obama.
The president met for more than an hour behind closed doors with House Democrats to discuss ongoing deficit reduction negotiations and the looming deadline to raise the federal government's debt ceiling.
Thursday's meeting and a similar one Wednesday with House Republicans came amid deficit reduction negotiations led by Vice President Joe Biden and a pressing deadline. Congressional approval to increase the federal debt limit is needed by early August. Absent significant spending cuts and other debt-reduction steps, Republicans oppose raising the debt limit.
While both sides say the negotiations have made progress, they remain far apart on key issues such as tax reform and how to reduce the rising costs of entitlement programs such as Social Security, Medicare and Medicaid.
Emerging from Thursday's White House gathering with Obama, the House Democratic leadership told reporters that their party's caucus was unified in its determination to adhere to core principles in seeking an agreement with Republicans.
Rep. Chris Van Hollen, D-Maryland, who is participating in the deficit-reduction talks led by Biden, said any agreement mustn't hurt what he described as a "fragile" economic recovery. Any deal must also take a balanced approach in distributing the burden of spending cuts and entitlement reforms.
He criticized a Republican budget proposal as being lopsided by overhauling Medicare and Medicaid while maintaining subsidies for oil companies and tax cuts for families making more than $250,000 a year.
Van Hollen conceded that the deficit reduction talks have yet to take up what he called "politically nuclear issues" such as significant entitlement and tax reform, saying that initial steps were needed to build the basis for more substantive negotiations.
Another participant, Rep. James Clyburn, D-South Carolina, added that he hoped the negotiators can announce a deal, or at least significant progress, by July 4.
In a brief statement on the meeting, a White House official said on condition of not being identified that Obama "highlighted the need for both parties to work together to take a balanced approach to deficit reduction, one that allows us to live within our means without hurting our ability to invest in the future or burdening our middle class or seniors."
"The president and the Democratic caucus also discussed the need throughout this process to ensure we are making the investments in innovation, research and development and education that are essential to our ability to create jobs and promote economic growth," the statement said.
Treasury Secretary Tim Geithner says the $14.3 trillion debt ceiling must be increased by August 2 or the U.S. faces default on its obligations, which he warned could trigger economic calamity.
In his meeting with House Republicans on Wednesday, Obama said entitlement reforms were under discussion as part of a deficit reduction deal, one of the GOP participants said. Shortly after the talks, though, White House Press Secretary Jay Carney continued to criticize the Republican plan to overhaul Medicare.
On Thursday, Rep. Kathy Hochul of New York, who was sworn in Wednesday as the chamber's newest Democratic member after winning a special election last week in a traditionally Republican district, told Obama and her new colleagues how the GOP Medicare proposal was a major issue in that race, said Rep. John Larson, D-Connecticut.
Carney rejected Republican calls for Obama to now propose a 2012 federal budget that would then go through the normal congressional committee process, saying the president's priorities are clear and the deficit reduction negotiations are the "best vehicle" to move the process forward. Obama already proposed a budget plan for next fiscal year that was rejected by the Senate, and he outlined his budget and deficit-reduction priorities in an April 13 speech.
"We're at a point now where we don't need new plans," Carney said. "We need to find common ground around the shared goal of significant deficit reduction and come together, hold hands, and agree that we're going to get this done."
The negotiations are looking at all components of federal spending -- nonmilitary discretionary spending, military spending, obligations under Social Security, Medicare and Medicaid, and tax revenues and expenditures, Carney said.
He reiterated that negotiators won't reach agreement on all the substantive issues on which Democrats and Republicans disagree, but said Obama believes enough common ground exists to bring significant deficit-reduction steps. At the same time, Carney said, Congress must agree to raise the debt ceiling, repeating past assertions that the spending negotiations and debt ceiling issues should not be linked.
The GOP proposal to overhaul the government-run Medicare program, which would increase the health care costs of senior citizens starting in 2022, has prompted public opposition and, last week, helped Hochul win election.
Republicans complain that Democrats erroneously say the plan initiated by House Budget Committee Chairman Paul Ryan, R-Wisconsin, would mean senior citizens would be forced into the private health insurance market and receive a government payment to cover some of the costs. Republicans contend the plan sets up a Medicare exchange offering specific options for private coverage, with the government helping to pay the bill.
The nonpartisan Congressional Budget Office has said the Ryan proposal would increase the average health care costs for senior citizens by $6,000 a year.
Carney on Wednesday directly contrasted the GOP Medicare proposal with another issue pushed by Obama's Democratic base: Ending tax cuts for the wealthy.
"In order to achieve the (spending) reductions that they seek and pay for the tax cuts that aren't called for, they need to do things to Medicare that aren't necessary," Carney said, calling the debate "a question of priorities."
The House voted 318-97 Tuesday to defeat a measure that would have raised the federal government's debt limit by approximately $2.4 trillion. Republican opposition was unanimous.
GOP leaders scheduled the vote to show that any attempt to divorce an increase in the debt ceiling from spending reduction efforts -- a move initially favored by the Obama White House -- cannot win congressional approval.
Democrats called Tuesday's vote a dangerous political stunt that risked rattling financial markets. The New York Stock Exchange recorded its biggest loss so far in 2011 on Wednesday, though analysts attributed the showing to other issues including Greece's debt problems and tepid U.S. economic reports.
Numerous analysts say that a failure to reach an agreement raising the debt limit could lead to skyrocketing interest rates, a plummeting dollar and a higher cost of living for most Americans.
GOP leaders, who campaigned in 2010 on an agenda of fiscal responsibility, oppose any increase in the debt ceiling without major spending cuts.
House Speaker John Boehner, R-Ohio, made clear after Wednesday's White House meeting that his majority caucus wants the government to cut more spending than the amount it needs to raise its borrowing limit to pay all obligations.
"This morning I released a letter signed by 150 economists who agreed that if we're going to get serious creating jobs in America, we've got to reduce some of the uncertainty," Boehner told reporters. "Some of that uncertainty's caused by the giant debt that's facing our country. And the fact that if we're going to raise the debt limit, the spending cuts should exceed the increase in the debt limit. Otherwise it'll serve to cost us jobs in our country."
Senate Minority Leader Mitch McConnell, R-Kentucky, has said that any vote in favor of raising the ceiling should be accompanied by significant new cuts in discretionary spending over the next two years, followed by significant changes over the longer term to costly entitlement programs such as Medicare and Medicaid.
The question of how to control the explosive growth in popular entitlements may be the most critical question in the current debate over Washington's fiscal health. Leaders from both parties agree that some kind of change is necessary in Medicare in particular, but differ sharply on scope and shape.
Democrats are pushing for tax increases on higher-income Americans as a way to reduce the need for sharp cuts. They have ripped their GOP counterparts for allegedly taking advantage of the current crisis to try to dismantle a social safety net in place since President Lyndon Johnson's Great Society.
Under Ryan's plan, which aims to cut federal deficits by roughly $4.4 trillion over the next decade, Medicare would be overhauled starting in 2022. The government would no longer directly pay bills for senior citizens in the program. Instead, recipients would choose a plan from a list of private providers, which the federal government would subsidize.
While individuals currently over the age of 55 would not be affected by the changes, numerous political strategists believe the proposal will prove to be deeply unpopular among seniors.
In a CNN/Opinion Research Corp. survey released Wednesday, 58% of respondents said they oppose the Republican plan on Medicare, while 35% said they support it.
CNN's Kate Bolduan, Ed Henry, Brianna Keilar and Deirdre Walsh contributed to this report.