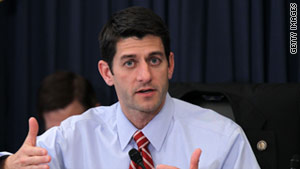 Rep. Paul Ryan, R-Wisconsin, unveiled the GOP budget that includes an overhaul of Medicare and Medicaid.
STORY HIGHLIGHTS
Democrats score an upset win over a Republican in a New York congressional district Tuesday
Democrats argue they won the seat by attacking the GOP's Medicare proposal
Republicans point to other factors and say the race has no national implications
The fight over entitlement reform has become a central political focus leading up to 2012
Washington (CNN) -- Has the Republican Medicare plan undermined the GOP's 2012 election hopes?
Republicans say no. They hope voters will reward them for taking on a tough issue. But Democrats say yes, and now they're pointing to the surprising results of a special election in western New York to back their claim.
Kathy Hochul, the Democratic clerk of Erie County, swept to victory Tuesday night in the race to fill the U.S. House seat previously held by Republican Chris Lee. Lee, who is married, resigned after it was discovered that he was trying to arrange sexual trysts via the Web site Craigslist.
The real surprise, however, turned out to be Hochul's ability to capture a seat long considered a GOP stronghold. The Republicans had controlled the district, which stretches roughly from Rochester to Buffalo, for over four decades.
How did Hochul pull it off? There were no exit polls for the race so it's impossible to say for sure. But the centerpiece of her campaign was a no-holds-barred attack on a plan to overhaul Medicare recently passed the Republican-controlled House of Representatives.
Under the plan, originally put forward by House Budget Committee Chairman Paul Ryan, R-Wisconsin, Medicare would be overhauled starting in 2022. The government would no longer directly pay bills for senior citizens in the program. Instead, recipients would choose a plan from a list of private providers, which the federal government would subsidize.

GOP field of dreams?
Individuals currently 55 or older would not be affected by the changes.
Republican leaders consider the plan a necessary cost-cutting measure in light of spiraling federal deficits. They also contend tomorrow's seniors will benefit from a wider range of affordable choices.
Democrats warn the move would shred the health care security enjoyed by older Americans in recent generations.
Democrats have all but sworn to make the proposal, passed with near unanimous support by House Republicans, a focal point of their campaign efforts next year. Senate Majority Leader Harry Reid, D-Nevada, is forcing Senate Republicans to go on record by forcing a vote on the plan later this week.
The bill has no chance of clearing the Democratic-controlled Senate.
During Hochul's victory speech Tuesday night, jubilant supporters repeatedly chanted "Medicare! Medicare!" Hochul pledged to help balance the budget "the right way, not on backs of our seniors."
Throughout the campaign, Hochul highlighted the national fight, telling CNN that her Republican opponent. Jane Corwin. had "100% embraced" the plan.
"Even when Republicans in Washington walk away from it, she's been asked again and again, and she continues to support it," Hochul said.
Corwin called Hochul's message "scare tactics," and had argued that Hochul was "trying to put out the idea that I'm trying to end Medicare."
"There's nothing further from the truth," Corwin insisted. "I'm working to protect Medicare."
Moments after the Hochul's victory was announced, Rep. Debbie Wasserman Schultz of Florida, the newly installed head of the Democratic National Committee, declared that the outcome of the race proves "Republicans and Independent voters, along with Democrats, will reject extreme policies."
"Tonight's result has far-reaching consequences beyond New York," she said.
Rep. Steve Israel of New York, head of the Democratic Congressional Campaign Committee, announced that the Republicans have been "served notice ... that we will fight them anywhere in America when it comes to defending and strengthening Medicare."
On Wednesday morning, Guy Cecil, executive director of the Democratic Senatorial Campaign Committee, released a statement arguing that the results "provide clear evidence that Senate Democrats will be able to play offense in Senate races across the country by remaining focused on the Republican effort to end Medicare."
For their part, Republican leaders minimized the importance of the race. Among other things, they pointed to the presence of a conservative third party candidate in the race whose support apparently exceeded Hochul's margin of victory.
Rep. Pete Sessions of Texas, head of the National Republican Congressional Committee, insisted the race has no national implications.
"To predict the future based on the results of this unusual race is naive and risky," Sessions said. "History shows one important fact: The results of competitive special elections from Hawaii to New York are poor indicators of broader trends or future general election outcomes."
Sessions pointed to a string of Democratic special election victories leading up to last November's GOP landslide.
"If special elections were an early warning system, they sure failed to alert the Democrats of the political tsunami that flooded their ranks in 2010," he said.
Republican National Committee Chairman Reince Priebus blasted Democrats for stopping "at nothing to preserve the status quo in Washington, which is propelling our country towards bankruptcy."
Priebus' remarks reflected the fact that the question of how to tackle the growth of hugely popular entitlement programs -- including Medicare, Medicaid, and Social Security -- has now become one of the central battlegrounds in the national political arena.
GOP leaders repeatedly attacked President Barack Obama's controversial health care overhaul in 2010, arguing that it will weaken Medicare.
Republican congressional candidates crushed their Democratic counterparts among voters age 65 and older last November, carrying seniors by a 21-point margin.
Whether Republicans can successfully defend Ryan's plan, which is a virtual litmus test for their conservative base, without scaring older voters this time around remains to be seen. Former House Speaker Newt Gingrich, now a presidential candidate, was recently excoriated by conservative activists for calling Ryan's plan a form of objectionable "right-wing social engineering."
Gingrich has since backed away from his remarks and expressed support for the proposal.
Some conservatives are now grumbling over the fact that Sen. Scott Brown, a moderate Republican facing what is expected to be a tough re-election fight in heavily Democratic Massachusetts next year, has announced his intention to vote against the plan.
Rep. Joe Walsh of Illinois, a freshman Republican, said Monday on the Fox Business Network that Brown should be "ashamed" of himself.
"This is the defining moment of this generation," Walsh said.
The jury is now out on whether Tuesday night's election outcome will prove to be the defining moment of the 2012 campaign.
CNN's Steve Brusk, Paul Steinhauser, Kate Bolduan and Deirdre Walsh contributed to this report
FOLLOW THIS TOPIC