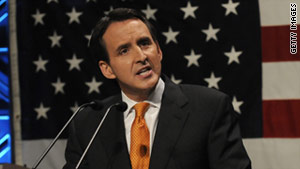 Former Minnesota Gov. Tim Pawlenty is expected to start his campaign Monday. He released a video on Sunday.
STORY HIGHLIGHTS
Pawlenty pre-empted his Monday candidacy announcement with a video
Pawlenty officially announced his candidacy for president Monday
He will kick off a multi-state campaign swing
He pledges to grow jobs, limit government spending and tackle entitlements
(CNN) -- Former Minnesota Gov. Tim Pawlenty officially announced his candidacy for president Monday in the first-in-the-nation caucus state of Iowa, kicking off his "truth" campaign.
"In my campaign, I'm going to take a different approach. I am going to tell you the truth. The truth is Washington D.C.'s broken," Pawlenty said. "It's time for new leadership. It's time for a new approach. And, it's time for America's president - and anyone who wants to be president - to look you in the eye and tell you the truth."
After criticizing the president's handling of the economy and health care, he promised to unite the Republican Party and the country.
"No president deserves to win an election by dividing the American people - picking winners and losers, protecting his own party's spending and cutting only the other guys'; pitting classes, and ethnicities, and generations against each other," Pawlenty said. "The truth is, we're all in this together. So we need to work to get out of this mess together."
He staked out some less popular positions, particularly in the Hawkeye State calling for reduced ethanol subsidies and means testing for Social Security beneficiaries.
"The truth about federal energy subsidies, including federal subsidies for ethanol, is that they have to be phased out. We need to do it gradually. We need to do it fairly. But we need to do it," Pawlenty said. "Conventional wisdom says you can't talk about ethanol in Iowa or Social Security in Florida or financial reform on Wall Street. But someone has to say it."

Politics: Who is Tim Pawlenty?

Pawlenty focused on White House

Pawlenty: 'This isn't going to be easy'
"I'll also tell the truth to wealthy seniors that we will means test Social Security's annual cost-of-living adjustment," Pawlenty added.
He also told his personal story to the Iowa group, touting his "blue collar" roots that taught him the importance of hard work while pledging to grow jobs, limit government spending and tackle entitlements.
The Iowa announcement came on the heels of a video released late Sunday night that carried a similar message, a message Democrats quickly criticized with their own web video attacking his policy stances and presidential ambition.
The spot released Monday focused on a quote Pawlenty gave to TIME magazine earlier this year, when he said he didn't know when he first thought about himself as president.
"I don't know. I wish I had a better answer for you," the ad reads. "So do we!"
Pawlenty's announcement in Des Moines kicks off a multi-state campaign swing that also includes Florida, New Hampshire, New York and Washington D.C.
However, the formal declaration is not a surprise. Pawlenty was the first of what are considered the major GOP White House contenders to form a presidential exploratory committee, filing with the Federal Election Commission on March 21.
As he begins his bid for the GOP nomination, the two-term governor has some advantages. He appears easy-going to many voters, and apparently has a scandal-free past. He's an evangelical Christian who opposes abortion rights and same sex marriages, positions which may help him among social conservative voters, who are very influential in the Republican primaries, especially in Iowa and South Carolina, which is the first Southern state to vote in the primary and caucus calendar.
But he does have his challenges. First among them is that he's relatively unknown outside his home state. Pawlenty polls in the low single digits in just about every national 2012 GOP horse-race survey. Many Republican handicappers also say Pawlenty is not especially charismatic, possible due to too much of that so-called "Minnesota nice."
Pawlenty's announcement in the summer of 2009 that he would not run the following year for a third term as governor was a tip-off that he was considering a run for the 2012 Republican presidential nomination. Pawlenty soon became very visible, speaking out against the Obama administration and appearing at a number of major Republican and conservative events. He also became vice chairman of the Republican Governors Association.
In October of 2009, Pawlenty also set up Freedom First PAC, a federal political action committee, to help pay for travel across the country. It also allowed him to assist and contribute to fellow Republicans on the ballot in the 2010 midterm elections.
Thanks to his formation of the PAC and his role at the RGA, Pawlenty criss-crossed the country during last year's campaign in support of fellow Republican lawmakers and candidates running in the midterms, helping to raise his profile and building relationships that could come in handy during a bid for the presidential nomination.
Pawlenty touts himself as a fiscal conservative who stood up to Minnesota's state's unions and special interests. In the early years of his tenure the state had budget surpluses. With the effects of the recession still being felt, he left office earlier this year with a $6 billion deficit and higher unemployment than when he became governor.
"Unfortunately for the people of Minnesota, while Governor Pawlenty was out exploring states near and far, he failed those he was supposed to represent. Tim Pawlenty left our state facing the largest deficit in Minnesota's 152-year history, drove up property taxes and fees on middle-class families and small businesses alike, all while making draconian cuts to education that forced some schools into 4-day weeks," Minnesota Democratic Party Chairman Ken Martin said in a statement earlier this year.
In January of this year, just days after leaving office in Minnesota, Pawlenty kicked off a national book tour for "Courage to Stand," which chronicled his personal and political life, and his stance on the issues. It was no surprise that the book tour included stops in Iowa and New Hampshire, which votes second in the primary and caucus season.
The following month, Pawlenty appeared to make a pitch for influential tea party activists, as he called for holding the line on government spending and taxes as he headlined an inaugural policy summit being put on in Phoenix by the Tea Party Patriots, one of the nation's largest national tea party groups.
While Pawlenty's early campaign efforts have been largely confined to Iowa and New Hampshire, he's started expanding his operation into South Carolina, which for a generation has had a can't-miss record of picking the Republican presidential nominee. Earlier this week CNN learned that Pawlenty hired Kurt Pickhardt, who until last week was the operations director for the South Carolina Republican Party, to serve as his political director in the state.
Wednesday night Pawlenty was the main attraction at a large fundraiser in Minneapolis. Friday he finished up a two-day financial swing through California. Unlike some of his rivals for the nomination, Pawlenty is raising money for both the primaries and the general election.
"We are raising it because we believe we'll be the nominee and want to be ready for the Democrats," says Pawlenty spokesman Alex Conant.
While perfectly legal, raising general election funds helps boost the overall fundraising figures for a candidate. For this election cycle, the Federal Election Commission is allowing individuals to contribute $2,500 to a candidate for the primaries, with another $2,500 to the same candidate for the general election.
CNN's Paul Steinhauser, Peter Hamby, Kevin Bohn, Steve Brusk and Gabriella Schwarz contributed to this report.
FOLLOW THIS TOPIC