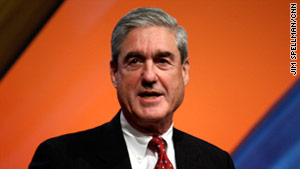 FBI Director Robert Mueller had expected to retire in September but was asked to stay on, an official says.
STORY HIGHLIGHTS
NEW: Move receives support from lawmakers in both parties
White House says Mueller's willingness is a "testament" to his "remarkable service"
Attorney General Eric Holder backs the proposed extension
Washington (CNN) -- President Barack Obama is seeking a two-year extension of the 10-year term of FBI Director Robert Mueller, the White House announced Thursday.
Mueller's current term is set to expire September 4, and an extension would require congressional approval.
"Given the ongoing threats facing the United States, as well as the leadership transitions at other agencies like the Defense Department and Central Intelligence Agency, I believe continuity and stability at the FBI is critical at this time," Obama said in a written statement.
Mueller "transformed the FBI after September 11, 2001, into a pre-eminent counter-terrorism agency, (and) he has shown extraordinary leadership and effectiveness at protecting our country every day since," Obama said.
White House Press Secretary Jay Carney said the director's willingness "is a testament to Dr. Mueller's remarkable service ... to this country."
"The man has served admirably (for 10 years) in what must be one of the hardest jobs in the country if not the world," he added.
Mueller is the agency's sixth director since the Bureau of Investigation changed its name to the Federal Bureau of Investigation in 1935, under then-Director J. Edgar Hoover.
An additional two years atop the agency "helps provide continuity," said Carney, who declined to say whether Obama had met with other possible candidates.
"A short-term legislative change will allow Bob to remain at the FBI for an additional two years so the president's counter-terrorism team can continue to work together seamlessly," Attorney General Eric Holder said. "There is no better person for that job than Bob Mueller."
A key Senate Democrat was quick to offer his support for the request.
"I was delighted when President Obama informed me that he has asked Director Mueller to stay on at the bureau for an additional two years," said Sen. Patrick Leahy, D-Vermont, head of the Senate Judiciary Committee. "I appreciate Director Mueller's continued service to the nation, and I am fully supportive of this decision."
But others expressed caution.
"This is an unusual step by the president and is somewhat of a risky precedent to set," said Republican Chuck Grassley, ranking member of the Senate Judiciary Committee. "There's no question that Director Mueller has proven his ability to run the FBI. And we live in extraordinary times."
He added that he is "open to the president's idea but will need to know more about his plan to ensure that this is not a more permanent extension that would undermine the purposes of the term limit."
Meanwhile, House Judiciary Committee Chairman Lamar Smith, a Republican, said he supported the decision, saying he agrees "that it is important to maintain continuity for our intelligence community during this transition period."
Connecticut independent Joe Lieberman followed suit.
"Given the director's extraordinary record of accomplishment and the times in which we live, I believe a change in the law is appropriate in this case," said Lieberman, chairman of the Senate Homeland Security and Governmental Affairs Committee. "I fully support the president's decision to ask the director to serve two more years to see through the FBI's transformation as the terrorist threat continues to evolve."
Other members of congressional defense and intelligence committees also appeared in support.
"I am happy to support this extension in light of the leadership changes that are set to occur later this year at CIA and the Department of Defense," said House Intelligence Committee Chairman Mike Rogers, a Republican.
Last month, Obama nominated Central Intelligence Agency Director Leon Panetta to succeed Robert Gates as defense secretary.
Gen. David Petraeus is set to take over as CIA director, and Lt. Gen. John Allen will succeed Petraeus as head of the U.S.-led international military force in Afghanistan.
Meanwhile, House Judiciary Committee Ranking Member John Conyers said that although he has often disagreed with Mueller, he is "confident that (the director) will continue to work with integrity and respect for Americans' rights as he ensures the safety of the American people."
"I congratulate him on his noteworthy 10-year term and look forward to continuing to work with him."
Democratic Sen. Dianne Feinstein also said she "strongly support(s) keeping Director Mueller in this position of leadership for an additional two years, a decision that will also provide important stability in President Obama's national security team."
Mueller had expected to retire when his term ends in September, but Obama persuaded him to stay, according to one senior official.
Congress set a 10-year limit on the FBI director's term after Hoover's 48-year rule over the agency. Nobody since that time has served the full 10 years.
Mueller, a New York native, graduated from Princeton University in 1966 and joined the Marine Corps, leading a rifle platoon in Vietnam. After his return, Mueller earned a law degree from the University of Virginia Law School in 1973, later working in the U.S. Justice Department.
CNN's Alan Silverleib and Terry Frieden contributed to this report.
FOLLOW THIS TOPIC