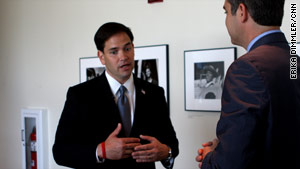 Even though he says he's focused on representing Florida in the Senate, some Republicans hope Marco Rubio will consider a presidential run.
STORY HIGHLIGHTS
After just four months in the Senate, Floridians urging Marco Rubio to run for president
Polls show no clear front-runner among Republicans believed to be considering 2012 run
Rubio wants balanced budget amendment, spending caps before he'll vote to raise debt ceiling
St. Augustine, Florida (CNN) -- For Marco Rubio, it's the question that won't go away.
"We need you now. Our country is in trouble. Please give it a second thought," said one woman at a Rubio town hall in St. Augustine.
"We had one junior senator make it to the White House. Do we have a second one?" asked another man at the same event.
The freshman Republican senator from Florida just laughed. "I have visited the White House," he joked.
After only four months in office, Rubio is being urged to run for the White House by some of the very Florida voters who just elected him to the Senate.
"I'm the senator for the state of Florida," Rubio said in an interview with CNN, but he said the speculation was flattering.
"I'm not interested in running for anything else in 2012. I'm not thinking about running for anything beyond that," he added.
That's hardly a refusal to run, so the questions persist.
On NBC's "Meet the Press" last month, Rubio appeared to rule out a 2012 run, saying "under no circumstances" would he be on the GOP ticket next year.
Past presidential contenders have changed their minds after making such declarative statements -- in 2004, a newly elected Sen. Barack Obama ruled out a 2008 run. Party leaders later asked him to reconsider.
Much of the 2012 buzz around Rubio is fueled by the mixed feelings within the GOP about the current crop of potential contenders.
A CNN/Opinion Research Corp. poll released last week showed no clear front-runner among those candidates thought to be considering a presidential run in 2012 with former Arkansas Gov. Mike Huckabee the favorite of 16 percent of Republican or Republican-leaning indepedents, real estate mogul Donald Trump getting 14 percent, former Massachusetts Gov. Mitt Romney at 13 percent and several other possible candidates bunched closely behind.
Some influential Republicans still hope that Rubio will change his mind -- on his radio show on Monday, William Bennett, a CNN contributor, prefaced an interview with Rubio by saying he wasn't going to ask him any "silly questions" about his future. But after some questions about the Senate, Bennett took Rubio around the world with the kind of questions a presidential candidate would be asked on foreign affairs.
Bennett closed the interview by telling his listeners, "I wish [Marco Rubio] were in our lineup of presidential candidates, don't you?"
Rubio maintains he's sticking to the issues that matter to Floridians. But his speeches at town halls in Florida two weeks ago were still steeped in the rhetoric of "American exceptionalism" that drove his Senate campaign.
His repeated calls to reduce the national debt have the feel of a presidential stump speech.
"Do our leaders care more about our country or the future of their elections? Ultimately that is the decision that leaders in our past have made. What our children inherit is up to us," Rubio told a crowd in Daytona Beach.
If he runs, Rubio would present GOP voters with an un-Trump: a fresh-face who focuses on the big issues instead of throwing bombs.
"My objections are not personal. I just think his policies are taking us in the wrong direction," Rubio said of the president at one town hall.
He wants a vote on a balanced budget amendment to the Constitution and spending caps before the ceiling is lifted. The White House says a failure to raise the debt limit would be "catastrophic."
"My argument is if all we do is raise this debt limit it will be catastrophic," Rubio said.
Running for the White House has clearly crossed his mind. At his town halls, he sounded almost romantic about the rigors of campaigning in places like Iowa and New Hampshire where voters don't know you "until you've met four times."
It certainly didn't sound like a deal breaker.
But waiting until 2016 makes sense. He wouldn't have to face a sitting incumbent. And Rubio would have a full Senate term under his belt.
Obama was also written off as too inexperienced in 2008. Sworn into the Senate in 2005, he was off and running just two years later.
For Obama, 2008 was about "the fierce urgency of now."
That's roughly how many Republicans are making the case to Rubio.
FOLLOW THIS TOPIC