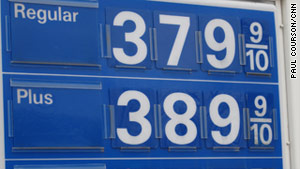 Legislation to cut tax subsidies from big oil companies aims to capitalize on public anger over rising gas prices.
STORY HIGHLIGHTS
NEW: Sen. Menendez blasts ConocoPhillips for calling the Democratic plan "un-American"
Democrats want to cut $21 billion in big oil subsidies and use the money for debt reduction
Republicans say the cuts would do nothing to lower gas prices
The debate is part of a larger fight over raising the debt ceiling and preparing the 2012 budget
Gas prices affecting your drive? Share road trip memories at CNN iReport.
Washington (CNN) -- Senate Democrats opened debate Wednesday on legislation to cut $21 billion in tax subsidies from big oil companies and use the money to reduce the federal debt -- a move designed to put Republicans on the defensive and capitalize on public anger over rising gas prices.
The bill has virtually no chance of winning congressional approval. Analysts believe, however, that Democrats will try to use the issue to their political advantage in both the run-up to the 2012 elections and in the ongoing fight to increase the amount of money the federal government is allowed to borrow before Washington defaults on its financial obligations.
Treasury Secretary Tim Geithner has warned of a possible default if the current $14.294 trillion debt ceiling is not increased by August 2.
The bill targets the five biggest oil companies: ExxonMobil, Shell, ConocoPhillips, BP and Chevron. The chief executive officers of those companies -- which have reported large profits -- have been summoned to testify before a Democratic-controlled Senate committee Thursday.
Sen. Robert Menendez, D-New Jersey, blasted ConocoPhillips on Wednesday for using the word "un-American" to describe the Democratic proposal. The senator said he expects an apology at Thursday's hearing.
"To question the patriotism of those public officials who believe they do not deserve billions of dollars in wasteful subsidies is simply beyond the pale," Menendez said. "It is simply not acceptable."
A press release posted on the company's main Web site was headlined: "ConocoPhillips Highlights Solid Results and Raises Concerns Over Un-American Tax Proposals at Annual Meeting of Shareholders."
A spokeswoman for the company declined to say why the word was used, but promised that its CEO, James Mulva, would discuss his views of the proposal at the hearing.
Republicans, who oppose any tax increases, have dismissed the Democrats' move as a hollow political gesture. GOP leaders argue, among other things, that it is unfair to single out a specific industry, regardless of how unpopular that industry may be. They also contend that the bill, if passed, would do nothing to lower what most consumers view as exorbitant gas prices.
In fact, some analysts warn, any tax increases might get passed on to consumers.
Democrats have "unveiled yet another attempt to slow American energy production, this time through a tax hike on American energy," Senate Minority Leader Mitch McConnell, R-Kentucky, said Wednesday morning. "They acknowledged, however, that this will not lower the price of gas, and they're right."
"Raising taxes on American energy will do two things: increase the price of gas and increase our dependence on foreign competitors," McConnell asserted. "By taxing American energy production, they're also outsourcing American jobs."
Republicans, however, are also trying to take political advantage of high prices at the pump. The GOP-controlled House was expected to pass two measures Wednesday -- one to accelerate the oil drilling permitting process in the Gulf of Mexico and another to promote more offshore oil and gas exploration.
Neither bill is expected to the clear the Democratic Senate.
The oil skirmishes are taking place against the backdrop of heated budget talks between the leadership of the two parties. Top Democrats and Republicans are not only trying to find a way to reach an agreement on the debt ceiling; they are also starting to consider ways to approach fiscal year 2012, which starts in October.
Economic analysts warn that a failure to reach an agreement raising the debt ceiling in time to avoid a national default could have devastating consequences. Among other things, Americans could be faced with skyrocketing interest rates and a plummeting dollar.
The "full faith and credit of the United States government" is at stake, White House Press Secretary Jay Carney said Wednesday. "We know what may come" if the debt ceiling isn't raised "and it's not pretty."
President Barack Obama discussed the issue with Senate Democrats behind closed doors at the White House Wednesday afternoon. The president will do the same with Senate Republicans on Thursday.
Vice President Joe Biden, meanwhile, has been holding deficit reduction talks this week with a bipartisan group of House and Senate leaders. A separate bipartisan group of senators -- the so-called "Gang of Six" -- has also been trying to find an acceptable middle ground.
Both parties say they would like to avoid a repeat of the debate over fiscal year 2011, which wasn't resolved until a near-government shutdown in April. The two sides finally agreed to $38.5 billion in cuts as part of a deal to keep the government running through September 30.
Top Republicans have repeatedly said they will not agree to any tax hikes as part of a deal with Democrats. House Speaker John Boehner, R-Ohio, raised the stakes Monday night during an address to the New York Economic Club, declaring that the overall size of any spending cuts has to exceed the magnitude of any ceiling increase.
Boehner stressed that the spending cuts should be in the "trillions, not just billions."
"With the exception of tax hikes, which in my opinion will destroy jobs, everything is on the table," he said.
The speaker acknowledged that a default would be "irresponsible," but said it would be even worse for the country to continue on its current fiscal course.
Boehner didn't specify the exact size of the GOP's desired cuts. Congressional sources, however, have told CNN they believe the House could vote to increase the debt ceiling by about $2 trillion.
The entire annual federal budget is roughly $3.5 trillion.
Boehner refused to specify the period of time over which any spending cuts could be implemented, a critical factor in any agreement. It is also unclear exactly how much Congress is willing to increase the debt ceiling.
One GOP aide told CNN on Tuesday it is hard to imagine not agreeing to a debt limit increase that lasts at least through the end of the 2012 election cycle.
Any vote to increase the debt, even if it's tied to major spending cuts, is "toxic" to Republicans, the aide said.
Democrats have called the Republican position extreme and blasted the GOP for refusing to be more flexible in the talks.
"Maximalist positions do not produce compromise," Carney said Tuesday.
In terms of specifics for the 2012 budget, the current GOP proposal, drafted by House Budget Committee Chairman Paul Ryan, R-Wisconsin, would set the federal government on a path to cut federal deficits by roughly $4.4 trillion over the next decade.
The most contentious parts of Ryan's blueprint revolve around its proposed changes to Medicare and Medicaid. Medicare, a major contributor to growing federal deficits, would be overhauled starting in 2022. The government would no longer directly pay bills for senior citizens in the program. Instead, recipients would choose a plan from a list of private providers, which the federal government would subsidize.
Individuals currently 55 or older would not be affected by the changes.
Medicaid, which provides health care for the disabled and the poor, would be transformed into a series of block grants to the states. Republicans believe that state governments would spend the money more efficiently and would benefit from increased flexibility. Democrats warn that the move would shred the health care security provided to the most vulnerable Americans in recent generations.
GOP leaders have denied reports that they are already backing away from their Medicare plan. Democrats, who control both the Senate and the White House, have repeatedly said the idea has no chance of being enacted.
Obama's plan, in contrast to Ryan's, aims to cut deficits by a combined $4 trillion over the next 12 years without significantly changing any of the major entitlements. Among other things, the president wants to repeal the Bush-era tax cuts on families making more than $250,000, something vehemently opposed by Republicans.
The president has also called for the creation of a "debt fail-safe" trigger that would impose automatic across-the-board spending cuts and tax changes in coming years if annual deficits are on track to exceed 2.8% of the nation's gross domestic product.
CNN's Ted Barrett and Dana Bash contributed to this report
FOLLOW THIS TOPIC