Official: Bin Laden death offers 'new narrative' ahead of Obama speech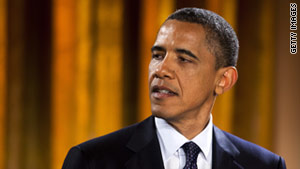 President Obama's speech on the Mideast is expected to deal with regional flashpoints.
STORY HIGHLIGHTS
Middle East talk could happen before May 22 trip, official says
It's likely to say regional protests represent al Qaeda rejection, official says
Audience for speech is broader than Arab world
Washington (CNN) -- The speech President Barack Obama plans to deliver on his Middle East policy has not yet been written, said a senior administration official, but "it will likely reference" the death of Osama bin Laden at the hands of U.S. Navy SEALs.
When asked if the long-planned speech had now taken on greater significance, the official acknowledged that getting bin Laden did offer "a new al Qaeda narrative."
Another senior administration official said the president is likely to make the point that "popular movements in the region demanding greater freedom and opportunity represent a thorough rejection of the message of al-Qaeda and bin Laden."
Secretary of State Hillary Clinton was the first to make mention of the speech last month. At Wednesday's press briefing, White House spokesman Jay Carney said the president would deliver the speech "in the relatively near future."
Another top aide told CNN "it could happen before the Europe trip."

Syria tanks shell city of Homs

The bin Laden raid back up plan
Obama is scheduled to depart May 22 on a six-day trip to Poland, Ireland, England and France.
Unlike his Cairo speech in June 2009 that focused on winning the hearts and minds of the Muslim world, this one is expected to deal with regional flashpoints -- from the anti-government uprisings across the Middle East and North Africa to the Israeli-Palestinian conflict.
"I think it's a speech to a broader audience than just the Arab world," Carney said.
FOLLOW THIS TOPIC


Part of complete coverage on

The appointment of a former Egyptian army lieutenant as the interim leader of al Qaeda suggests a power struggle within the Islamist organization.

From Morocco to the Himalayas, online forums associated with al Qaeda overflow with declarations that global jihad will continue.

He was its founder and strategic guiding force, but now that Osama bin Laden is dead, who are al Qaeda's most wanted leaders?

The United States will be given access to Osama bin Laden's wives, Pakistani Interior Minister Rehman Malik told CNN Tuesday.

Children in Abbottabad said they noticed oddities at bin Laden's compound but were oblivious he was hiding in the city.

Amal al-Sadah was "a quiet, polite, easygoing and confident teenager" who came from a big, conservative family in Yemen.

As the death of Osama bin Laden reverberates around the world the root causes of extremism are apparently largely being ignored.

Saber-rattling al Qaeda warnings against the U.S. emerged as the killing of Osama bin Laden continued to yield a trove of intelligence.


Most popular stories right now