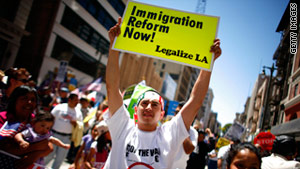 Hundreds rally in Los Angeles, California, on May 1, 2011.
STORY HIGHLIGHTS
NEW: Immigrant-rights advocates praise Obama's speech, but say follow-up is key
Latino advocates say they want Obama to deliver on his campaign promise
Some critics accuse Obama of political pandering
Activists say states are stepping in because the federal government hasn't
(CNN) -- Activists on both sides of the immigration debate agree on one thing: The current system doesn't work, and states have stepped in with their own laws because the federal government hasn't done enough.
Some advocacy groups said President Barack Obama's speech on the issue Tuesday was a significant step, but they urged the president to shift from talk into action.
"We welcome the fact that he's finally using the bully pulpit, but follow-up is key," said Clarissa Martinez, director of the National Council of La Raza's immigration campaign. "Congress has had an undeniable responsibility, but the president is not powerless, and today we did not hear specifics about how he intends to use the powers that he does already have."
Obama has discussed the issue extensively with Latino leaders over the past several weeks, but activists want a detailed plan, she said. And they hope the president will pick up the pace in the push for reform he first promised during his campaign for office.
"At the end of the day, actions speak louder than words, and what we want to say to the president is, 'Yes, you can,'" said Marissa Graciosa, coordinator of the immigration campaign for the Center for Community Change.
Obama called for comprehensive immigration reform, proposed policy suggestions and asked Americans to join in the debate, but he did not detail the next steps he would take.
"Now that the White House has a framework, the president should pull together Republican and Democratic leadership around that framework to turn it into legislation," said Ali Noorani, executive director of the National Immigration Forum. "We would have liked to see some more specifics, but tracks are being laid, that's clear."
Immigrant-rights advocates say the timing is crucial.

Spitzer: GOP needs new immigration tune

Immigration system overhaul
"Washington, D.C., has failed the country when it comes to immigration reform. At some point, local elected officials are going to take matters into their own hands," Noorani said.
In many states, they already have.
Arizona's controversial law aimed at cracking down on illegal immigration catapulted the issue onto the national stage last year, drawing a lawsuit from the U.S. Department of Justice, which argues that the law is unconstitutional.
Lawmakers in at least 20 states weighed similar proposals during the past year, according to the National Immigration Forum. One proposal -- in Georgia -- is only a signature away from becoming law.
"I think over the next few years we're going to see more and more states doing this," said Ira Mehlman, spokesman for the Federation for American Immigration Reform. He described the state initiatives as a response to the "federal government's failure" to enforce existing laws and create better ones.
The organization, which advocates changing policies to decrease the number of immigrants coming to the United States, released a statement before Tuesday's speech calling Obama's recent push on immigration "political pandering" aimed at creating a wedge issue for the presidential campaign.
"The increase in activity on immigration seems to have coincided with the time President Obama also became candidate Obama," Mehlman said.
Even some of Obama's most ardent, high-profile supporters have criticized the president, noting that he pledged comprehensive immigration reform while running for office but hasn't delivered.
"We were promised immigration reform. Both parties treat the Hispanic community as a tool for political expediency, and we will not be used," said the Rev. Samuel Rodriguez, head of the National Hispanic Christian Leadership Conference.
But it is unclear what shape such a reform would take -- and whether it has any chance of making it through a divided Congress.
Many immigrant rights groups propose creating a "path to citizenship" that would give the estimated 11 million immigrants who are illegally in the country an opportunity to become legal residents.
"We think that, lately actions, that the president has been taking, all of these are big steps to show us that he is serious about immigration reform and that he also takes the Latino vote seriously," Graciosa said. "But legislatively, it looks weak."
Graciosa said there are steps Obama can take even without support from lawmakers, like changing the country's policy on deportations, which she said have spiked to an average of 1,100 people daily during Obama's administration.
"That's just not acceptable from a president who says that he wants to keep families together," she said.
In his speech Tuesday, Obama noted that the increase in deportations "has been a source of controversy."
"But I want to emphasize: We are not doing this haphazardly," he said. "We are focusing our limited resources on violent offenders and people convicted of crimes -- not families, not folks who are just looking to scrape together an income."
Immigrant rights groups held a demonstration outside the White House the day after Obama took office, and have been pushing for the president to take a stand ever since.
During the 2008 campaign, Obama told the National Council of La Raza that comprehensive immigration reform would be a "top priority" during his first year in office.
He included among his campaign stances a goal to "bring people out of the shadows," supporting "a system that allows undocumented immigrants who are in good standing to pay a fine, learn English, and go to the back of the line for the opportunity to become citizens."
Exit polls found that 67% of Latino voters supported Obama in 2008.
Activists said his stance on immigration was one reason behind that support, and that a large turnout among Latino voters was a deciding factor in swing states like Colorado, Florida, New Mexico and Nevada.
Comedian George Lopez, who frequently speaks out on immigration issues, said Latino voters may cast their ballots for one of Obama's opponents the next time around if he doesn't deliver on his immigration-reform pledge.
"The Latino vote has become a very powerful tool in politics. ... It was one thing to get us to vote, but now that we're voting in larger numbers than we ever had, that's not an automatic vote," he said. "He needs to be present with his promise. That's what he's going to have to do. He's going to have to pay attention."
CNN's Thelma Gutierrez contributed to this report.
FOLLOW THIS TOPIC