(CNN) -- When the U.S. Navy SEAL team assaulted the compound of Osama bin Laden this week, the killing of the terrorist leader was seen around the world as a major success, a demonstration of the skill and planning by America's most elite forces.
Unfortunately, in recent history, most military and police special operations don't go as well.
From the 1972 massacre of the Israeli Olympic team in Munich to the snatching of Elian Gonzalez in 2000, we take a look at some of the more dramatic rescue attempts, hostage situations and covert actions that were successful, and those that ended in tragedy.
1961: Bay of Pigs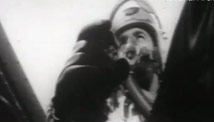 Bay of Pigs
A secret plan to invade Cuba was first developed by President Dwight D. Eisenhowser in 1960. But it wasn't until 1961 when President John F. Kennedy, in his first three months in office, authorized the CIA to organize more than 1,400 Cuban exiles and launch an invasion of the island from Bahía de Cochinos, The Bay of Pigs in southwestern Cuba. It was a disaster. More than 100 men were killed and 1,200 Cuban exiles captured in one of the most embarrassing missions in U.S. history.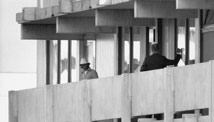 Munich Olympics massacre
1972: Munich Olympics massacre
In the summer of 1972, eight Palestinian terrorists, members of "Black September," stormed the Olympic Village in Munich and took 11 members of the Israeli Olympic team hostage. When the terrorists later flew the hostages by helicopter to the Fürstenfeldbruck airbase, they thought they were being allowed to escape on a nearby Boeing 727 jet. But, instead, 21 German police commandos were waiting to assault the hostage-takers. The assault failed. The terrorists killed all 11 athletes and coaches before German sharpshooters killed five of the eight gunmen.
Raid on Entebbe

1976: Raid on Entebbe
Under cover of darkness, elite commandos from the Israeli Defense Force launched Operation Thunderbolt, the gutsy mission to rescue 100 Jewish passengers of an Air France jet that had been hijacked and flown to Entebbe Airport in Uganda a week before. The mission was largely a success, with all seven hijackers and dozens of Ugandan soldiers killed. Three hostages and one Israeli soldier (Lt. Col. Yonatan Netanyahu, brother of current Israeli Prime Minister Benjamin Netanyahu) were killed.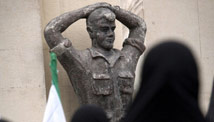 Iranian hostage rescue

1980: Iranian hostage rescue
When Iranian students took 53 Americans hostage at the U.S. Embassy in Tehran in November of 1979, President Jimmy Carter quietly initiated planning for a rescue. The next year that plan, dubbed Operation Eagle Claw, ended in disaster in the desert as members of the Army Rangers and the elite Delta Force antiterrorism team ran into sand storms and had to abort the mission. In a subsequent fire during the evacuation, eight men died and the team left a Sea Stallion helicopter and a C-130 aircraft burning in the desert.
Arrest of Manuel Noriega

1989: Arrest of Manuel Noriega
In the winter of 1989, the U.S. launched Operation Nifty Package to commence the overthrow and arrest of Panamanian dictator Manuel Noriega. Three platoons of Navy SEALs tracked down and surrounded Noriega at the Apostolic Nuncio, a Roman Catholic facility in Panama City. After a bloody firefight and later subjecting the dictator to days of loud music -- including hits from Guns N' Roses and The Clash -- Noriega surrendered.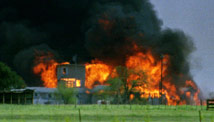 Branch Davidian raid in Waco

1993: Branch Davidian raid in Waco
On February 28, 1993, the U.S. Bureau of Alcohol, Tobacco, Firearms and Explosives officers went to the Branch Davidian compound outside Waco, Texas, to serve up a search warrant for illegal weapons. ATF agents were met by gunfire, which resulted in the deaths of both agents and Branch Davidians members. A 51-day standoff ensued between he armed Davidians and agents of the ATF and FBI. A fire broke out during a second attempted assault, and 76 people, including the sect's leader David Koresh were killed. Among the dead were more than 20 children.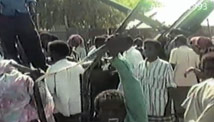 Mogadishu, Somalia
1993: Mogadishu, Somalia
In what would be known as the Battle of Mogadishu, U.S. Army Rangers and Delta Force teams launched a mission in early October, 1993, to capture Somali strongman Mohamed Farrah Aidid. But after two U.S. Black Hawk helicopters were shot down by rocket-propelled grenades, the mission quickly unraveled. 18 U.S. soldiers were killed and another 73 were wounded. The Somali warlord escaped. The mission was later popularized in the book and subsequent movie, "Black Hawk Down."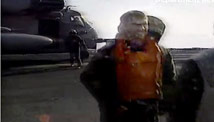 Scott O'Grady rescued in Bosnia
1995: Scott O'Grady rescued in Bosnia
On June 2, 1995, U.S. Air Force Capt. Scott O'Grady's fighter jet was hit by a Serbian missile while he was on a mission over Bosnia. He ejected safely but landed in Serb-held territory. He spent six nights hiding out before his radio signal finally guided U.S. Marines to him. It has been said that the movie "Behind Enemy Lines" is based in part on O'Grady's story.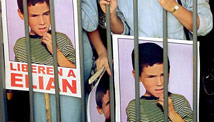 Elian Gonzalez return
2000: Elian Gonzalez return
Six-year-old Elian Gonzalez had been at the center of an international custody dispute since he was rescued from the Atlantic Ocean off the coast of Florida in November 1999. He was one of three survivors of a shipwrecked immigration attempt that took the lives of his mother and 10 others. Elian was taken to Miami to be cared for by relatives. But Elian's father fought to bring him back to Cuba -- and took his case to the courts. The Supreme Court refused to take the case. In a dramatic raid ordered by U.S. Attorney General Janet Reno, Elian was taken from his uncle by eight U.S. Border Patrol officers and returned to his father in Cuba.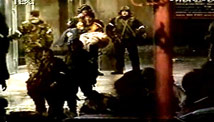 Moscow theater hostage drama
2002: Moscow theater hostage drama
In 2002, Chechan rebels took over the crowded Nord-Ost Theater in Moscow, taking 850 hostages. After two days, Russian Spetsnaz forces pumped an unknown chemical into the theater's ventilation system and then attacked. In the aftermath of the raid, at least 170 were left dead, including 129 hostages and 39 terrorists. Most died due to the toxic substance, not by gunfire.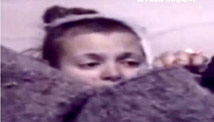 Rescue of Jessica Lynch
2003: Rescue of Jessica Lynch
U.S. soldier Jessica Lynch, a supply clerk, was taken prisoner by Iraqi forces on March 23, 2003, after her convoy was ambushed taking a wrong turn in Nassiriya. She was missing for nine days. On April 1, a team of U.S. Special Operations Forces launched a nighttime raid on the hospital where she was located. She was rescued, and the bodies of eight U.S. soldiers were recovered.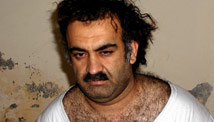 Khalid Sheikh Mohammed
2003: Khalid Sheikh Mohammed
Khalid Sheikh Mohammed -- believed to the be the key planner of the September 11 terrorist attacks in the U.S. -- was among three terrorism suspects arrested in a March 2003 CIA-led operation in Pakistan. He was later taken to the Guantanamo Bay detention facility, where he was subjected to "enhanced interrogation techniques" such as waterboarding -- dubbed by many as torture.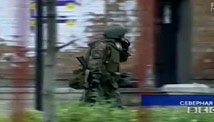 Beslan school hostage crisis
2004: Beslan school hostage crisis
On the first day of the school year in 2004, Chechan separatists took over School Number One in the town of Beslan, North Ossetia, in southwestern Russia, taking more than 700 children hostage. Using tanks, rockets and high-powered weapons, Russian security forces stormed the building after three days, and at least 380 hostages and terrorists were left dead.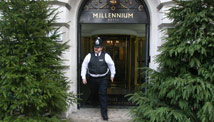 Poisoning of Alexander Litvinenko
2006: Poisoning of Alexander Litvinenko
In one of the more bizarre murders since the cold war ended, former Russian spy Alexander Litvinenko was poisoned in Britain by an unknown radioactive substance. Litvinenko had written two tell-all books about the former Soviet secret service, the KGB. While they never admitted a connection, a former officer with the Russian Federal Protective Service was strongly connected to the killing.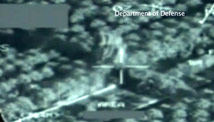 Killing of Musab al-Zarqawi
2006: Killing of Musab al-Zarqawi
On June, 2006, U.S. Air Force F-16 warplanes hit the house of Abu Musab al-Zarqawi, the notorious head of al Qaeda in Iraq, with two 500-pound bombs, reducing it to rubble. But somehow, the terrorist who had a $25 million bounty on his head survived the initial attack, only to die soon after U.S. soldiers arrived. Al-Zarqawi was suspected of being responsible for numerous beheadings, assassinations and bombings.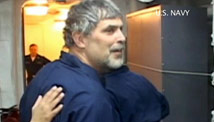 Rescue of the Maersk Alabama crew

2009: Rescue of the Maersk Alabama crew
In one of the first military actions of President Barack Obama's administration, Navy SEAL snipers took out Somali pirates who had captured the cargo ship Maersk Alabama off the Horn of Africa in the spring of 2009. The successful mission left three pirates dead and freed the ship's captain, Richard Phillips.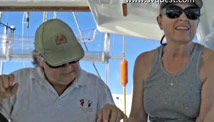 Pirates kill American yachters
2011: Pirates kill American yachters
Four Americans from Washington state and California were killed by Somali pirates after their 58-foot yacht was hijacked off the coast of Oman. The guided missile destroyer USS Sterett, which had been on the scene, rushed to the yacht after the pirates fired a rocket-propelled grenade and AK-47s. They killed four hijackers, captured 15 more, only then to discover that the hostages were already dead.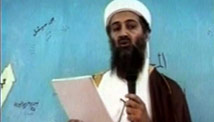 Killing of Osama bin Laden
2011: Killing of Osama bin Laden
The president ordered the attack by an elite team of U.S. Navy SEALs on the compound of terrorist kingpin Osama bin Laden in Abbottabad, Pakistan. The mastermind of the attacks of September 11, 2001, was killed and the team gathered what has been called a "treasure trove" of intelligence. The mission, which had been kept so secret that only a handful of U.S. officials knew it was in the works, was the culmination of years of intelligence-gathering and stalking, and months of detailed planning.
CNN's Bryan Monroe, Ed Hornick, Kerith McFadden, Brett Roegiers and Rachael Anderson contributed to this report.