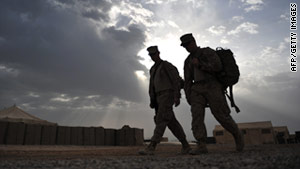 President Obama has promised to start a withdrawal from Afghanistan in July and complete it by 2014.
STORY HIGHLIGHTS
Some analysts say the death of bin Laden will increase public pressure to leave Afghanistan
Americans remain opposed to the U.S. war in Afghanistan
A congressional expert says Obama may feel emboldened to pursue any course
A political scientist says Obama has political cover to pull back from Afghanistan if he wants
Washington (CNN) -- A decade ago, al Qaeda operatives working out of a Taliban-controlled Afghanistan planned the terror attacks against New York and Washington.
Today, the Taliban has lost control of Afghanistan and al Qaeda's leader is dead.
Is it time for the United States to declare victory and bring the troops home? The death of Osama bin Laden may prove to be a pivotal moment for both Democrats and Republicans exhausted by the conflict and seeking greater fiscal restraint in a new age of austerity, according to some political analysts.
Others, however, argue the successful raid on bin Laden's Pakistani compound will only strengthen the hand of a president who has so far proven largely resistant to popular sentiment on the conflict.
The U.S. war in Afghanistan has long been unpopular with the public. Forty-two percent of Americans supported the war in a CNN/Opinion Research Corp. poll released earlier this week. Fifty-two percent were opposed.

Afghans react to bin Laden's death

Jimmy Carter: War on terror not over
Opposition to the war remains strongest among more liberal voters -- President Barack Obama's political base.
Obama has promised to start a withdrawal from Afghanistan in July and complete it by 2014. On Thursday, bipartisan legislation will be introduced requiring the president to submit a more specific timeline to Congress. The new timeline would, among other things, include dates specifying when the U.S. military will hand over security and military responsibilities to the Afghan government.
It would also require the administration to file quarterly reports with Congress about the status and costs of the transition.
Defense Secretary Robert Gates "has already said we will be there until 2014. I think we ought to be out of Afghanistan in the next year or so," said Rep. Walter Jones, R-North Carolina, one of the bill's sponsors. "The leader of al Qaeda is now dead. There are no al Qaeda to speak of in Afghanistan."
Indiana Sen. Richard Lugar, the top Republican on the Senate Foreign Relations Committee, has also questioned whether the United States now needs to change course, noting the reason the U.S. military first went to Afghanistan was to hunt down bin Laden.
Speaker John Boehner, R-Ohio, hasn't backed Jones' measure, which appears to have little chance of clearing the Republican-controlled House. The successful raid on bin Laden's compound only "makes our engagement in places like Pakistan and Afghanistan more important," he said.
Regardless of which way the political winds are blowing, "bin Laden's death gives the president more leeway in adjusting his policy on Afghanistan, such as hastening negotiations with the Taliban and making the initial troop withdrawal a substantial one," said Tom Mann, a senior fellow at the Brookings Institute, a Washington think tank.
"I don't think increased political pressure to accelerate the timeline for U.S. withdrawal will force his hand, but it may strengthen his determination to follow the course he prefers," Mann told CNN.
Adam Sheingate, a Johns Hopkins political scientist, agreed that "political pressure from Congress for an accelerated timeline will not affect U.S. policy on the ground."
"This creates an opportunity for Jones ... and others to get attention for their policy views about Afghanistan," Sheingate said, referring to the North Carolina congressman. "However, the advantage remains with the president and not with Congress to decide what U.S. policy will be in the region."
To the extent that the president wants to get Afghanistan off the political table before the 2012 election, he may now have added leverage against Republicans who would otherwise accuse him of weakness in light of a scaled-back American presence that country.
"The capture and killing of Osama bin Laden may perhaps turn out to be precisely the kind of political cover that Obama needs to accelerate the withdrawal of troops from Afghanistan without looking weak on the war on terror," said Wendy Schiller, a Brown University political scientist.
"The bottom line is that there is a limit to the American public's support for war. The cost in dollars and human lives has been substantial, and with so many vitally important economic issues to be dealt with at home, there is a receptive audience for any proposal to bring our troops home sooner rather than later."
In some ways, Schiller argues, "the death of bin Laden highlights the ambiguity of our mission in Afghanistan. Originally it was sold to the American public as a retaliatory strike against the Taliban for harboring a terrorist, but it has been sustained with the justification that supporting a democracy in Afghanistan will keep the Taliban from regaining power."
Now, in the face of continuing struggles against the Taliban and allegations of corruption on the part of Afghan President Hamid Karzai, "the entire foundation for being there has deeply eroded," Schiller said.
Some military and diplomatic experts argue that the death of bin Laden is actually the ideal opportunity for the United States to step up its commitment in Afghanistan.
Former Gen. Wesley Clark, former NATO supreme allied commander, said recently that Washington can't afford to "invite a repeat of the Taliban takeover of the 1990s (or have) instability in Pakistan."
"This argues for using the momentum of the success against bin Laden to intensify the military pressures against the Taliban, both inside Afghanistan and at their sanctuaries in Pakistan," Clark said.
Secretary of State Hillary Clinton suggested Monday that bin Laden's death offered a unique opportunity for a wider settlement with Taliban leaders now more eager to split off from a weakened al Qaeda.
The political ball -- now more than ever -- appears to be clearly in Obama's court.
CNN's Alan Silverleib and Deirdre Walsh contributed to this report
FOLLOW THIS TOPIC