STORY HIGHLIGHTS
The Army wants to temporarily close a tank rebuilding plant in Ohio for a few years
The plant's 1,000 workers say their production is important to U.S. military strength
The plant is in the home state of House Speaker John Boehner, a budget-cutting hardliner
With the plant's future at stake, Boehner and others are asking the Army to take another look
Lima, Ohio (CNN) -- The battle-tested heavyweights of American wars -- 65-ton giant M1A2 Abrams tanks -- are brought to this corner of Ohio to be rebuilt, rewired and reassembled. They roll out of the huge joint Army and General Dynamics plant better than new.
The 1,000 workers here use computers, robots and lasers -- and old-fashioned muscle and sweat -- to cut armored steel, they use high-tech sighting systems to align weaponry and they use quiet precision to swing 34-ton tank turrets through the air.
They are 500 miles from Washington but the plant workers find themselves too close for comfort to the debate over federal spending and military cutbacks. The Army wants to shut down the tank plant for several years because they don't need more tanks. But the cost savings are unclear since restarting the plant in a few years could cost more than then money saved from the shutdown.
They are people like Raymond Thompson, assembly-line worker who installs ammunition doors on the tanks. He's shipping out soon to Afghanistan with the Ohio Army National Guard for his fourth overseas deployment, and wondering if his job, and the whole assembly line, will be there when he gets back.
"There's more at stake than just a budget," Thompson says about the standoff. "This is not just about money, it's about the safety of our men and women overseas."
He says taking a three-year pause in production is like a champion team sitting back and taking the next season for granted.
"It's like winning the Super Bowl. Consider the Americans the Super Bowl champs -- once you get that trophy, you don't stop training, you don't stop equipping the team," Thompson said Tuesday. "So you always want to make sure you've got the best."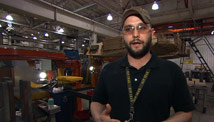 Plant worker Raymond Thompson: "This is not just about money, it's about the safety of our men and women overseas."
The Army says its personnel do indeed have the best, but they also have enough refurbished, good-as-new tanks right now.
"We look at limited resources and the many priorities we have," says Col. Lee Quintas at the Pentagon.
The fate of the tank plant has generated a ruckus on Capitol Hill, where some of the most vocal budget cutters are now asking the Army to take another look.
Among those is Speaker of the House John Boehner, an Ohio Republican whose district is just down the road from Lima.
In general, Boehner is a budget-cutting hard-liner.
"We're broke," Boehner recently told reporters. "It's time for us to get serious about how we're spending the nation's money."
But on the tank plant and jobs of his constituents, he is hoping that the Army secretary, John McHugh, will back down, according to a statement released by Boehner's congressional office.
"Congressman Boehner intends to ask Secretary McHugh to review the Army's current plan to cut tank production and ask that the excessive costs of shutting down the Lima plant are considered," the speaker's office said.
A Boehner spokeswoman said in an e-mail on Friday that the speaker "was simply requesting that the DOD consider the cost and impact on jobs of shutting the plant before making a decision."
Even such a mildly worded statement sets off big ripples through the federal bureaucracy, considering Boehner's political power.
Quintas, who is in charge of equipping the Army, sticks to his guns on the plan to halt production between 2013 and 2016. But he sidesteps a question on whether he feels political pressure from Boehner and others.
"I don't think I can answer that," Quintas says.
In Washington, threading one's way between budget-cutting rhetoric and the pleas of constituents is part of the political two-step. But Boehner is caught in a bind, says Democratic analyst and CNN political contributor Paul Begala.
"Everywhere you go you see politicians preaching against spending in Washington but supporting spending here at home," says Begala. "And in this sense, to quote Shakespeare, 'the fault, dear Brutus, lies not with the stars but in ourselves"
Hard choices are coming, warns Begala.
"If we actually want to cut spending, it's going to mean actually closing some federal facilities, and I don't think people want to do that. They want to have all of the gain but none of the pain and it doesn't work any more," he said.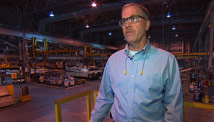 Plant Manager Keith Deters: "We want to bring people through, the congressional people, to show them (what) we are all about here."
Back in Ohio, the plant manager, Keith Deters, is able to greet the assembly line workers by name as he shepherds VIP's through the plant. He's been there for 28 years.
"We want to bring people through, the congressional people, to show them (what) we are all about here," Deters says. "This is a much bigger issue than thinking you can just shut it down and turn it back up and everything is well."
Deters and other long-serving employees remember when the tanks were painted green, bound for the leafy plains of Europe during the Cold War.
These days they all are sand-colored, to blend with the arid terrain of Iraq and Afghanistan.
Deters is concerned that this family of workers will be broken up and their skills lost as they leave the area to find other work. He says slow down the line if you must, but at least keep it "warm."
"We are building the best battle tanks in the world. It's been proven in the war," Deters says. "If you want to keep this base, if you want to keep the same level of quality, the same talent, you need to keep some base of tanks here. You can't let that go down and start it back up."
A few miles away, in downtown Lima, Mayor David Berger knows that Boehner and other Ohio congressmen are aware of the tank plant and the potential loss of jobs.
"Obviously Ohio, I think, does have real clout in this Congress with Speaker Boehner's role," the mayor says. "I think we should not be shy in asserting that Ohio has real needs and that we depend on Speaker Boehner in meeting those needs."
The union boss proudly taps the steel hull of an Abrams just about to leave the plant, destination, of course, unknown in a troubled world.
"I don't know how we even think of cutting anything to do with defense," says Al Saam, president of United Auto Workers Local 2075. "We're in so many conflicts with so much turmoil. To me they need to stay away from that."
Saam was in uniform during the Vietnam War. He's seen Abrams tanks from this plant sent around the world and back.
"We need to keep strong," he said. "Losing this work, if this plant goes away, it is going to be devastating."
CNN's Barbara Starr contributed to this report.
FOLLOW THIS TOPIC