STORY HIGHLIGHTS
Comedian Jerry Seinfeld is not in Donald Trump's good graces
Washington power players make Time magazine's Top 100 list
New York may get a state dog
Washington (CNN) -- Politics is serious business -- but not all the time
"No soup for you," Donald
Donald Trump, a possible GOP contender for president, lashed out at comedian Jerry Seinfeld after the former sitcom star pulled out of a benefit for his son's Eric Trump Foundation, CNN's Marquee Blog reports.
At issue: Seinfeld was not happy with Trump's recent "birther" claims about President Obama's citizenship, the comedian's reps said.
Trump, not one to mince words, laid into Seinfeld, saying in a letter to the comedian: "I just learned you canceled a show for my son's charity because of the fact that I am being very aggressive with respect to President Obama, who is doing an absolutely terrible job as our leader."
And it got nasty.
"What I do feel badly about is that I agreed to do, and did, your failed show, 'The Marriage Ref,' even though I thought it was absolutely terrible. ... Despite its poor ratings, I didn't cancel on you like you canceled on my son" and St. Jude's Children's Research Hospital.
You know you've made it when ...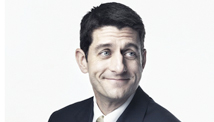 Time magazine is out with its "The 2011 Time 100" -- and among those featured: first lady Michelle Obama, Vice President Joe Biden, House Budget Committee Chairman Paul Ryan (left) and Rep. Gabrielle Giffords, who is recovering after being shot at a campaign rally in Tucson, Arizona.
The articles on each power player come from someone they know all too well: their friends.
Former White House Chief of Staff Rahm Emanuel on Biden: "The relationship between Barack Obama and Joe Biden is as successful a public partnership as I have ever seen. ... This is one shotgun wedding that works."
Wisconsin Gov. Scott Walker on Ryan: "It has been said that there are two types of people in politics: those who want to be somebody great and those who want to do something great. Paul Ryan is the latter, and our country is better off because of that."
Headlines of the day
New York Daily News: Queens rubbish collector finds 114-year-old program from dedication for Ulysses S. Grant's tomb
Village Voice: New York May Get State Dog, Can We Keep Him?
Gawker: Republicans Know How to Use the Internet Now
AOL News: J. Edgar Hoover's FBI Took UFOs Seriously, Documents Suggest
Reuters: Russia's Medvedev shows off "dated" dance moves
Quote board
"I'm the guy who got Mark to wear a jacket and tie. ... Halfway through dinner, he's starting to sweat a bit. It's really uncomfortable for him. I helped him out of his jacket." -- Obama on Facebook founder Mark Zuckerberg at a town hall Wednesday
"It's coming out now that Donald Trump once called Ronald Reagan a con man who couldn't deliver the goods. Trump also called Abraham Lincoln a bearded moron who couldn't even sit through an hour of theater." -- Conan O'Brien
"If Donald Trump becomes president, I hope he puts a wig on his plane and calls it 'Hair Force One.' " -- Jimmy Kimmel
FOLLOW THIS TOPIC