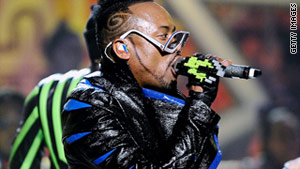 Black Eyed Peas singer Will.i.am produced the song "Yes We Can" for Obama in 2008.
STORY HIGHLIGHTS
A Los Angeles rally and two dinners for Obama sold out
Matt Damon's "a little bummed out" by Obama
Michael Moore wants Obama to "start listening to himself"
Oprah Winfrey says Obama had to deal with "a learning curve"
Los Angeles (CNN) -- While some Hollywood A-listers who supported the Obama campaign in 2008 have expressed disappointment with his presidency in recent months, tickets for three Obama fundraisers in Los Angeles Thursday sold quickly, organizers said.
Celebrity frustrations vented in interviews have included criticism of President Obama's handling of the war in Afghanistan, budget cuts, the Gulf oil disaster, Guantanamo detainees and gay rights.
"They are stopping short of saying 'I'm not going to vote for him,'" Variety Deputy Editor Ted Johnson said in a CNN interview this month. "They still see Obama as kind of the defense against a Republican party that has gone even further to the right."
Several thousand people have paid up to $2,500 to attend an Obama campaign rally at the Sony Pictures lot, where actor-comedian Jamie Foxx and singer Jason Mraz will entertain.
When the 60 tickets for a dinner with President Obama on the Sony Pictures lot sold out at $35,800 each, a second dinner was added at a Westwood restaurant.
Actor Matt Damon, who campaigned hard for Barack Obama three years ago, told CNN's Piers Morgan last month that he was "just a little bummed out" by President Obama's lack of success in delivering the change he promised.
Damon criticized Obama for not once using the word "poverty" in this year's state of the union address while "you got millions of people languishing in it."
"I appreciate that he is a deep thinker," Damon said. "I do appreciate that about him. He's a brilliant guy, but I definitely wanted more."
Documentary filmmaker Michael Moore, on HLN's "The Joy Behar Show" in April, said while Obama "is a man with a good heart," he wishes "he'd start listening to himself."
Moore expressed frustration that Obama reversed his promise to close the Guantanamo prison.
"And I think people thought that things were going to move faster," Moore said. "You know, they get a health care bill passed. They tell everybody now we have universal health care and then people go to get help and they find out oh, there`s no help, not until 2014."
Actor-director Robert Redford, who spends much of his time on environmental causes, criticized the Obama administration last summer for being "caught off guard" by the Gulf oil disaster.
Black Eyed Peas singer Will.I.Am, who produced the song "Yes We Can" in tribute to Obama in 2008, told the New York Times in January that while he did not feel disappointed, "I feel like, Argggh! Speak louder! I feel like, Do something!"
Wil.I.Am also posted a message on his Twitter account last month criticizing the U.S. involvement in Libya.
Actress-singer Barbra Streisand, in a December 2010 interview with CNN's Larry King, said she was "a little" disappointed that President Obama didn't use his executive power to end the military's "Don't Ask, Don't Tell" policy. While Streisand called Obama "very smart," she blamed Democrats in the last election "for not getting their message across, not communicating all that they've done that's good."
Talk show host Oprah Winfrey, whose endorsement of Obama in 2008 was seen as a major boost, told Piers Morgan in January that Obama has not been a disappointment to her.
"I really do not, because I believe that I understand the heart of him," Winfrey said. "And I understand that when he took this role on, he took it on to really bring a sense of betterment to the United States of America and the people of this country."
Obama had to deal with "a learning curve," she said.
Actress Reese Witherspoon told CNN in an interview this month that Obama's "doing a great job."
"I can't imagine the difficulty of being a president in this day and age where our country is going through so much," Witherspoon said.
Comedic actress Sarah Silverman offered a strong defense for Obama earlier this month when Piers Morgan asked if she was disappointed with the Obama presidency.
"Let's not forget that he inherited" a mess, Silverman said, using a multiple expletive-filled description for it. "Can we remember that for two seconds? And I'm enjoying the blind faith that so many people enjoyed eight years prior. You know? I think I have the right to do that. And I think he's a good man."
CNN's Brooke Anderson contributed to this report.