STORY HIGHLIGHTS
President Barack Obama has a testy exchange with a Dallas TV reporter
A new effort in New York is under way to outlaw kickball?
Late-night comics have fun at Donald Trump's expense
Washington (CNN) -- Politics is serious business -- but not all the time.
Will there be a next time?
President Barack Obama got into a somewhat tense exchange with a Dallas TV reporter during an interview Monday at the White House.
After the interview was over, Obama advised WFAA-TV's Brad Watson to "let me finish my answers the next time we do an interview, all right?"
Obama was grilled on a variety of topics -- especially on if he's trying to put Texas in play for the 2012 election. Texas is, after all, a solid Republican state, which he lost in the last presidential election.
"We lost by a few percentage points in Texas," he started before Watson corrected him, saying, "Well, you lost by about 10."
And cue Obama: "I understand. If what you're telling me is that Texas is a conservative state, you're absolutely right."
Mediaite's Colby Hall notes that "Watson was far more interested in promoting his challenging stance than anything the president said, evidenced by how much of Watson's voiceover and questions are featured instead of Obama's answers."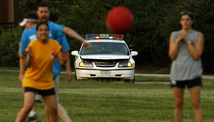 Is kickball too dangerous for kids?
No more kickball?!
"State bureaucrats have identified a potentially deadly hazard facing our children this summer -- freeze tag.
"That's right, officials have decided the age-old street game -- along with Wiffle Ball, kickball and dodgeball -- poses a 'significant risk of injury.' " -- New York Daily News
Headlines of the day
The Huffington Post: Boehner Bucks Tradition, Punts on Capitol Cinco De Mayo Event
CNN: Is Trump playing us for suckers?
New York Post: Our taxes aren't too damn high: Hizzoner
Wonkette: Obama Back Trying To Trick People To Believe He Wants To Change Politics
The Washington Examiner: Casting Call: 'Game Change' needs Washingtonians
Daily Mail: NBC scales back their royal wedding coverage 'because William and Kate are so boring'
Reuters: Bidder snags William and Kate Pez for $13,000
Quote board
"This weekend, Donald Trump said President Obama will go down as the worst president in the history of the United States. ... This is from a fool (who took) seven weeks to fire Gary Busey. You don't even know what the hell you're doing!" -- George Lopez
"NBC executives say if Donald Trump runs for president they will not renew 'Celebrity Apprentice.' So, some good may come of this" -- Conan O'Brien

"Today the boyhood home of Bill Clinton is designated a national historic site? That's great. Congratulations. But I hope it stops there because there's a million places that can say Bill Clinton slept here" -- Craig Ferguson
FOLLOW THIS TOPIC