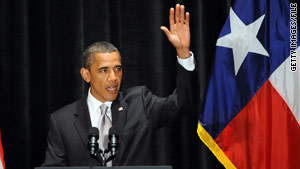 President Obama got a lukewarm welcome when he traveled to Texas to raise funds last August.
STORY HIGHLIGHTS
Interview with Dallas TV station fuels speculation that Obama might make play for Texas
Some strategists think the state's growing Latino population could help Obama
Obama lost Texas by 11 points in 2008, but won Latino vote nearly 2 to 1
(CNN) -- When President Obama sat down at the White House with a Texas television station Monday, one of the four interviews he did with local TV reporters, he may have also raised speculation that Democrats think solidly red Texas might be in play in 2012.
Democrats think the state's surging Latino population, 37.6% of Texans in the 2010 Census, which voted nearly 2-1 for Obama in 2008, could be the key to victory.
The increases in Latinos in Texas helped fuel the state's population gains in the past decade and have led to the largely Republican state adding an additional four seats in Congress.
Even some diehard Democrats have a hard time buying it.
"Given the fact that Democrats have won Texas only three times in the last 15 presidential elections, it seems a bit of an uphill climb to me," said Democratic strategist Paul Begala, a CNN contributor and native Texan. In 2008, Obama lost the state by an 11-point margin.
Begala, who said he wasn't privy to Obama's campaign strategy, points out that all 29 statewide elected officials are Republican and 101 of the 150 members of the state House of Representatives are, too.
Asked about Obama's chances, Republican strategist and CNN contributor Alex Castellanos is a bit more succinct: "Not a chance."

Obama: Hold me, Washington accountable
It's not unusual for a campaign to put money into a state it knows it's going to lose just to keep the other party from being able to take it for granted and making it spend some of its money there.
But not in Texas, Castellanos said.
"Republicans won't really take his threat to campaign there seriously," he said.
James Henson, director of The Texas Politics Project at the University of Texas, said the intensity of Obama's disapproval ratings in Texas makes the idea of him turning the state far-fetched.
"His negatives are through the roof," Henson said.
A UT-Texas Tribune poll in mid-February showed 46% of Texans strongly disapproved of the job Obama is doing, 9% disapproved somewhat, and 35% approved.
Castellanos suggested any effort the Obama campaign makes in Texas could be part of a larger strategy.
"It might be a good way to campaign for the Hispanic vote nationally: 'I'll fight for the Hispanic vote -- even in Texas.'
"But this is not about Texas. If his electoral strategy is predicated on winning George Bush's home state, he's toast."
Henson has a different idea.
"I'm sure (Democrats) would like to fire a few shots across the bow but it's still awfully early for that to carry water," he said. "I suspect this is mostly for fund-raising.
Obama did four interviews with four local stations as part of his road trip to pitch his debt-reduction plan. In addition to Dallas station WFAA, a CNN affiliate, the president did interviews with stations in Denver, Colorado; Raleigh, North Carolina; and Indianapolis, Indiana -- all battleground states that Obama won in 2008.
White House press secretary Jay Carney said that political considerations had nothing to do with which stations got interviews.
"The campaign doesn't weigh in on it. We make our decisions on where the president should give interviews right here at the White House," Carney said.
Sen. John McCain carried Texas in 2008, 55% to 44%. Obama won the Hispanic vote, 63% to 35%. He won 98% of the black vote. But he got only 26% of the white vote while McCain got 73%.
The percentage of Latinos in Texas has grown by 41% since 2000, according to the U.S. Census Bureau, or 65% of population increase in Texas since 2000. And the surge shows no signs of subsiding -- the Latino percentage of Texas population increased from 36% to 37.6% just since 2008.
But Latinos in Texas didn't turn out to vote like in other states -- in California in 2008, the turnout rate for Latinos was 57%. Nationally, about half of Latinos voted. In Texas, it was 37.9%.
Henson said there are two factors at work: traditionally low turnout among Latinos and Democrats' failure to mobilize them. Ironically, it has been the growth in Texas Latinos who have traditionally leaned much more Democrat that has fueled the new House seats for the very Republican state.
And the middle class and affluent among Latinos behave just like any other group and begin to take a closer look at Republican candidates.
"All they have to do is peel off 5 to 10% and that's enough," he said.
In the WFAA interview, Obama didn't reveal any campaign strategy, only saying that he never gives up on any state.
"I love Texas," he said.
But the last time the president visited the state -- in the midst of Tea Party anger over his health care bill and three months before the midterm elections -- he didn't find much love, even from Democrats. Former Houston Mayor Bill White, the Democratic candidate for governor who would go on to lose to incumbent Rick Perry, was at a state fair across the state and couldn't hook up with Obama.
Begala hoped that Texas one day would return to the Democratic fold.
"Sadly, I just don't think that day is upon us," he said.
CNN Deputy Political Director Paul Steinhauser contributed to this report
FOLLOW THIS TOPIC