STORY HIGHLIGHTS
Playboy has "candid conversation" with Rep. Barney Frank, D-Massachusetts
Open mic reveals President Obama's views on GOP attempts to repeal health care law
Justice Sonia Sotomayor reportedly wants to play on congressional softball team
Washington (CNN) -- Politics is serious business -- but not all the time.
He's baring it all -- in interview

Rep. Barney Frank, the openly gay Democratic congressman from Massachusetts, is featured in the May edition of Playboy.
Playboy calls the interview "a candid conversation with the maverick congressman about America's economic crisis, gay rights, the Middle East, and his real problem with the Republican Party."
The liberal Democrat waxes poetic on life in Congress after the GOP House takeover in the 2010 midterm elections -- and takes a swipe at the possibility of former House Speaker Newt Gingrich becoming a presidential candidate.
"We Democrats have not lived lives sufficiently pleasing to God to have Gingrich be the Republican nominee in 2012," Frank told the magazine.
Open mic night
ABC News' Jake Tapper and Sunlen Miller write that President Barack Obama's true feelings were exposed during a fundraiser Thursday in Chicago.
"CBS Radio News White House correspondent Mark Knoller was the first to notice and report on the audio line that was kept open," they write.
Obama weighed in on the tense budget negotiations with House Speaker John Boehner. The topic of repealing health care reform, in particular, irked the president.
"I said, 'You want to repeal health care? Go at it. We'll have that debate. You're not going to be able to do that by nickel-and-diming me in the budget. You think we're stupid?' "
Sotomayor a team player?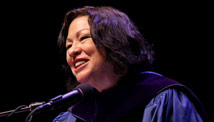 Supreme Court Justice Sonia Sotomayor
Congressional softball may be in the future for Supreme Court Justice Sonia Sotomayor.
"During a House Appropriations hearing Thursday, Rep. Jo Ann Emerson said that Sotomayor and a couple of unnamed female Cabinet secretaries have indicted a desire to play on the team," according to The Washington Post's The Reliable Source column.
Sotomayor "cheered the team from the sidelines last year," The Reliable Source said.
Headlines of the day
Mediaite: The Daily Show Reveals Dennis Kucinich's Secret Talent Of ... Ventriloquy!
Wonkette: Sarah Palin To Be Pelted With Cheese Curds In Wisconsin Saturday
Reuters: Struggling mining town rejects nude dancing
AOL News: Libya's 'Claudia Schiffer' Defends Gadhafi -- Because He's Her Dad
Quote board
"Yes, he (Rahm Emanuel) is foul-mouthed. Yes, that finger thing is a little creepy, but I love him anyway." -- Obama during that Chicago fundraiser
"We have those days, too, every now and then. I think the president does, too. I got to push him out of bed. It's like, 'Get up!' " -- First lady Michelle Obama told a group of students, via Politico
"Vice President Joe Biden fell asleep during President Obama's speech the other day. Imagine that? Joe Biden sleeping during someone else's speech. Talk about the pot calling the kettle boring." -- Jay Leno
FOLLOW THIS TOPIC