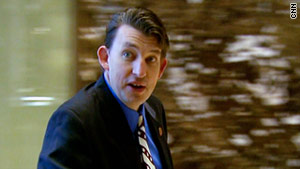 Arizona State Rep. Carl Seel, author of the bill, said it is not targeted at President Obama.
STORY HIGHLIGHTS
NEW: 14 other states have considered similar legislation this year
An Arizona bill would require Obama and other presidential candidates to prove they were born in the U.S.
The president has fought allegations that he wasn't born in America
Political analyst: The bill will not keep Obama off Arizona's ballot in 2012
(CNN) -- The Arizona legislature has approved a bill that would require President Barack Obama and other presidential candidates to prove they are American citizens, born in the United States, before their names could be placed on a state ballot.
The "birther bill" got final approval by a vote of 40-16 Thursday night in the state House, according to the legislature's website. To become law, the measure needs to be signed by Arizona Gov. Jan Brewer, a Republican.
Obama has been hounded by allegations since he began running for president in 2008 that he was not born in America. If true, the claim could make him constitutionally ineligible for the nation's highest office. Critics contend, among other things, that he was born in his father's home country of Kenya.
Obama has insisted that he was born in Hawaii, and the allegations against him have been repeatedly discredited in investigations by CNN and other organizations. Nevertheless, the issue remains politically potent among segments of the electorate and has served as a rallying cry for many of the president's opponents, most recently potential GOP presidential candidate Donald Trump.
Arizona's measure, drafted by Republican state Rep. Carl Seel, is designed to show that candidates meet the constitutional requirement that they be "natural born" citizens. Among other things, a candidate would have to show a copy of his or her birth certificate. If a birth certificate can't be produced, a candidate would have to show a combination of baptismal or circumcision records, hospital birth files, postpartum medical records or other documents.

Explain it to me: 'Birthers'
Candidates also would have to submit affidavits declaring their citizenship as well as sworn statements regarding their residency for the previous 14 years.
If there is any dispute, Arizona's secretary of state would have the final say over whether candidates have met the citizenship test.
Seel has repeatedly said the bill is not targeted at Obama.
"It's not about that," Seel said recently. "It's about future elections and maintaining the integrity of the Constitution."
One top political analyst disagreed.
"The aim of this is to delegitimize the president of the United States, and that is shameful," said Norman Ornstein, a resident scholar at the American Enterprise Institute, a conservative Washington think tank. "This is another embarrassment to the state of Arizona. It's outrageous and ridiculous."
The law has no chance of keeping Obama off Arizona's ballot in 2012, Ornstein said.
Fourteen other states are considering similar legislation this year, according to Jennie Bowser, a senior fellow with the National Conference of State Legislatures. Measures have failed in three states -- Connecticut, Maine, and Montana.
Seel's bill, however, has garnered national headlines and won a thumbs-up from Trump. It interested Trump enough for the business mogul and reality show star to agree to a meeting with the Arizona lawmaker.
In an effort to counter the charges of the birthers, Obama's 2008 campaign produced a "certification of live birth," a document traditionally accepted legally as confirmation of a birth.
Both the current Hawaiian Gov. Neil Abercrombie, a Democrat, and previous Gov. Linda Lingle, a Republican, have insisted that Obama was born in their home state.
Nearly 75% of Americans believe Obama was definitely or probably born in the United States, according to a March 11-13 CNN/Opinion Research Corporation poll. Over four in 10 Republicans, however, believe the president probably or definitely was not born in America.
FOLLOW THIS TOPIC