New York lawmaker to urge Obama to help fix police radio woes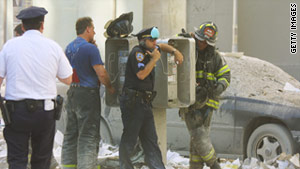 A New York City police officer uses a pay phone on September 11, 2001, after the terrorist attacks.
STORY HIGHLIGHTS
Radios so faulty some officers use cell phones to communicate, state senator says
"The officer carries a radio on his belt but he might as well be wearing a brick"
The state senator will also send the letter to all members of Congress
(CNN) -- Some New York police officers still cannot communicate with each other with police radios, even though the issue plagued the rescue effort after the 9/11 attacks nearly 10 years ago, a New York state senator says.
And that state senator says he plans to send a letter Thursday to President Barack Obama urging him to remedy the situation.
NYPD helicopter video shows 9/11 attacks

"Despite nearly a decade passing since the September 11, 2001 attacks ... our first responders, the brave men and women who will be standing on the front lines of our next attack and running into buildings as most are running out, still, in far too many instances, do not have proper interoperability they need, and in some cases still cannot communicate at all," the letter written by state Sen. Greg Ball says.
Ball, who is also the chairman of the New York State Homeland Security Committee, said the issue was highlighted last week during a homeland security hearing.
At the hearing Robert Morris, a police union official, talked about the problems.
"The officer carries a radio on his belt but he might as well be wearing a brick," Morris said.
The radios are so bad in some cases that officers have used their cell phones to communicate with each other, Ball said. Officers with the Metropolitan Transit Authority have also been severely plagued with the faulty radios.
In 2008, a New York labor safety board urged the transit police department to fix the issue with the radios but the issue still has not been resolved, Ball said.
Ball said he also plans to send his letter to all members of Congress.
FOLLOW THIS TOPIC