STORY HIGHLIGHTS
Mitch Daniels is the Republican governor of Indiana
Students have organized an online effort to get Daniels to run for president
Student: "He's just very down to earth, very direct. You don't see that from anybody else"
New Haven, Connecticut (CNN) -- It might be a stretch to call him the big man on campus. But Indiana Gov. Mitch Daniels is getting some presidential buzz at colleges across the country.
Daniels, a Republican, can thank Yale University students Max Eden and Michael Knowles, who launched the Students for Daniels website.
"He has incredible executive experience, and what's more, he's just very down to earth, very direct. You don't see that from anybody else," Eden said.
Borrowing a page from the 2008 playbook, the Students for Daniels organization uses social media to spread the word to chapters at 57 colleges and universities. Interest in the group spiked after it released a YouTube video featuring Knowles and former New York gubernatorial candidate Jimmy McMillan, who coined the phrase: "The rent is too damn high."
"The deficit is too damn high," McMillan says in the Students for Daniels YouTube video, seizing on the Indiana governor's message on fiscal discipline.
Eden, who volunteered for the Obama campaign in 2008, says he's disappointed in the president's approach to the mounting national debt.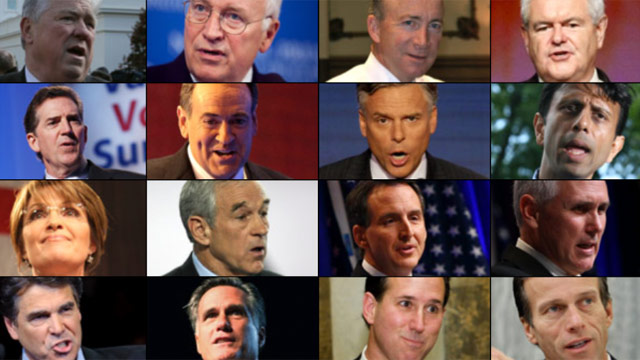 Potential GOP contenders
"It's not hope. It's not change. It's solvency. It's, like, basic math. I mean one of the lines that Daniels said that really attracted me to him ... he said, 'You know, can we just agree it's not about ideology. It's about mathematics,' " Eden said.
Obama seeks $4 trillion in cuts; GOP assails call for tax hikes
There's just one problem with the Students for Daniels movement: Daniels has yet to say publicly whether he is running.
"I owe them an answer," Daniels said in an interview with CNN. "I've been more affected and moved, you might say, by their activities than any of the others."
Daniels, who plans to make an announcement on his intentions after the end of the month, said the student effort just might inspire him to jump into the race.
"They've put the time and effort into appealing to me, and I feel yes, I have some reciprocal responsibility to them," he said.
Five questions for the Indiana governor
Daniels has a mixed fiscal record. He was President George W. Bush's budget director when the deficit soared.
But in his current role as governor, he has kept Indiana's financial house in order. The Hoosier State is in much better shape than most of its Midwestern neighbors. Daniels has slashed the state's workforce, lowered property taxes and has begun a push for educational reforms that include merit pay for teachers.
His no-nonsense style has earned praise from across the political spectrum. Both Tea Party organizer Dick Armey and Time magazine columnist Joe Klein have urged him to run.
Daniels told CNN that any potential presidential campaign would be an effort "to level with the American people, to talk about the mathematical facts of life" when it comes to the nation's debt.
"And just argue come on folks. Let's get on with it," he said.
At Yale, the student effort to draft Daniels is a sign that Republicans have a shot at chipping away at one of President Obama's core political strengths: the youth vote.
In 2008, Obama carried roughly two-thirds of younger voters, who rallied behind him on Facebook and with viral YouTube videos that declared a "Crush on Obama."
Times have changed.
"I think he's lost a lot of us," said Yale student and self-described Democrat Danielle Tomson.
Daniels is not the only politician with a campus following. A "Students for Mitt Romney" Facebook campaign has also surfaced.
Romney beefs up campaign staff
With bleak job prospects for today's college graduates, Eden predicted students will take a more sober approach to the 2012 field.
"Instead of having it for the candidate with the flash and the flair," Eden said, students just might opt for somebody different.
"The kind of understated, kind of wonky guy with all the substance," he added
FOLLOW THIS TOPIC