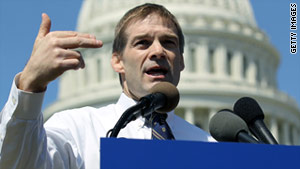 "I believe voters are asking us to set our sights higher," Rep. Jim Jordan, R-Ohio, said of the budget deal.
STORY HIGHLIGHTS
Sen. Mitch McConnell insists on tying spending cuts to an increase in the debt ceiling
House Minority Whip Steny Hoyer says he hasn't decided whether to vote for the deal
Rep. Jim Jordan says the $38.5 billion spending-cut deal is inadequate
Obama is scheduled to unveil his deficit reduction plan on Wednesday
Washington (CNN) -- A key conservative leader in the House of Representatives said Tuesday he opposes the budget deal negotiated last week by President Barack Obama and Speaker John Boehner.
Rep. Jim Jordan -- like Boehner an Ohio Republican -- called the $38.5 billion in cuts included in the deal insufficient, noting that House Republicans had originally proposed a much larger package of spending reductions. In January, the GOP-controlled House passed a budget blueprint calling for $61 billion in cuts.
"While I respect that some of my Republican colleagues will ultimately support this spending deal, I believe voters are asking us to set our sights higher," said Jordan, head of the Republican Study Committee, a group of conservative lawmakers.
"Making a real impact will require the discipline to do the right thing even when it's the hard thing. Americans want us to reach higher, act bolder, and remember the job we were sent here to do."
CNN Poll: Majority likes budget deal
While Jordan's opposition won't necessarily translate into defeat for the measure, it does illustrate the political tightrope Boehner continues to walk as he negotiates with the Democratic Senate and White House while trying to keep an increasingly conservative GOP caucus unified.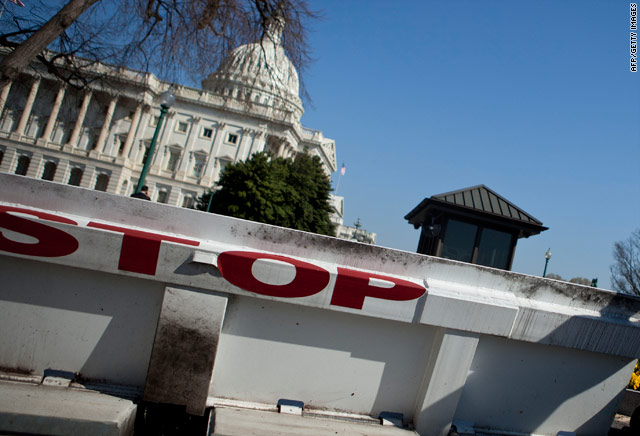 Gallery: 2011 budget compromises

What will Obama say Wednesday?

Hitting the debt ceiling
Boehner's office released a statement after Jordan's announcement calling the deal "far from perfect," but praising it as "a positive first step and a credible down payment" on future spending reductions.
Top Democrats also are dealing with members unhappy with the agreement. House Minority Whip Steny Hoyer, D-Maryland, indicated Tuesday that he hasn't decided yet whether to vote for the package.
House majority leader: Budget deal will pass
Hoyer told reporters he objects to a provision barring the District of Columbia from spending its own tax revenue on abortion services for low-income women.
The House is currently slated to vote on the deal Thursday, with the Senate following suit shortly thereafter. Assuming it passes, the package will fund the federal government for the remainder of the current fiscal year, which ends September 30.
The debate over the current budget is one of a series of high-stakes fights over taxes and spending taking place in Washington this week. Obama is scheduled to unveil a long-awaited deficit reduction plan on Wednesday, and House Republicans have scheduled a vote Friday on a budget for the next fiscal year that would cut spending by approximately $6 trillion over the next decade.
That plan, which would radically overhaul Medicare and Medicaid, is strongly opposed by both the White House and congressional Democrats.
Democrats and Republicans are also sparring over an impending vote to raise the nation's debt ceiling. Congress needs to raise the limit before the federal government reaches its legal borrowing limit of $14.29 trillion later this spring or risk a default that could result in a crashing dollar and spiraling interest rates, among other things.
Senate Minority Leader Mitch McConnell, R-Kentucky, reiterated the GOP's position Tuesday that any vote to raise the cap has to be tied to another round of spending cuts. Tax increases are off the table, he indicated.
McConnell is ready to play hardball
The administration has repeatedly called for a "clean" vote on the cap, which would raise the limit without adding any conditions. White House Press Secretary Jay Carney has warned that trying to force the issue is tantamount to playing a game of "chicken" with the economy.
Carney slams 2012 budget blueprint
Congressional leaders, meanwhile, released details of the 2011 spending deal early Tuesday morning. The package cuts funding for a wide range of domestic programs and services, including high-speed rail, emergency first responders and the National Endowment for the Arts.
The Transportation, Education, Labor, and Health and Human Services departments would lose billions of dollars under the agreement.
Nearly $3 billion for high-speed rail would be eliminated, along with roughly $3 billion for highway construction.
CNNMoney: What got cut in the deal
WIC, a program that uses federal money to subsidize the food and nutrition needs of children from low-income families, would be reduced by more than $500 million.
Grants to states that help pay for drinking water infrastructure projects would be cut by $1 billion.
Also on the chopping block is $377 million from the U.S. contribution to the United Nations, and the U.S. Agency for International Development would face a $39 million cut in operating expenses.
What's on chopping block?

The Pentagon and the Department of Veterans Affairs would escape the budget ax. The Defense Department would receive a boost of about $5 billion compared with current levels, though $4.2 billion in military earmarks would be trimmed.
The Veterans Affairs' budget, meanwhile, would increase by $600 million over fiscal year 2010, an increase that is accomplished by reducing funds for military construction by about $10 billion while boosting spending on veterans' health care and benefits.
Under the terms of the deal, roughly $20 billion would be taken from discretionary programs while nearly $18 billion would come from what are known as "changes in mandatory programs," or CHIMPS, which involve programs funded for multiyear blocks that don't require annual spending approval by Congress.
Republicans generally opposed CHIMP cuts because they affect only one year, with funding returning to the preauthorized level in the following year.
CNN's Dana Bash, Tom Cohen, Lisa Desjardins, Brianna Keilar, Charles Riley and Deirdre Walsh contributed to this report
FOLLOW THIS TOPIC