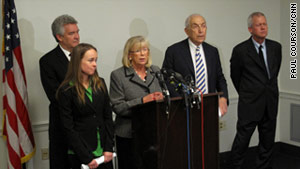 Relatives of Gabe Zimmerman express support for a legislative ban on high-capacity ammunition holders.
STORY HIGHLIGHTS
Legislation to ban high-capacity ammo clips now has 107 co-sponsors in the House
Fiancee of man killed in Giffords attack takes up the cause as activist
Father of slain staffer appeals for reason, logic to pass bill
Loved ones of slain Giffords aide support proposed ban on oversized ammo clips
Washington (CNN) -- Congressional legislation that would ban high-capacity ammunition clips got some high-powered support Tuesday as loved ones of a slain congressional staffer came forward to help push the effort.
"It never occurred to us that Gabe was in any danger," said Ross Zimmerman, whose son was killed during January's shooting attack in Arizona that wounded Rep. Gabrielle Giffords.
The key sponsors of the proposal, Rep. Carolyn McCarthy, D-New York, and Sen. Frank Lautenberg, D-New Jersey, hope the legislation will curb the ability to stage mass shootings such as those at Virginia Tech, Columbine and Fort Hood.
McCarthy's husband Dennis was killed on the Long Island Railroad during a mass shooting in 1993. She came to Congress on a platform of gun control.
The gunman in the Giffords shooting hit 19 people, killing six. Giffords, a Democrat who was meeting with constituents at an outdoor shopping area, is recovering from a gunshot to the head.
Her staffer, Gabe Zimmerman, was among those killed.
"It never occurred to us that he would be the first congressional staff member in U.S. history to die in the line of duty in front of a Safeway," the father said.
The proposed legislation would limit the number of bullets contained in holders that are inserted in handguns or rifles to extend firepower without reloading. The gunman in the Giffords case shot 31 rounds before bystanders jumped him when he tried to reload.
Zimmerman, the congresswoman's community outreach director, helped facilitate the Arizona meeting with voters.
"He knew what was important in life," said his fiancee, Kelly O'Brien, telling reporters Zimmerman was drawn to Capitol Hill by his love for America and "how it works."
When asked whether her partner would agree with her push for the legislation, the young woman said, "I think he would be proud."
Explaining her position supporting a ban on high-capacity ammunition holders, O'Brien said, "It is entirely reasonable to limit gun magazines to 10 bullets as Rep. McCarthy and Sen. Lautenberg are proposing. Ten bullets are more than enough for self-defense."
Ross Zimmerman, the father, stood off to the side and did not take part in the news conference until the very end. He expressed concern that anyone would still oppose such a ban. "What is so hard about the idea of common sense, responsible behavior; what is so hard about banning something like this?" he asked.
Such a ban expired in 2004 when the federal Assault Weapons Act was not renewed. Since then, the capacity of ammunition magazines has been limited by laws in just a half-dozen states and the District of Columbia.
The National Rifle Association opposes the latest legislation and any revival of the Assault Weapons Act. Citing research, the NRA's website asserts "the banned guns were never used in more than a modest fraction of all gun murders before the ban, and the ban's 10-round limit on new magazines wasn't a factor in multiple-victim or multiple-wound crimes."
Puzzled about the continued sale since then of high-capacity ammunition clips, Zimmerman said, "There is no rationality to this; this is something that must change."
In recent weeks, former White House press secretary James Brady marked 30 years since the attempted assassination of President Reagan. Brady, wounded in the attack, has to use a wheelchair. He renewed his push for limits on the number of bullets a weapon can hold.
His group, the Brady Campaign to Prevent Gun Violence, has established an online petition to express support for the congressional legislation.