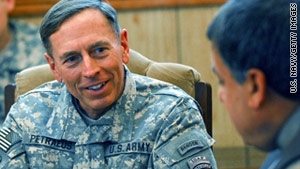 Gen. David Petraeus has told reporters that it would be inappropriate to comment on possible job offers.
STORY HIGHLIGHTS
A number of changes are said to be coming on the Obama national security team
An official says Gen. David Petraeus is being considered for CIA director
CIA chief Leon Panetta on list to succeed Defense Secretary Robert Gates, official says
Washington (CNN) -- The Obama administration is considering Gen. David Petraeus, the top U.S. commander in Afghanistan, as the next possible CIA director, an administration official confirms to CNN. The official would not be identified because no announcements have been made about upcoming personnel decisions.
The move would be just one of a complex shuffle set to take place through the rest of the year as key members of the president's national security team are set to depart, including Defense Secretary Robert Gates, who has long wanted to retired, and Adm. Mike Mullen, chairman of the Joint Chiefs of Staff, whose term is set to end this year.
CIA Director Leon Panetta is one of the people high on the list to replace Gates as defense chief, the official said.
However, CIA spokesman George Little said, "Director Panetta is proud to lead the men and women of the CIA and is focused squarely on the agency's mission. He isn't seeking any other job and hasn't been asked by the president to take on a different role."
Petraeus' spokesman, Col. Erik Gunhus, told CNN, "There is a lot of chatter and a lot of speculation out there right now about what Gen. Petraeus may do in the future. And all of it is premature, and thus we aren't commenting."

2010: Gates stepping down
It's unusual for a military officer to acknowledge publicly he may even be in contention for a presidential appointment. However, speaking to reporters over the weekend, Petraeus took the highly unusual step of doing just that.
"Well, again, it's probably not appropriate for me to comment on whatever might be considered down the road. I've had discussions, but again, it wouldn't be appropriate to comment," Petraeus told reporters in Kabul when asked about the possible CIA nomination.
CNN has spoken to several administration officials in recent days and none would speak on the record. While no one is confirming any personnel decisions it appears the potential front-runners for the defense secretary post include Panetta, Navy Secretary Ray Mabus and former Deputy Defense Secretary John Hamre. Other names mentioned include Michelle Flournoy, the current undersecretary for policy.
Several officials said the Obama administration might be interested in appointing the first female defense secretary, but it's not clear Flournoy has the political skills for the post.
Until a few months ago there had been a lot of speculation inside the Pentagon that Secretary of State Hilary Clinton might be tapped, but she has been adamant that she does not want to hold another administration job.
Gates' departure is expected this summer, and Mullen's term as chairman of the Joint Chiefs of Staff is set to expire in September. Mullen's deputy, Marine Corps Gen. James Cartwright had been widely seen as the front-runner.
Cartwright is said to have a good relationship with Obama that has taken root outside the public arena, according to officials. He has become a key adviser to Obama on emerging threats such as cyber war and advises on some highly classified military intelligence programs as well as on missile defense.
But Cartwright is said to have a cool relationship with Mullen, according to officials, and it's not clear if he has Mullen and Gates support him for the job. A military officer close to Cartwright also confirmed the general and his wife have recently informally separated but insisted it had nothing to do with a Defense Department inspector general report critical of Cartwright for allowing an intoxicated female Marine to nap in his hotel room. Cartwright was cleared of any wrongdoing or poor judgment in the matter.
Petraeus also has been mentioned as a candidate to become the next chairman, if he does not go to CIA. Another contender military officials said is Adm. James Stavridis, the current Supreme Allied Command Europe, though its not clear the White House would appoint another admiral to succeed Mullen to the top military post.
FOLLOW THIS TOPIC