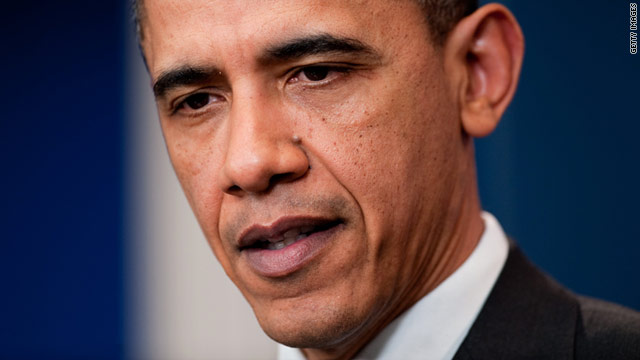 STORY HIGHLIGHTS
NEW: Budget deal includes $11 billion in cuts to mandatory spending programs
The House and Senate will vote this week on a plan to cut spending by $38.5 billion
In addition, President Obama and GOP leaders are sparring over raising the debt ceiling
The president will lay out his plan for long-term deficit reduction on Wednesday
Washington (CNN) -- Partisan warfare over taxes and spending again takes center stage in Washington this week, as Congress considers a budget deal for the remainder of the current fiscal year and President Barack Obama unveils his long-awaited deficit reduction plan.
House Republicans are also expected to push for a vote by Friday on their budget proposal for the next fiscal year, which begins in October. That plan, which cuts roughly $6 trillion in spending over the next decade while radically overhauling Medicare and Medicaid, is fiercely opposed by Democrats at both ends of Pennsylvania Avenue.
The outcome of the fight promises to have a major impact not only on the 2012 presidential race, but also on the size and scope of the federal government for years to come.
Obama and congressional Republicans have "very different visions over what the role of the federal government should be in our society," House Speaker John Boehner, R-Ohio, said Monday on Fox News. But "it's our obligation to sit down and ... find a way to work together."
Details of the deal reached last week on government spending for the rest of fiscal year 2011, which ends September 30, began trickling out Monday night.
The package, which was finalized late Friday in order to avoid a partial government shutdown, cuts spending by a total of $38.5 billion. It has been called insufficient by some Tea Party conservatives and labeled extreme in liberal quarters.

Obama changes tune on debt ceiling

Media frenzy over budget talks

Obama signs short-term budget deal

The politics of debt and deficits
The House is scheduled to vote on the deal Wednesday, with the Senate following suit shortly thereafter.
According to a source familiar with the legislation, it will include cut about $11 billion in what are known as "Changes in Mandatory Programs," or CHIMPS, which involve programs funded for multiyear blocks that don't require annual spending approval by Congress.
Republicans opposed CHIMP cuts because they only affect one year, with funding returning to the pre-authorized level in the following year.
Some of the so-called CHIMP programs affected include funding to explore health care co-ops included in the health care reform bill signed into law last year, as well as Pell Grants for college students, the source told CNN. The $6 billion for the co-ops would get cut by $2.5 billion under the deal, while Pell Grant funding would get cut $500 million to eliminate grants for summer school and graduate students, according to the source.
The Environmental Protection Agency, a target of conservatives who oppose its regulatory power over industry, would get cut by $1.5 billion, half of the reduction sought by House Republicans, the source said.
In other cuts, Food Safety and Inspection Services would get $10 million less than last year, while Community Health Centers would get $600 million less. House Republicans wanted to cut the centers by $1 billion, the source said.
Adding to the budget uproar in Washington: a coming debate over the need to raise the federal government's debt limit. Washington is rapidly nearing the roughly $14.29 trillion ceiling and is expected to exceed the cap by mid-May. Although the Federal Reserve can take some steps to delay the need to raise the cap until July, a failure to do so could ultimately lead to a default.
A default could devastate the economy, leading to a crashing dollar and skyrocketing interest rates, among other things.
Republicans are using the vote on the debt ceiling to demand additional spending reductions.
Obama wants a "clean bill" on the cap that doesn't involve further cuts, Boehner told Republicans in Connecticut on Saturday night.
"Well, guess what, Mr. President, (there's) not a chance you're going to get a clean bill," the speaker said. "There will not be an increase in the debt limit without something really, really big attached to it."
White House Press Secretary Jay Carney said Monday that GOP leaders are making a mistake if they decide to play "chicken" with the debt ceiling vote.
A failure to act would be "Armageddon-like in terms of the economy," he said.
For his part, Obama will unveil his deficit reduction plan in a presidential address Wednesday. The plan is expected to include a call for reforms to entitlement programs such as Medicare and Medicaid, as well as defense cuts and an increase in taxes on the wealthy.
The president will "be clear about the types of deficit reduction we need in terms of dollar amounts over what period of years," White House Senior Adviser David Plouffe said Sunday.
Obama believes "that to grow economically, to be a strong country, we can't sustain this fiscal situation," Plouffe said.
To Republicans, the president's stance on deficit reduction is an about-face from his own 2012 budget proposal, released in February. Back then, the president called for no significant reforms to entitlement programs such as Medicare and Medicaid, which are currently among the primary drivers of deficit spending.
"I'm glad to see some sort of retreat" from the president's original proposal "to do nothing," Sen. Jeff Sessions, R-Alabama, said Sunday on the CBS program "Face the Nation."
While Republicans are calling Obama a deficit flip-flopper, top Democrats are ripping the GOP leadership's plan for Medicare and Medicaid, characterizing it as a part of an economic assault on the well-being of poor and middle-class Americans.
Under that plan, introduced last week by House Budget Committee Chairman Paul Ryan, R-Wisconsin, the government would eventually stop paying bills for senior citizens in the Medicare program. Instead, Medicare recipients would choose a plan from a list of private providers, which the federal government would subsidize.
Individuals currently 55 or older would not be affected by the changes.
Medicaid, which provides health care for the disabled and the poor, would be transformed into a series of block grants to the states.
In the meantime, the top tax rate for individuals and businesses would drop to 25%.
Plouffe declared Sunday that the GOP's plan has no chance of being law. Under the plan, he said, "the average millionaire in this country would get a $200,000 tax cut," while the average senior citizen in the future will face a $6,000 increase in health care costs.
Plouffe repeated the call by Obama and congressional Democrats for eliminating tax breaks for people earning more than $250,000 a year, saying "we've got to do it in a balanced way" because resolving the problem "can't be all on the backs of seniors and the middle class."
CNN's Tom Cohen, Dana Bash, Lisa Desjardins and Brianna Keilar contributed to this report.
FOLLOW THIS TOPIC