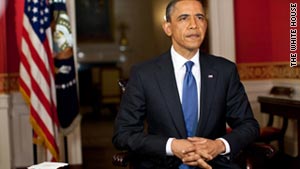 President Obama is expected to lay out his deficit-reduction plan Wednesday, his adviser tells CNN.
STORY HIGHLIGHTS
NEW: Republican leaders say raising the debt ceiling will require concessions
NEW: Democrats warn that a debt ceiling defeat would risk economic decline
The president's plan will address Medicare and Medicaid costs, raise revenue, Plouffe says
Obama will unveil his plan on Wednesday
Washington (CNN) -- Fresh off last-minute budget negotiations that averted a partial government shutdown, President Barack Obama this week will lay out his plan for long-term deficit reduction demanded by conservatives.
White House Senior Adviser David Plouffe appeared on four Sunday talk shows to announce Obama's intentions and deliver the administration message that further deals like the one reached last Friday night with House Speaker John Boehner, R-Ohio, and Senate Majority Leader Harry Reid, D-Nevada, will be necessary as Congress and the administration face more major budget decisions in coming months.
CNN's Candy Crowley reported that White House Press Secretary Jay Carney told her Obama's deficit plan would come out Wednesday, and Plouffe told CNN's "State of the Union" that the president will "be clear about the types of deficit reduction we need in terms of dollar amounts over what period of years."
Obama's timing responds to a Republican budget plan for next fiscal year released last week by House Budget Committee Chairman Paul Ryan, R-Wisconsin, that would overhaul the Medicare and Medicaid government health care programs for senior citizens and the elderly while reforming the tax code to lower rates and eliminate loopholes.
Battle continues for Paul Ryan | Zakaria's take

Plouffe, however, declared on NBC's "Meet the Press" that the Ryan plan had no chance of becoming law. He told CNN that Obama's plan also would address rising costs of Medicare and Medicaid, and in addition cut defense spending and raise revenue by ending tax breaks for the wealthy.

Round 2 of a budget battle?

Media frenzy over budget talks

Obama signs short-term budget deal
"He does believe that to grow economically, to be a strong country, we can't sustain this fiscal situation," Plouffe said on CNN. Acknowledging some dissent among the president's liberal base, Plouffe said "there are some that don't agree with that, but he believes strongly that we do have to engage in serious deficit reduction."
To Republicans, the Obama stance is an about-face from his own 2012 budget proposal released in February that called for no significant reforms to entitlement programs such as Medicare and Medicaid that contribute the most to growing deficits.
"I'm glad to see some sort of retreat" from the original proposal "to do nothing," Republican Sen. Jeff Sessions of Alabama told the CBS program "Face the Nation."
Last week, Obama and congressional leaders negotiated an agreement to cut $38.5 billion in non-military discretionary spending for the rest of the current fiscal year, which ends on September 30.
The deal came about an hour before funding authorization for the government was scheduled to expire, which would have partially shut down government operations.
Obama signs short-term funding extension
Both sides sought to claim victory in the tense negotiations that escalated through the week, attracting non-stop news coverage on the scope and impact of having major government programs shut down with military paychecks halted, national parks closed and some IRS tax processing delayed.
House Republicans, driven by demands of the conservative Tea Party movement that helped them regain control of the chamber in last November's elections, sought $61 billion in discretionary spending cuts below current levels. The final figure of $38.5 billion satisfied GOP leaders, but not the Tea Party movement, with one group referring to the house speaker as John "White Flag of Surrender" Boehner.
"The ramifications of this debacle will be felt for a long time, not only in the government but within the Tea Party and will be felt the next time the GOP comes calling for our help," said an email from Tea Party Nation.
Rep. Mike Pence of Indiana, a Tea Party favorite, offered some qualified praise for Boehner on the budget agreement expected to win congressional approval this week.
"I think speaker John Boehner got a good deal," Pence said. "It is not probably not good enough for me to support it, but I think he had a good deal. And it is a good start in the direction of fiscal discipline."
Democratic Sen. Dick Durbin of Illinois told CNN that Reid and Obama succeeded in protecting top spending priorities, including early childhood education and Pell Grants for college students, from getting cut.
"At the end of the day we won the battle, but we join with Republicans in cutting spending," Durbin said.
Another prominent Democrat, Sen. Chuck Schumer of New York, told the CBS program "Face the Nation" that about half of the cuts in last week's deal involved mandatory spending programs known in appropriations parlance as "Changes in Mandatory Programs," or CHIMPS.
Schumer: Details of cuts coming Monday
Spending for such programs, such as Pell Grants and some kinds of highway and agriculture funding, gets authorized by Congress for multiple years at a time and therefore doesn't require new authorization each year.
Republicans argued that reducing the spending in mandatory programs for one year doesn't prevent the amount from returning to its original level the following year, and therefore doesn't reduce the overall size and cost of government.
Full details of the spending cuts in last week's agreement will be released Monday, Schumer said.
Now the administration and Congress face further budget battles, including the need to increase the U.S. debt limit as soon as next month and drafting a federal budget for fiscal year 2012, which begins October 1.
Ryan fired the opening salvo with his 2012 budget proposal that he said would cut $6.2 trillion in federal spending over the next decade while radically overhauling Medicare and Medicaid, and reforming the tax code by dropping the top rate for individuals and businesses while eliminating loopholes.
Plouffe criticized the Ryan plan Sunday as an unbalanced approach that put the burden of fixing the nation's fiscal problems on the elderly and the poor.
Under the GOP plan, he said, "the average millionaire in this country would get a $200,000 tax cut," while the average senior citizen in the future will face a $6,000 increase in health care costs.
Plouffe repeated the call by Obama and congressional Democrats for eliminating tax breaks for people earning more than $250,000 a year, saying "we've got to do it in a balanced way" because resolving the problem "can't be all on the backs of seniors and the middle class."
Opinion: Extremists hurt budget process
Asked on "Meet the Press" about the chances that Ryan's plan would pass, Plouffe said; "It may pass the House. It's not going to become the law."
On the same program, Ryan said his goal was to ensure that the issue of reducing the nation's long-term deficit and national debt gets addressed.
"It really doesn't matter to me" if his plan becomes the approach adopted by Congress and signed into law by Obama, Ryan said. "What matters to me is that we try to fix the problem."
Facing such tough decisions, Ryan said, both parties tend to ratchet up the partisan rhetoric and "demagoguery" so that "nothing gets done," instead of facing the problem head-on.
Ryan and other Republicans also warned that their support for raising the debt ceiling will require further significant steps toward deficit reduction. Congress must reach an agreement before the United States reaches its legal borrowing limit of $14.29 trillion, which is expected to happen in the second half of May.
In a speech Saturday in Connecticut, Boehner said Democrats will have to make concessions to get Republican support for a higher debt ceiling, and Ryan and Sessions issued a similar demand on Sunday.
"The president is going to have to meet with the Speaker in the House and make some concessions and I think eventually we'll raise that debt limit, but not without concessions," Sessions told CBS.
That drew a sharp response on the same program from Schumer, who said a threat to defeat the debt ceiling expansion "should be taken off the table now."
"It is highly irresponsible," Schumer said. "It shows a lack of knowledge of how the government works."
Will spending cuts hurt economy?

Plouffe told CNN that failing to raise the deficit limit would amount to a federal default on some borrowing, triggering widespread economic repercussions.
"We shouldn't play political chicken with the economy of this country," Plouffe said. When asked on "Fox News Sunday" about a vote that Obama, then a U.S. senator, made against raising the debt ceiling, Plouffe responded that the president now "believes that vote was a mistake."
CNN's Gabriella Schwarz and Joshua Levs contributed to this story.
FOLLOW THIS TOPIC