Napolitano sidesteps congressman's call for immigration compassion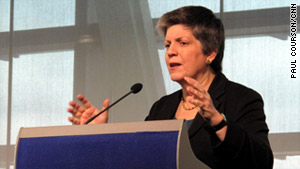 Secretary Janet Napolitano says deportations have focused on illegal immigrants who commit crimes.
STORY HIGHLIGHTS
Rep. Gutierrez opposes deportation of families with children born in the U.S.
Secretary Napolitano: We will not exempt whole categories from the law
What is needed, she says, is reform of the immigration laws
Washington (CNN) -- A day after a member of the Congressional Hispanic Caucus called for compassion instead of a crackdown on illegal immigrant families, a key Obama administration figure offered little hope for special treatment.
Thursday, Rep. Luis Gutierrez. D-Illinois, launched a campaign against deportations of families whose children have been born in the United States to parents who are here illegally.
But Friday, Homeland Security Secretary Janet Napolitano said the greater problem is the need for immigration reform, and all she can do is set priorities for enforcement.
"I am not going to stand here and say that there are whole categories that we will, by executive fiat, simply exempt from the current immigration law. As sympathetic as we feel towards that," she said.
During an appearance before the advocacy group New Democrat Network, Napolitano acknowledged that during the current border crackdown, "We've actually removed more illegal immigrants from the country than any two years prior."
But she was quick to illustrate some logic to the effort.
"We have been focusing on those in the country illegally who have also been committing other crimes, who are really impacting the public safety of the United States," she said.
"Half of those (deported in the past two years) have committed other crimes as well," she said.
But Napolitano's remarks are not likely to satisfy Gutierrez, who framed the situation as one of church versus government.
"Those men and women that our church and God has brought together, the government should not separate," he said. "There is a fidelity to something that is greater than the government and that's to the love and the passion that we have for our children and our family members."
Gutierrez Thursday announced what he calls the Campaign for American Children and Families, reflecting the status of children born in the United States to illegal immigrant parents who could be caught and sent away at any time.
"At each stop," he said, "we will feature the stories of those whose lives have been turned upside down by deportation."
Saturday the campaign opens in Providence, Rhode Island, followed by a stop in Boston on Sunday.
FOLLOW THIS TOPIC