Political Circus: Tea Partying at NASCAR
STORY HIGHLIGHTS
A Tea Party group gets into the NASCAR game
The Donald is under fire for birther comments
Patrick Kennedy is getting married
Washington (CNN) -- Politics is serious business, but not all the time.
Start your engines
TheTeaParty.net says it plans to sponsor a NASCAR Camping World Truck Series racing truck, The Hill's Christina Wilkie reports.
The site announced it will sponsor the "red No. 89 truck currently driven by Chris Lafferty," which "will be re-dubbed the 'We the People's' truck, in order to tear up the racetrack for the next two seasons."
People who live in glass houses ...
Real estate mogul Donald Trump, who has waded into the Obama birther waters, is not exactly one to talk, Politico's Ben Smith points out.
When the Donald produced his birth certificate to Newsmax, a conservative website, "a quick check reveals it's actually not an official document ... an actual birth certificate, which is issued by the Department of Health, would have the agency's seal and also a signature of the city registrar -- neither of which the Trump document has," Smith writes.
And there's more: "Trump's mother, it should be noted, was born in Scotland, which is not part of the United States. His plane is registered in the Bahamas, also a foreign country. This fact pattern -- along with the wave of new questions surrounding what he claims is a birth certificate -- raises serious doubts about his eligibility to serve as President of the United States," he says.
Headlines of the day
Mediaite: "Donald Trump On Fox's On the Record: Birthers 'Are Great Americans' "
New York Observer: Dating Metaphors: "In New Hampshire, Former G.O.P. Leader Calls It Off With Giuliani"
Gawker: "Mahatma Gandhi Was In Love with a German Body Builder Named Hermann"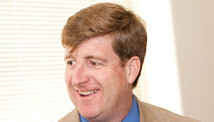 A Kennedy wedding
The Providence Journal asks, "Is another Kennedy wedding in store for Hyannis Port?"
The paper reports that former Rhode Island Rep. Patrick J. Kennedy proposed Saturday to Amy Petitgout, a sixth-grade teacher from New Jersey.
In case you're wondering, she accepted.
Quote board
"President Obama gave a nationally televised speech on Libya. The speech was entitled 'No I wasn't born there.' "
-- Conan O'Brien
"President Obama addressed the nation on Libya. He finally spoke out about it, which changes his previous policy on Libya, which was of course don't ask, don't tell."
-- Jay Leno
"President Obama addressed the nation from Washington, D.C., tonight. It was the first time in history that a president has gone before the American public to apologize for his Final Four picks."
-- Jimmy Kimmel