Boehner challenges Obama on Libya military mission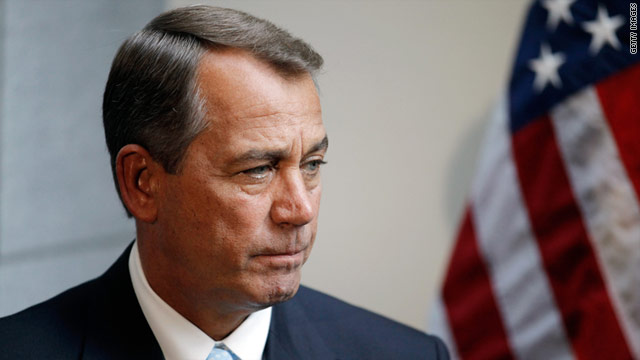 STORY HIGHLIGHTS
House speaker calls for a "robust" response from the president
Boehner says administration statements have been limited, contradictory
He questions the resolve of allies and the mission's cost
Washington (CNN) -- House Speaker John Boehner complained Wednesday of "limited, sometimes contradictory" information so far from the Obama administration on the U.S.-led military mission in Libya and asked for the president to provide "a clear and robust assessment."
In a letter to President Barack Obama, Boehner, R-Ohio, said that he and other House members were troubled that the president committed U.S. military resources to war "without clearly defining for the American people, the Congress and our troops what the mission in Libya is and what America's role is in achieving that mission."
"In fact, the limited, sometimes contradictory, case made to the American people by members of your administration has left some fundamental questions about our engagement unanswered," Boehner's letter said, adding that there seemed to be greater consultation with "foreign entities such as the United Nations and the Arab League."
Obama has said the purpose of the mission was to prevent a humanitarian catastrophe in Libya, where Moammar Gadhafi had threatened to unleash his military "without mercy" on the rebel stronghold of Benghazi.
In addition, Obama has said that U.S. leadership of the mission will end within "days, not weeks," and coalition partners including NATO allies and Arab states will take over the no-fly zone being established over Libya. Boehner's letter represented an overt political challenge to Obama on the issue, demanding more details on the mission itself as well as an explanation of the goals and whether all partners are consistent in their approach and resolve.
He noted that Obama has called for Gadhafi's ouster, but the U.N. Security Council resolution authorizing the mission "makes clear that regime change is not part of the mission."
"Why would the U.S. commit American resources to enforcing a U.N. resolution that is inconsistent with our stated policy goals and national interests?" Boehner asked in the letter.
He also questioned what the United States would do if support from coalition partners dissolves, and what standards a new Libyan leadership must meet to be recognized as legitimate by the U.S. government.
In addition, Boehner pushed Obama to provide a specific timeline for handing over control of the mission to allies, as well as for how long a no-fly zone would be enforced, if Gadhafi remains in power over coming weeks and months.
With congressional budget battles in high gear, Boehner also asked if Obama anticipated seeking additional funding from Congress to pay for the Libyan mission.
Citing what he called "conflicting messages" on the issue, Boehner summed up his questions by asking: "What is your benchmark for success in Libya?"
Boehner also complained that Obama didn't properly consult with congressional leaders. However, he took part in a conference call Friday with other congressional leaders and Obama discussed the Libyan mission.
According to one source, Boehner raised no questions during the call, but the source attributed that to difficulty hearing due to the large number of participants, including some who failed to mute their lines.
CNN's Tom Cohen and Dana Bash contributed to this story