STORY HIGHLIGHTS
Tim Pawlenty is the former Republican governor of Minnesota
He is beginning the process of jumping into the 2012 GOP presidential primary race
Pawlenty was thought to be on John McCain's short list for a running mate in 2008
Washington (CNN) -- Tim Pawlenty, a Minnesota native, has a compelling life story, an indirect path to the political spotlight.
His mom died of ovarian cancer when he was 16. His dad, acting as a single parent, lost his job as a truck driver for a while. To help put himself through college and then later law school, the young Pawlenty worked for several years in the produce section at a grocery store.
"I'm the only one in my family who was able to go to college, not because my brothers and sisters didn't have the capacity or the ability. They really didn't have the opportunity," Pawlenty, 50, said in a January speech kicking off the release of his book "Courage To Stand: An American Story."
After law school, he was elected in 1992 to the Minnesota State House and eventually became majority leader. In 2002, he won the first of his two terms as governor.
During his tenure Pawlenty, a Republican, described himself as a fiscal conservative.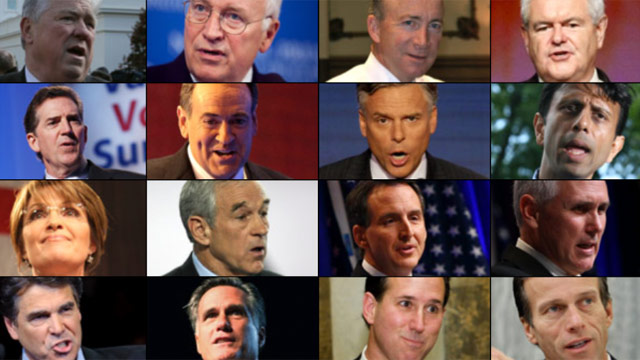 Potential GOP contenders
Early battles with unions
He made some national headlines by winning a fight in 2004 with the state's unionized bus drivers, after they pushed for the continuation of generous health and retirement benefits. They went on strike and eventually relented, accepting a partial scaling back of some of those benefits.
"I set a record for the most vetoes in my state in a year," Pawlenty told the Conservative Political Action Conference in February, recapping his tenure. "I vetoed billions, billions of dollars in tax and spending increases. We had the first government shutdown in my state in the 150-year history of my state."
Initially the state had budget surpluses while he was governor, although he left office this year during the recession with a $6 billion deficit.
Who he is: Republican, former governor of Minnesota

Age: 50 (born November 27, 1960)

On the issues: Tough on unions; pro-life; against same-sex marriage

Strengths: Fiscal conservative; aggressively cut Minnesota budget

Challenges: Not a charismatic speaker; will have to fight through a crowded field; left state with $6 billion deficit

What you may not know: Pawlenty is an avid hockey player

Pawlenty on Pawlenty: "We cut government in Minnesota, and if we can do it there we can do it anywhere."
He often jokes about coming from the state of such liberal icons as Hubert Humphrey, Walter Mondale and current Sen. Al Franken.
"We cut government in Minnesota, and if we can do it there we can do it anywhere."
On McCain's VP list?
He was on the short list to be John McCain's running mate in 2008 and campaigned a lot for him.
"We have seen in this man the very best our country has to offer. I've traveled with John to Iraq, a nation whose destiny he helped change. I saw firsthand how he loves and admires our troops. And I saw how they love and admire him," Pawlenty told the Republican convention that year.
In 2009 he announced he would not be running for a third term as governor.
He has since traveled to the key early-voting states, recruiting key advisers and donors, and reached out to Tea Party activists as he tried to build some momentum toward a run for the nomination.
Christian values, hockey intensity
An evangelical Christian, he is a staunch opponent of abortion rights and same-sex marriage -- messages that should help build support among social conservatives in the key states of Iowa and South Carolina.
Other advantages for him in the fight for the nomination include an easygoing style and a record as governor that he touts during speeches.
Among his major challenges will be a speaking style that some Republicans say is not especially charismatic, and the need to distinguish himself from better-known candidates in the fight for the nomination and building name recognition.
In the most recent CNN/Opinion Research poll, only 3% of those surveyed named Pawlenty when asked who they want to see as the Republican nominee. While polls at this early stage mostly reflect national name recognition, six other contenders -- Mike Huckabee, Mitt Romney, Newt Gingrich, Sarah Palin, Donald Trump and Ron Paul -- ranked higher.
For most of his life, Pawlenty has helped work off his tensions and relax by playing hockey, and he still finds time for games, as he did recently in New Hampshire. He may find those skills useful as he battles for the trophy of the GOP nomination.
FOLLOW THIS TOPIC