STORY HIGHLIGHTS
Texas Democrat urges actor Tommy Lee Jones to run for Senate
"Jersey Shore" sensation's joke about House Speaker Boehner falls flat
Ohio Gov. John Kasich is one of Lady Gaga's "Little Monsters"
Washington (CNN) -- Politics is serious business -- but not all the time.
Sen. Tommy Lee Jones?
An effort is under way by a Texas lawyer to draft actor Tommy Lee Jones to become the state's next senator, the Dallas Morning News reports.
Geoff Berg, a liberal radio host, is a rare species in Texas -- a Democrat.
"So he's launched the political equivalent of a Hail Mary pass in football: He's created a Draft Tommy Lee Jones website, which went up Wednesday," writer Robert T. Garrett notes.
Berg, who acknowledges it's pretty farfetched, told CNN that he called and emailed Jones' team on January 19, but received no response.
For the record, while Jones' political party ID isn't known, he's contributed mainly to Democrats, including Al Gore.
Stick to tanning
The resident GTL'er (gym, tan, laundry) on MTV's "Jersey Shore," Mike "The Situation" Sorrentino, tried his hand at comedy -- and bombed -- at Donald Trump's comedy roast, the New York Post reports.
One line that didn't work so well? "By the way, who's John Boehner? Check it out. Doesn't his name sound like boner? Anyone notice that -- boner?"
He was drowned out by a sea of boos and heckles.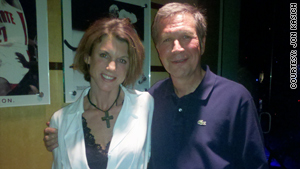 Ohio Gov. John Kasich and his wife recently took in a Lady Gaga concert.
'Little Monsters'
It turns out that Ohio Gov. John Kasich and his wife are big Lady Gaga fans.
@JohnKasich tweeted last night that he was "at Lady Gaga show w/ my "GREAT Romance" @KarenWKasich."
From governor to 'Army Wives'
Republican South Carolina Gov. Nikki Haley made a cameo appearance on Lifetime Television's hit drama "Army Wives" on Sunday night.
But her appearance wasn't without any controversy, according to the Charleston Post and Courier.
"Haley voted in June to uphold a veto by then-Gov. Mark Sanford that would have canned filming incentive increases for the Lifetime show, which contributed more than $120 million to the local economy since filming began in 2006," the Post and Courier reports.
In the end, the House voted 104-7 to override the veto.
Haley's spokesman Rob Godfrey told the paper that the governor was happy to make the appearance and was not paid for the cameo, "which was filmed in Charleston on Jan. 7 before she was sworn in as governor."
Quote board
"And I know this isn't on the teleprompter, but (actress Natalie Portman is) a heck of a lot better-looking than Rahm Emanuel." -- Vice President Joe Biden, according to the White House pool report
"It turns out that the Republican budget they submitted for next year slashes funding for the agency that issues tsunami warnings and organizes responses to the tsunami. In their defense, Republicans say tsunamis are just a theory and they are not a real threat like ACORN, the Black Panthers, NPR and math teachers in Wisconsin." -- HBO "Real Time" host Bill Maher
"During a conference on bullying held at the White House on Thursday, President Obama revealed he had been picked on as a little boy by schoolmates who said his ears were too large and his name was funny. Or as he now thinks of it, the good ole days." -- Seth Meyers on "Saturday Night Live"
Headlines of the day
Politico, on Sarah Palin: "She's becoming Al Sharpton, Alaska edition"
Reuters: Souvenirs: Selling Kate by the crate?