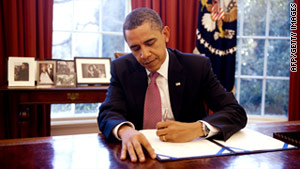 President Barack Obama signs a stopgap measure to avert a government shutdown March 2.
STORY HIGHLIGHTS
A three-week extension of government funding is expected to pass this week
Republicans are pushing for deep spending cuts now
Democrats favor fewer cuts now and a broader spending plan down the road
Washington (CNN) -- With another three-week extension in government funding expected to be passed this week, Democratic and Republican legislators used the Sunday talk shows to hammer home core messages on how to proceed.
An extension would give Congress until April 8 to either reach a deal for the rest of fiscal year 2011, which ends September 30, or pass another extension to avoid a government shutdown.
President Barack Obama and congressional leaders all say that no one wants a shutdown, but the parties remain far apart on how to approach both the immediate need to authorize government spending for the next six months and the long-term need for budget reforms that reduce the deficit and national debt.
The short-term problem remains the top priority. Last week, the Senate rejected competing spending plans --- one pushed through by House Republicans and the other from Senate Democrats -- to set up further negotiations.
The House plan would cut $57 billion from current government spending, but the Senate Democrat plan proposed $6.5 billion in cuts. A previous extension passed by Congress that expires Friday included $4 billion in spending cuts.
Obama and Democrats consider the House spending cuts -- which come from non-military discretionary spending that makes up only 12 percent of the federal budget -- too excessive and a threat to continued economic recovery from the recession.
Instead, Democrats advocate what amounts to a two-step approach that would work out agreement on smaller budget cuts for the rest of the fiscal year while negotiating reforms to the tax code and entitlement programs such as Medicare and Medicaid to better balance budgets in the future.

Obama: Cut waste, invest in the future
"We're not going to balance America's budget in the next six months," Sen. Dick Durbin of Illinois, the chamber's No. 2 Democrat, told CNN's "State of the Union."
Spending cuts sought by House Republicans to education, research and other areas important for growth go "in a direction not good for this country," Durbin said, adding, "We should be taking care that we don't do things that damage our economy and really slow down our recovery."
Republicans counter that the budget deficit and mounting debt are the biggest inhibitors of full economic recovery, and deep spending cuts to reduce the size of government and display fiscal responsibility are needed now.
"You have to crawl before you walk and walk before you run," Republican Rep. Kevin McCarthy of California told CNN. "If we avoid the big problems today, we force bigger problems tomorrow. That's why we stepped up today."
The posturing has been fierce. Democratic Sen. Charles Schumer of New York told the NBC program "Meet the Press" that the Senate's rejection of the House spending bill showed House Republicans they must modify their position.
House Speaker John Boehner, R-Ohio, will have to work out something with the 87 Tea Party-backed freshman Republicans pushing the conservative agenda or else reach a deal with House Democrats in order to avoid a government shutdown, Schumer said.
At the same time, Democrats "have to go somewhat further than where we've gone," he said.
On CNN, Republican Sen. Jon Kyl of Arizona blamed Democrats for the current fix because the previous Congress -- in which Democrats controlled both the House and Senate, as well as the White House -- failed to enact a budget for fiscal 2011.
"Their job was to get a budget and fund the government. They didn't do that," Kyl said, calling on Obama to offer his alternative to the House spending proposal for the rest of the year.
Even if legislators can work out a compromise for the rest of the fiscal year, they still face debate starting next month on the fiscal 2012 budget.
That is when Obama and a growing number of Republicans and Democrats want to begin tackling the broader reforms needed to bring down spending and increase revenue in order to reduce federal deficits and the national debt.
Deep disagreement exists on the shape and scope of those reforms, but talks launched voluntarily by a group of six senators -- three Democrats and three Republicans -- are focusing on the plan by Obama's deficit reduction commission submitted last year.
The commission's plan would simplify personal and corporate tax rates while eliminating loopholes, make changes to Social Security, Medicare and Medicaid to reduce costs, and cut other government spending including the military budget.
Senators involved in the private negotiations contend a comprehensive overhaul is necessary, and progress is being made.
"It's imperative that we put everything on the table for discussion," Republican Sen. Saxby Chambliss of Georgia said on "Fox News Sunday," later adding: "When you do that, everybody does have that skin in the game and everybody gets their score just a little bit."
On the same program, Democratic Sen. Mark Warner of Virginia agreed that everyone has to give something in order to find a workable solution.
"That means Saxby and I are probably going to take some arrows -- he on the Republican side and me, because we're taking, willing to take on reforming some of these entitlement issues," Warner said.
"We didn't get in the situation overnight; we're not going to dig out in a single year," Warner added. "But if we put a plan in place, I think the markets will respond and I actually think the economy will be better. But that's going to require a little give from both sides."
However, Democrats including Senate Majority Leader Harry Reid, D-Nevada, oppose any changes to Social Security and want tax rates for the wealthiest Americans restored to higher levels of the 1990s.
In response, Warner noted that adjustments to the Social Security government pension system -- such as incrementally raising the retirement age over the next 40 years -- would help keep it solvent without affecting benefits for current recipients or new retirees in coming years.
"Folks under 35 might see a slight bump in their age increase, but frankly, a lot of folks under 35 don't even think there's even going to be Social Security if we don't do something in this," Warner said on Fox.
At the same time, many Republicans oppose any increase in tax rates and want to reduce the overall size of government. In particular, Tea Party-backed Republicans elected last November to regain GOP control of the House are expected to use any influence they have to push the conservative agenda.
To make any new revenue sources palatable to conservatives, Chambliss said, any plan will have to ensure the additional money is designated for lowering tax rates and paying down debt.
"We need to make sure that we commit the most significant part of those revenues to tax reduction, tax rate reduction," he said on Fox, later adding: "Then we've got to take a portion of that -- the debt commission said somewhere between 20 percent, 15 percent, 10 percent -- and apply it to this $14 trillion debt. Otherwise, if we don't commit some of it to that, we're going to be stuck with this $14 trillion debt and it's only going to increase. And that's not right."
CNN's Gabriella Schwarz contributed to this story.
FOLLOW THIS TOPIC