Clinton: U.S. suspending relationships with Libyan Embassy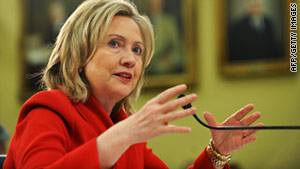 Secretary of State Hillary Clinton's statement appears to stop short of saying the U.S. is officially cutting ties to Libya.
STORY HIGHLIGHTS
Secretary of state: Embassy staff should "end operating as the embassy of Libya"
Ambassador has gone over to opposition
Administration official says embassy "must shut down"
Read a day-by-day account of the battle for control of key areas of Libya at www.cnn.com
/interactive/2011/03/world/libya.civil.war/index
.html. And for the latest on what's next for Libya, the opposition and Moammar Gadhafi, tune in to "AC360║" at 10 p.m. ET Thursday on CNN.
Washington (CNN) -- Secretary of State Hillary Clinton, testifying Thursday before the House Appropriations Committee, said, "We are suspending our relationships with the existing Libyan embassy, so we expect them to end operating as the embassy of Libya."
A senior administration official, speaking on background because he was not authorized to speak on the record, told CNN, "This is recognition that Gadhafi is no longer the legitimate leader of Libya and therefore his representatives should leave."
The official says this means that "the Libyan embassy must shut down."
Clinton's statement appears to stop short of saying officially that the U.S. is severing diplomatic relations with Libya.

Clinton: Libya will be held accountable
The existing Libyan ambassador, Ali Aujali, has gone over to the opposition. The Libyan government said Aujali no longer represents Libya and named the charge d'affaires as ambassador. The United States, however, has refused to recognize the newly-named ambassador.
Clinton warned against unilateral action against Libya, warning it would have "unforeseeable consequences."
But Clinton acknowledged there is ambivalence in the world community about intervention.
FOLLOW THIS TOPIC


Part of complete coverage on

Pro-Mubarak supporters believe Egypt's former president is innocent of charges of corruption and killing protesters.

Fighting in Libya started with anti-government demonstrations in February and escalated into a nationwide civil war.

After months of seeming stalemate, Libyan rebels declared they were moving in on Tripoli. But who are they?

Six months and more than 17,000 air sorties after it began, NATO's Operation Unified Protector in the skies over Libya grinds on.

Click on countries in CNN's interactive map to see the roots of their unrest and where things stand today.

Are you in the Middle East or North Africa? Send iReport your images. Don't do anything that could put you at risk.

Behind the official smiles for the cameras some people in Libya's capital are waiting for the rebels, reports CNN's Ivan Watson.

Tunisia's Mohamed Bouazizi not only ignited a series of revolts but heralded the first appearance of Arab youth on the stage of modern history.


Most popular stories right now