Texas lawmakers approve bills requiring ultrasound before abortion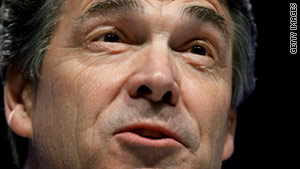 "I look forward to this important legislation reaching my desk very soon," Texas Gov. Rick Perry said.
STORY HIGHLIGHTS
The state House approves the measure weeks after state senators back a similar proposal
"This is government intrusion at its best," an opponent of the bill says
Planned Parenthood plans a rally outside the Texas capitol
Texas Gov. Rick Perry praises lawmakers and says such a law would "protect life"
(CNN) -- Abortion rights advocates plan to rally in Texas Tuesday after state lawmakers approved controversial legislaton that requires mothers seeking an abortion to undergo an ultrasound examination and listen to a description of what it shows.
The state house approved the anti-abortion measure in a 107-42 vote Monday. And state senators backed a similar proposal last month. After a conference committee hashes out the details, Texas Gov. Rick Perry will have the final say.
"This is a defining moment in reproductive rights, not just in Texas, but across the nation," Planned Parenthood of the Texas Capital Region said in a statement discussing its rally and lobbying day scheduled for Tuesday.
Perry praised lawmakers for their vote.
"I commend the Texas House for passing this legislation, which bolsters our efforts to protect life by ensuring Texans are fully informed when considering such an important decision," the governor said in a statement Monday. "The decision to choose life becomes clear when someone has access to all the information, and I look forward to this important legislation reaching my desk very soon."
But opponents of the measure say it is intrusive and interferes with the relationship between doctors and patients.
"It is not the jelly on the belly that most of you think. This is government intrusion at its best," Texas state Rep. Carol Alvarado said during a debate on the House floor last week.
Anti-abortion advocates say they prefer the more stringent version of the bill passed by the Texas House, CNN affiliate KVUE reported.
The House measure requires 24 hours to pass after the ultrasound before a woman can have an abortion, while the Senate version allows just two hours.
"A woman should have a day, at least, to think about the information she's receiving about the abortion procedure," anti-abortion advocate Joe Pojman told KVUE.
The Senate version also allows a woman to choose not to see the images or sounds if the pregnancy is the result of rape or incest, or if the fetus has an irreversible medical condition. The House version contains no such provisions, KVUE said.
"At the end of the day they're both very problematic bills, and they do the same thing of using an ultrasound for political ends," Dr. Scott Spear of Planned Parenthood of the Texas Capital Region told the station.