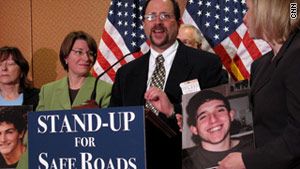 Jerry Assa, who lost his son Brian, spoke in favor of the safe driving act on Capitol Hill on Tuesday.
STORY HIGHLIGHTS
Congressional supporters want states to upgrade rules for teen drivers
Parents say tighter licensing might have saved their kids
Lawmakers struggle to overcome previous opposition
Washington (CNN) -- Flanked by parents whose children were killed in automobile accidents, congressional lawmakers Tuesday again launched a campaign for federal licensing standards for teenage drivers.
Holding a poster-sized photograph of his daughter Michelle -- a fatality at the age of 15 -- a sobbing Ray Sanderbeck of Medina, Ohio, told a news conference, "Today I hold her in my arms and ask you to support the STANDUP act."
STANDUP is the acronym for the Safe Teen and Novice Driver Uniform Protection act, and it would raise state licensing requirements to a consistent level nationwide. State governments would implement the requirements the way they see fit, including possible exceptions for farm kids in rural areas.
Sen. Kirsten Gillibrand, D-New York, and Rep. Chris Van Hollen, D-Maryland, were among the lawmakers who announced Tuesday that they would again co-sponsor the legislation to be introduced in coming days.
"Our teens just need to have the opportunity to have the chance to learn," Gillibrand said on Capitol Hill, "to learn in the right circumstances, so they can build their skills, so they aren't taking risks too early, without those skills to protect them."
The bill would withhold a certain amount of federal highway money to states that fail to put the standards into their driving laws.
Three stages of licensing would try to match increased experience behind the wheel with increased responsibility to drive safely. The learner's permit would be available to those 16 and older, and would include restrictions against nighttime driving and limit other youngsters along for the ride.
An intermediate license would be contingent on a safe record and possibly a mandatory period of time learning how to drive.
A full driver's license would not be available to anyone under age 18, nor to those who failed to meet the requirements of the initial license classes.
Similar legislation failed to make it through the last Congress. Sen. Amy Klobuchar, D-Minnesota, said people have been opposed to rules that could deny their children a driver's license they now can have.
But parents who have suffered the deadly consequences of teenage highway fatalities say it's not worth the risk to put young people in driving situations they don't yet know how to handle.
"Parents don't have to be the bad guys when they say, 'No, you can't take your friends in the car,' or 'No, you can't drive late at night,' " said Bill Walter of Maryland, who lost his only child, Matt, in a 1999 car wreck. Walter also came to Capitol Hill last year when the measure had already stalled.
Accident statistics have long pointed to problems with teenage drivers. Gillibrand said technology has made matters worse.
"The lack of experience is something that's been consistent no matter what era," she said, "but there are other distractions that our teens are subjected to now that are particularly damaging. Particularly texting, particularly cell phone use."
The proposal would prohibit the non-emergency use of communication devices during the initial learner's permit and intermediate license.
FOLLOW THIS TOPIC