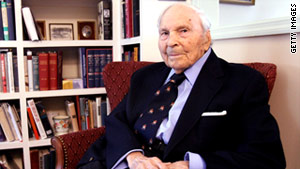 Frank Buckles died on February 27, less than a month after his 110th birthday.
STORY HIGHLIGHTS
The daughter of Frank Buckles says he should lie in honor in the Capitol
Buckles, the last American WWI veteran, died aged 110 last month
He had campaigned for a national World War I monument
Speaker of the House John Boehner isn't backing plans for lying in honor
Washington (CNN) -- The last American veteran of World War I to die should lie in honor in the U.S. Capitol, his daughter said after lawmakers appeared to block the suggestion.
"While Papa was still living, it was suggested that he lie in honor in the Rotunda of the U.S. Capitol as a final, formal tribute to all the veterans of World War I. Papa consented to this because he understood that, as the last living World War I veteran, he was expected to represent all of the World War I veterans," Frank Buckles' daughter Susannah Buckles Flanagan said in a statement.
"He looked upon this as his final duty, which he took very seriously," she said Saturday.
Buckles died on February 27, his family said, less than a month after his 110th birthday.
Buckles, who served as a U.S. Army ambulance driver in Europe during what was then known as the "Great War," rose to the rank of corporal before the war ended.
He also served in World War II, having taken up a career as a ship's officer on merchant vessels. He was captured by the Japanese in the Philippines during World War II and held prisoner of war for more than three years before he was freed by U.S. troops.
Late in his life, he became a public advocate for a national World War I memorial in Washington comparable to those for veterans of World War II, Korea and Vietnam.
"It is absolutely appropriate to, and there is widespread public support for, allowing Frank Woodruff Buckles to lie in honor in the Rotunda. Let it be so," his daughter said.
He will receive an honors burial at Arlington National Ceremony, but he likely will not be honored in the U.S. Capitol Rotunda as many had hoped.
Sen. Jay Rockefeller, D-West Virginia, had introduced a resolution in the Senate that would authorize the use of the Capitol to honor Frank Buckles. And Republican Rep. Shelley Moore Capito, who represents Buckles' West Virginia district, also introduced legislation last year to allow the nation's last "Doughboy" to lie in honor in the Rotunda upon his death.
But on Thursday, Rockefeller released a statement expressing disappointment that the legislation had been blocked by House Speaker John Boehner.
"This is a big disappointment and a surprising decision by the Speaker," Rockefeller said in the statement. "Surely, Speaker Boehner can agree that the Congress should pause for a moment to pay its respects to Mr. Buckles and all our World War I veterans."
But Boehner spokesman Michael Steel said that no legislation has been blocked, and that Boehner and Senate Majority Leader Reid decided that Arlington National Cemetery is a more appropriate venue.
"Everyone honors Mr. Buckles' service to the United States, and the extraordinary sacrifices made by every member of our Armed Forces who served in World War One," Steel said.
"That's why Speaker Boehner and Senate Majority Leader Reid will ask Secretary Gates to allow Mr. Buckles' family to use the amphitheater at Arlington cemetery for his memorial service -- surrounded by honored veterans of every American war."
More than 116,000 Americans were killed, and more than 204,000 wounded, in the 19 months of U.S. involvement in the war, according to the Congressional Research Service. The overall death toll of the 1914-18 conflict was more than 16.5 million, including nearly 7 million civilians, and more than 20 million wounded.
Following the death of Frank Buckles, there are only two known living veterans of World War I, both of whom are British.
CNN's Paul Courson and Alison Harding contributed to this report.
FOLLOW THIS TOPIC