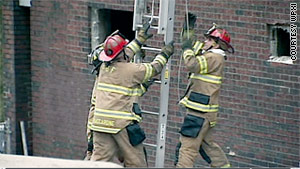 Firefighters in Pittsburgh say they are being punished for the city's failure to run its finances.
STORY HIGHLIGHTS
Unfunded obligation in Pittsburgh's pension system is $700 million
Mayor would like to offer 401(k) plans to city employees, government officials.
Firefighters, police officers can retire with a pension of half their take-home pay after age 50
Union says members are entitled to the money but open to concessions
Pittsburgh (CNN) -- Pittsburgh isn't ready to throw in one of its Steeler "terrible towels" just yet. But runaway pension costs for its firefighters, police officers and other public workers could crush the Steel City.
The players on the field in this battle are different. Instead of a Republican governor at the center of the controversy as in Wisconsin, Pittsburgh's Democratic mayor is leading the charge.
"It's not even about being Democrat or Republican. It's about being able to manage and run local government," said Mayor Luke Ravenstahl, noting he grew up in a union family.
The numbers are staggering. The unfunded obligation in Pittsburgh's pension system has ballooned to $700 million. Half of all tax dollars in Pittsburgh go to pension and health care plans for public workers, as well as the city's debt obligations. That number could rise to 70% if the city fails to take action.
The painful remedies proposed by Ravenstahl are no less jaw dropping in this union town.
"If I had my way we would offer a 401(k) plan to city employees and government officials. That's what we're talking about. Things have to change," Ravenstahl said.
But his hands are tied by contracts reached between the state and the unions. "We have to offer a pension plan," Ravenstahl said.
A 401(k) plan for public workers is a nonstarter for the city's firefighters. They fear what started in Wisconsin is now on its way to Pittsburgh.
"We have a big target on our backs," says Battalion Chief Robert Cox.
In between calls at the Engine 17 station in the city's Homewood neighborhood, firefighters complained to CNN they are being punished for the city's failure to run its finances.
"Because of fiscal mismanagement, the cities and governments and things, the working man shouldn't have to suffer for that," said firefighter William Gilchrest.
Over the years, unions for the city's public workers have assembled benefits many Americans would envy. Firefighters and police officers can retire with a pension equal to half their take-home pay after reaching the age of 50, after 20 years on the job.
The firefighters, Ravenstahl complains, have an even sweeter deal. They can boost their pension by working more overtime in their last three years of duty, a practice known as pension spiking.
"They're no dummies," Ravenstahl said. "They make as much money as they can. And then we're obligated to pay their pensions based on those last three years of service."
Cox denies his firefighters engage in pension spiking. Pointing to the fire bureau's practice of evenly spreading overtime throughout the department, he says it's just not possible for his men and women to significantly boost their pensions
"The way I understand pension spiking, it's not going on in our bureau," Cox said.
As public employee recipients of pension benefits, the firefighters are also quick to point out they are not enrolled in the federal Social Security system.
Contract negotiations are nothing new in Pittsburgh, home to the International Association of Fire Fighters Local No. 1, the nation's first firefighters union.
The union's representatives say their members are entitled to the money they've put into the city's beleaguered pension system, but they're open to concessions like raising the retirement age.
Ralph Sicuro, a union official with the IAFF Local No. 1, cautions this is no job for senior citizens.
"What am I supposed to do with somebody who's 65 and now they want you to work until you're 70? What do I tell them? They can't get up on that rig anymore," Sicuro said.