Georgia House passes stringent immigration bill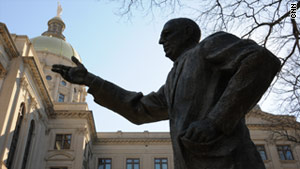 The Georgia House passed a law that would require employers to verify the legal status of workers Thursday.
STORY HIGHLIGHTS
The Georgia legislature is debating immigration
The state House passes stringent requirements
The Georgia Senate will take up the controversial legislation
Atlanta (CNN) -- The Georgia House on Thursday passed a tough immigration law that would require employers to verify the legal status of workers they hire.
House Bill 87, which has been likened to the Arizona immigration law, was passed 113-56 and goes to the state Senate.
Under the measure, Georgia companies would be required to use E-Verify, a federal database, to check the documentation of current and prospective employees. That database had been created by Congress as a voluntary, discretionary resource.
The bill criminalizes the transportation of illegal immigrants and allows law enforcement officials to check the legal status of people in custody in certain situations.
Opponents, including the American Civil Liberties Union, said the bill would encourage racial profiling and would harm the state's economy, particularly the sizable agricultural industry.
"This is a good piece of legislation," said House Majority Whip Edward Lindsey, a Republican. "It's an important step forward for the state and a good call for the federal government to do its job."
State Rep. Pedro Marin, a Democrat from suburban Gwinnett County, said the bill would create second-class citizens.
About 200 people outside the state Capitol protested against the legislation, calling on Gov. Nathan Deal to veto it if it gets to his desk.
"They are trying to tell the immigrant community that we don't contribute to the state, saying we are an illegal community and that's not true," said protester Paulina Hernandez. "We are only an undocumented community because this country doesn't have the spine to pass immigration legislation that makes sense."
In February, Arizona Gov. Jan Brewer said she had "no other choice" than to sue the federal government for what she called Washington's failure to secure her state's border and enforce immigration laws.
Arizona's move was an attempt to strike back at the Obama administration for a lawsuit blocking parts of a controversial law Brewer signed last April. It authorizes police to identify and help deport those suspected of being in the country illegally. The measure sparked protests in Arizona and around the country.